Customization, Changing Diets Drive Everything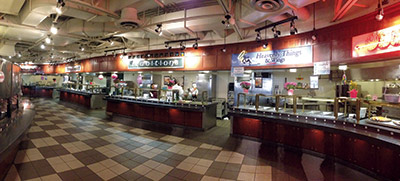 Villanova's dining halls, including The Court at Donahue, are designed to maximize student's ability to customize their meals and to stay in front of trends, including revising menus to include more plant-based options.When the International Foodservice Manufacturers Association (IFMA) presented its Gold Plate Award to Timothy Dietzler in 2010 it just might have ushered in a renaissance in thinking across the world of college and university campuses. Or, it might just be coincidental that "five years ago there began a great determination on the part of college administrators to figure out what drives satisfaction, retention and graduation rates," Dietzler asserts.
As director of dining services at Villanova University since 2002 (he's been employed there since 1987), Dietzle credits Texas Tech University with revealing at the National Association of College and University of Food Services (NACUFS) national conference in 2013 that students who live on campus and purchase a meal plan do better academically — leading to better retention and graduation rates — and that "empirical data resulted in an explosion" of interest among well-respected industry consultants.
They and others have become "champions in taking this data and working with foodservice directors and campus administrators in encouraging them to take risks, transform dining halls and invest money in improving the overall student experience on their campuses."
Dietzler and his staff have been among the long-time leaders in this regard. Back in the day, soon after Dietzler arrived on the Villanova campus, he and his staff changed the institutional look in several dining halls and created a dining hall food court. But dining services continues to evolve, and today he sees that directors continue to try to imbed their dining programs into the overall student experience on campus. Dietzler also contends that "the network for enabling the exchange of social values plus intellectual knowledge is in place within the dining venues."
The customization of food becomes the true driver of everything, Dietzler contends, and technology becomes the key enabler in this regard. He has been an early adapter of technologies such as kiosks in several of the Villanova dining venues, which let students build and customize their own orders on screen. He's now getting ready to move on to smart phone apps that will take customization and convenience to whole new levels. The app, once in place, will enable students to order and pay for their food while in class or in the library. A text message will then confirm where and when it will be available for pick-up.
Smart phone ordering will afford greater possibilities for students to customize orders — and for operators to upsell — all linking back to a more satisfying student experience, according to Dietzler. He's currently evaluating options from several different vendors. "There are many companies offering this updated ordering technology — you buy all the equipment, the software, and maintain the system," he notes.
But that's a lot of investment at the front end for technology that continually changes. Another company's business model includes the equipment and programming services in return for a percentage of each transaction.
No matter which system ultimately goes in at Villanova, Dietzler says protecting personal information remains a primary concern; if a student can place and pay for an order on a smart phone with the press of a button, there's a lot to consider and a lot that has to work behind the scenes to make the transaction happen while protecting personal information.
More Plants on the Menu
In addition to changing customer-facing technologies, Dietzler says he's considering a number of equipment updates and is carefully considering several items from among the National Restaurant Association's 2015 Kitchen Innovations Award winners. Again, customization of food serves as a key driver but another major factor remains in play — the trend toward more plant-based diets on college and university campuses. He cites the Menus of Change guidelines, issued jointly last year by the Culinary Institute of America and Harvard T.H. Chan School of Public Health, as official recognition and endorsement of a movement that's been growing for the past several years toward more plant-based diets.
"It's happening a lot, both here and on other campuses, and it has changed the way we write our menus. I think it will ripple through equipment design and selection, as well," Dietzler asserts.
To further enhance customization and the student experience, dining services installed ordering kiosks a few years ago. Just ahead for Villanova? Smart phone ordering apps.Today, Villanova menus and dining halls provide daily vegan and vegetarian entrée choices in every venue and at every meal period and Dietzler says his team will look to incorporate more plant-based menu items, while at the same time striking a balance.
Although the Partnership for a Healthier America would like to eliminate the use of deep fryers, and the Menus of Change initiative calls for creating "kitchens that support the optimal, environmentally friendly preparation of fresh, healthy foods, and eating spaces that lead consumers towards healthy, sustainable choices," he acknowledges that deep frying continues to be a campus "must."
So, although deep fryers are still required for customer satisfaction, some manufacturers, in an effort to eliminate the need for a hood, have been able to design units that allow processed oil to be put through carbon filters. There is also a new hoodless grill on the market that has caught Villanova's attention.
Aiming to reduce the amount of frying and impressed by its versatility, Dietzler began using combi ovens back in 1994. "Now smaller, more efficient units are available — some can even fit on a counter — with a cost of about $18,000 to $25,000. We've spent upwards of $40,000, on a full-size floor unit, but with a combi oven you have several pieces of equipment in the same footprint and you can cook French fries without the added fat and expense of frying oil," he says.
Referring once more to the heightened emphasis on plant-based diets "as it will ripple through equipment," Dietzler references the first Menus of Change foods and ingredients principle, which is Think Produce First: "Focus on fruits and vegetables first — with great diversity across all meals and snacks."
Taking this principle to heart, he says his operation will need less freezer space going forward since everything (as much as possible) should be fresh — although more prep space will likely be needed. "In our pantry areas, we've added vertical cutters — first a very large one and four smaller vertical cutters added this past year — in order to process vegetables more efficiently," he says.
In looking at the outcome of making sure his foodservice operation at Villanova is "imbedded in improving that entire student experience on campus," Dietzler keeps on top of all levels of the technology explosion. In fact, with tongue in cheek, he claims to be closely following the news reports to see the outcome of Amazon's scheme to utilize drones for food delivery. (As of March 19, 2015, the FAA had granted an Experimental Airworthiness Certificate to Amazon.) "That would be a mega customer service win," he says with a grin. "But, by the time you get the software approved, it's already obsolete!" Sounds familiar.
Snapshot
No. of students: 10,100 (4,450 on campus)
Operation: Self-operated
Dining plan participation: 4,475
Locations: 3 residence hall operations; 6 coffee bars, catering, The Exchange, 2 Freshens, Reel Divine Video and c-store, 2nd Storey, Donahue Market, Law School café, Café Nova, Belle Air Terrace, St. Augustine Center café
Revenue: $30 million
Annual purchases: $9 million (food and nonfood)
Employees: 45 management, 235 full-time/9-month employees, 65 part-time students, 350 students
Key Players
Associate Vice President of Auxiliary Services: Frederick Sieber
Director of Dining Services: Timothy Dietzler
Director of Administration: Tina Louise Cellucci
Director of Operations: Michael McGuckin
Associate Director of Catering: Joanna DiBianca,
Associate Director, Systems and Nutrition: James Kolumban RD