New Venues Raise the Bar on Quality, Transparency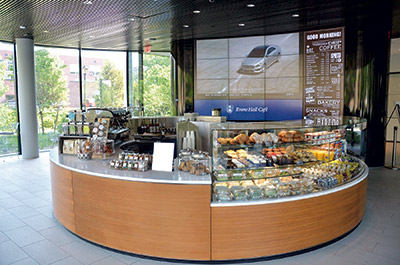 Evans Hall Café features pour-over and drip coffee, bakery goods, sandwiches, salads and snacks. An 80-square-foot screen with 16 LCD digital TV displays serves as a backdrop for the café.In 2014, Yale University opened Edward P. Evans Hall, which houses the School of Management (SOM). Situated at the north end of campus, the 225,000-square-foot building, designed by Foster + Partners, the design architecture firm, with Gruzen Samton, architect of record, contains state-of-the-art classrooms, faculty offices, academic centers and student meeting spaces organized around an enclosed courtyard. The courtyard, the building's glass façade and open layout combine to create an atmosphere of interconnectivity among all the building's activities.
When Yale Dining conceived the foodservice for Evans Hall, they knew the culinary experience had to be as creatively remarkable as the building in which it resides. The result is two distinctive operations — Evans Hall Café and Charley's Place —that together serve 900 customers daily.
"We created an environment that highlights the global makeup of our guests and educates and builds excitement through globally rustic food," says Rafi Taherian, Yale Dining executive director.
Evans Hall also contains a 5,700-square-foot restaurant kitchen, production kitchen and catering finishing kitchen. The associated restaurant, Charley's Place, opened last August. Designed as an open-concept restaurant, it showcases a globally rustic menu with a focus on local products. "The unassuming yet sophisticated design approach not only consents but fosters a natural engagement between the guests, food and the environment," notes Adam Millman, Yale Dining director of auxiliary operations.
Yale Dining collaborated with restaurant chefs and authors Suvir Suran and Mai Pham to help create signature dishes that represent the many cultures within the SOM.
Evans Hall Café Caters to Coffee Worshippers
The 1,545-square-foot Evans Hall Café, opened in July 2014, operates from 8 a.m. until 5 p.m. It features small-batch, high-quality coffee, hand-crafted pour-over coffee, and a selection of artisan bakery items from small, local businesses. The menu also features sandwiches and fresh composed salads, many of which are displayed in custom curved glass cases.
Checks here currently average $4.85 and that may grow as the team adds tempting food items. "Our hot beverage menu is designed for coffee worshipers, but if guests need to kick it up a notch we have our signature guilt-free paleo brownie and cardamom-infused blueberry tart," says David Kuzma, assistant director/executive chef.
Floor-to-ceiling windows surround the café and bring in natural light. An 80-square-foot screen with a 16-LED digital TV display serves as a backdrop and contains both real-time business news and the cafe menu.
Charley's Place Showcases Global Platforms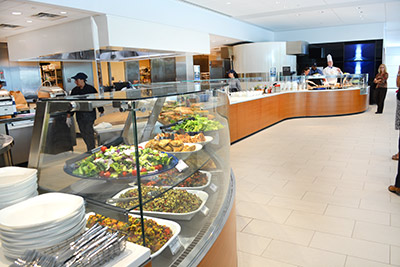 Charley's Place allows customers to watch production. Here, the tiered display features fresh salads and deli items. At the line's end is the Al Forno area with the hearth oven.Each menu item at Charley's Place contains a center-of-plate component and accompanying sides. "Our guest-focused approach was based on three fundamentals — choice, simplicity and value," Millman says. "Structuring the menu with a two-tier price point allowed us to create a self-service pre-pay check-out system, which maximizes throughput and reduced bottlenecking." Guests pre-pay via five check-out kiosks and simply bring their receipts to the restaurant staff. Operating from 11 a.m. until 2 p.m., the average check is $8.70.
Signage consists of four recessed LCD screens that frame the restaurant and communicate food and recipes much like a story board that traces items back to their origins and culture. "We use these boards to tell the story of the farmer harvesting tomatoes at a local farm or tending the pastures for the pork shoulder used in our ramen," Millman says.
The restaurant contains distinctive cooking platforms, too. "Each platform has a blend of production and service elements so customers see the food being prepared fresh and moving directly from a working kitchen to the display area," says Thomas Tucker, partner, food, hospitality and leisure strategies, The Pulse Group.
A fresh salad and sandwich production harvest station includes a flexible prep space with sinks, tables, slicers and under-counter refrigeration. A hand-cranked prosciutto slicer becomes a focal point the moment staff put it to use. The platform also features display refrigeration for storage of raw and prepped items that conceals the prep/production area from the front service area. Deep custom European-style service refrigeration for displayware has removable rear panels and is cut at a 45-degree angle on the service side to support ergonomic entry and expedited service.
The Pan-Asian area, the marketplace centerpiece, comes together around a U-shaped island cooking suite. One side of the suite contains two gas woks, a refrigerated base and a rethermalization unit for noodles, while the other side holds rice bowls, rice cookers, under-counter hot holding and a sauté range. At the center of the platform is an area for expediting and garnishing dishes coming off either side. Induction units sit behind the counter so culinary staff can make broths, curries and stews.
At the Al Forno section, a circular stone hearth oven serves as the focal point. In addition to the oven, this platform also combines prep, production and service. The main prep table in the production area contains hinged fold-outs and under-counter refrigeration so staff can easily transition it for use as a chef's table.
The restaurant also features a six-person chef's table in the center of the kitchen, which offers guests a memorable dining experience as culinary staff prepare menu items and offer tidbits about the food and preparation.
With seating for 110, the main dining room includes a large communal high-top table and 6 tables with built-in video display screens for eating, meeting and collaborating. The center courtyard contains 75 exterior tables and the restaurant contains a 10-person private dining room.
In the back kitchen, staff prepare mise en place for Charley's Place, as well as catered menu items for approximately 10 to 15 events daily. Equipment here includes a slicer, food processor, 40-gallon tilting kettle, tilting pressure braising skillet, double-deck combi oven, a 2-burner range, a 6-burner range with a convection oven beneath, charbroiler, griddle, fryers and a fry dump station. This area also contains five walk-in coolers, walk-in freezer, roll-in refrigerators, a dish tray accumulator and warewashing equipment.
"Our close collaboration with the School of Management's leadership allowed us to provide exceptional service while optimizing business efficiency. In other words, we're providing excellence in hospitality," says Taherien.
Snapshot
No. of students: 5,400 undergraduates; 6,500 graduate and professional students
Operation: Self-operated
Meal plan participants: 6,500
Dining locations: 20 auxiliary, retail and catering operations; 12 residential college dining facilities
Annual revenues: $51 million for department; $2.1 million anticipated for School of Management
Annual purchases: $13 million
Total dining employees: 420 FTEs, 350 part-time; (School of Management , 16 team members and an executive chef, general manager and hospitality manager)
Key Players
Yale Dining Executive Director: Rafi Taherian
Yale Dining Director of Auxiliary Operations: Adam Millman
Yale Dining Director of Asset Renewal: Dan Flynn
Yale Dining Director of Culinary Excellence: Ron DeSantis
Yale Dining Assistant Director/ Executive Chef, SOM Hospitality: Dave Kuzma
Yale Dining General Manager/ Chef, SOM Hospitality: Julie Carrion
Yale Dining Manager of SOM Hospitality: Jennifer DeSantis
Strategic planning: Thomas Tucker, The Pulse Group
Architecture and design: Norman Foster, Foster + Partners; Gruzen Samton
Foodservice consultants: Chape Whitman, Derek Sisson, Jim DiTrapini, Ricca Design Studios