Operators in the competitive steakhouse segment focus on sourcing, quality, flavor and preparation to distinguish menu items and bring out the best in the meat.
The traditional American steakhouse has undergone an update. Although preparation remains important, many operators now focus on beef sourcing and its origin. That includes paying more attention to cattle raising, feed and beef aging, which helps set restaurants apart.
Chicago-based CHD Expert, a foodservice market research firm, tracked annual sales of close to 10,000 family steak/chophouses plus steak and seafood restaurants. Its data shows this segment continues to do big business. More than 3,258 of these restaurants report annual sales between $1 million and $2.5 million. And 3,074 report annual sales between $500,000 and $1 million. The average check for 2,291 steakhouses was between $15 and $20 per person.
A growing number of steakhouses now feature the popular Wagyu beef, most often sourced from Japan. According to the American Wagyu Association, this pricey meat has a higher mono-unsaturated to saturated fat ratio, with 40 percent of saturated fat in stearic acid. This fat is thought to play a minimal role in raising cholesterol levels, which leads experts to say that the profile of marbled Wagyu beef is healthier. It also has about 30 percent more conjugated linoleic acid, or CLA, per gram, thought to impart a healthier nutrition profile.
"Wagyu beef is coming onto more menus," says Scott Gilkey, principal at the Sammamish, Wash.-based Gilkey Restaurant Consulting Group. "Top chefs are serving high-quality cuts in smaller portions."
Steakhouses continue to become more involved with beef sourcing, with some going so far as to work in conjunction with ranchers to ensure the meat quality meets their standards. "Partnerships between restaurants and ranches have created a direct line of sourcing, which provides a point of differentiation," says Gilkey. "One Washington, D.C., steakhouse chef visited three ranchers to watch the cattle raising process to ensure it was humane and sensitive to the environment."
An increasing number of operators now purchase an entire cow to age in house, while larger restaurant companies rely on single sourcing to ensure a consistent supply. "Chef Walter Manzke at Los Angeles' Republique sources beef from a particular ranch, and the restaurant has a dry age locker on-site," says Gilkey.
By comparison, mid-scale steakhouses typically feature locally sourced natural and grass-fed beef on the menu. "This also is an industry-wide trend, as more people are concerned about the environment and carbon footprints," says Gilkey. "Consequently, shipping beef from Omaha to the West Coast doesn't cut it for a lot of people, along with the use of growth hormones."
As with meat quality, operators use more diverse equipment to prepare steak, which includes new items not typically associated with the category. "Equipment that's emerged and not prolific across the [steakhouse] industry is plancha grills or flattop griddles," says Gilkey. "The searing process happens, rather than char grilling, which some chefs prefer because this holds in meat juices rather than rendering the fat and juice from the steak."
The intention of this approach is to bring out the best quality in the meat during the cooking process, a hallmark of today's steakhouses.
A Steakhouse Spinoff
RPM Steak's 9,000-square-foot, 225-seat restaurant sources its beef from small farms in the U.S. and Japan.It was the popularity of the steak at Chicago restaurant RPM Italian that led to the creation of RPM Steak three years ago. RPM Italian is the brainchild of celebrities Bill and Giuliana Rancic, chef partner Doug Psaltis and the Lettuce Entertain You restaurant group.
The idea for RPM Steak was to "respect great steakhouse values using updated ingredients and a different way of cooking," says Psaltis. The resulting menu centers on staples and classics reintroduced in a healthier format.
RPM Steak, a 9,000-square-foot, 225-seat restaurant, sources its meat from small farms in both Japan and the U.S. The restaurant team works directly with beef aging companies in the Bronx and Chicago, but cuts and trims are done on-site.
Signature cuts include The Duke, the eye of the ribeye, which gets trimmed to result in a beef tenderloin-like medallion. "This imparts a deeper flavor than expected with this cut of meat," explains Psaltis.
The restaurant also has a large collection of 60-day-old dry-aged beef that includes Tomahawk steak, as well as a selection of Wagyu and Kobe beef from Japan.
The crème de la crème is Snow Beef, a rare Wagyu known for its consistent marbelization that results in a white appearance. "It has an incredible sweetness to it, and the texture is fantastic," says Psaltis.
The cooking process helps distinguish RPM Steak's offerings and the restaurant alters its approach depending on the cut of meat. "It has taken a lot of trial and error to narrow it down and go in the right direction," says Psaltis. "For example, we discovered the charcoal grill is ideal for ribeye, while leaner meats, king crab legs and vegetables are best prepared in a charcoal oven, which imparts a smoky flavor."
For this reason, the approximately 2,000-square-foot kitchen's cook line includes a charcoal oven with a grill on top. "The coals on the oven's bottom create a vacuum to produce a great char quickly, while retaining the juice inside the meat," says Psaltis.
Signature cuts at RPM Steak include The Duke, the eye of the ribeye, which resembles a filet mignon.The charcoal grill has 1-foot thick brick and clay on the sides for producing radiant heat. Culinary staff can raise product up to a foot off the fire or lower it into the glowing wood logs, the latter of which surrounds all areas of the meat with heat. "With this equipment, we can create a bed of coals from wood to cook food over smoldering logs rather than directly over fire," says Psaltis. "This is ideal for preparing larger pieces of meat, since the exterior won't burn."
Culinary staff use two high-speed broilers to prepare dry-aged meat, as these create a char crust with a nice center level of doneness.
The vegetables and fish that round out the menu also receive the same level of attention as the beef. Cold-roasted king crab, a very popular dish, is produced from the center cut of an Alaskan red king crab leg. The top gets cut off, the inside cleaned and cut into pieces. Culinary staff place this meat back in the shell and it gets roasted in the oven.
Sides at RPM Steak include a house spec Yukon potato sliced into rounds, roasted in the oven and topped with rosemary butter. Its parmesan spinach represents a lighter twist on the steakhouse classic creamed spinach. This side dish combines sauteed spinach with brown butter and parmesan. A popular starter is the thick-cut bacon cooked with reduced bourbon and vanilla.
Staff blanch vegetables in pasta boilers, then roast them in cast iron pans on one of two French top stoves.
RPM Steak's bakery produces all its bread items, including burger buns and pastries. Built last year, the 700-square-foot air conditioned and climate-controlled addition utilizes two combi ovens, a deck oven and a batch freezer for ice cream and gelato.
From his vantage point, Psaltis notices a huge renaissance with steakhouses as chefs strive to incorporate higher-quality ingredients from ranches and farms worldwide. "We're still learning every day, since the environment constantly changes with different cuts of meat," he says.
Classic American
The majority of the meat at Cole's Chop House is corn fed and from the Midwest.Embracing tradition has served Cole's Chop House well since the Napa, Calif., steakhouse opened its doors in March 2000.
Its location in the 130-year-old Kaiser Building, stone walls and Douglas fir hardwood floors serve to drive home the classic American steakhouse feel that also is evident on the menu, according to owner and director of operations Eric Keffer. The 2-story, 4,500-square-foot restaurant seats 85 people.
The majority of the meat Cole Chop House uses is corn fed and comes from the Midwest, with the exception of New Zealand lamb chops. "The menu includes Duroc pork chops from Iowa and fish caught locally in the Pacific," says Keffer.
The restaurant sources dry-aged steak from Chicago, including its best-selling New York strip and a 16-ounce bone-in filet. "The aging process creates a natural bacteria to impart a nutty, gamey and rich flavor to the meat," says Keffer. "The filet is about as delicate a meat as you can get."
Cole's Chop House serves sides family style and includes items such as hash browns cooked in a cast iron skillet with clarified butter, which results in a crispy crust and fluffy inside. Another signature side is seasonal wild mushrooms sauteed in red wine veal reduction sauce and drizzled with truffle oil.
The restaurant revamps the menu periodically, but the chefs pride themselves on the restaurant's staples.
The traditional theme continues in the 1,800-square-foot open kitchen's cook line, where 2 grills (for meat and fish), a fryer and a 12-burner stove serve as the work horses. For added efficiency, a bank of upright refrigerators sits nearby. "We have to start off with the highest quality meat to let the beef stand by itself," says Keffer. "We just season it with salt, pepper and olive oil; the natural gas cooking highlights the meat."
A back pantry stores salad and cold foods. This area also includes two convection ovens, a six-burner stove, refrigeration and a mixer.
Appetizers and family-style side dishes are plentiful at Cole's Chop House.An extensive wine program supports the menu and encompasses about 500 varieties. Customers can even opt to try different wines in 1-, 2- and 3-ounce pours. Cole's comprehensive whiskey program, including its own blended barrels, represents another standout feature.
"In this area, more restaurants are pairing distilled, mainly brown, spirits with different food components, capitalizing on enhancing the flavor of the meat," says Keffer. "A sweeter style with a rich cut of beef or spicy bourbon paired with a lean filet adds an incredible flavor component."
Cole's Chop House offers seasonal side dishes, such as Brussels sprouts with applewood smoked bacon in the winter as well as high-end favorites like shaved truffles tableside, which enhances meat with floral, musky flavors.
Educating diners on the differences in meat quality
and what goes into the process represents one of the biggest challenges operators face in this segment, according to
Keffer. "There are many types of meat, so creating a relationship with guests and educating them on prime beef [is a big focus]," he says.
A Retail Restaurant Combo
The steakhouse and butcher shop share kitchen space at B&B Butchers.With more than a decade working in restaurant kitchens butchering meat, Benjamin Berg thought it only made sense to combine a steakhouse with a butcher shop. What better way to not only remain close to his ingredients, but also provide customers with more of an insider's view to their meal?
At roughly two years old, Houston's B&B Butchers & Restaurant includes a butcher shop that connects to a full-scale 70-seat steakhouse. The retail outlet and restaurant are linked by a faux walk-in freezer door and windows that provide a view into the meats' aging room. "We cut all our meat and are proud to display it," says Berg, the operation's proprietor.
Both the butcher shop and restaurant have separate entrances, and each features its own distinct ambiance. The steakhouse reflects the character of the old brick building it calls home, incorporating exposed brick, urban accents, a hardwood floor and white marble throughout. The butcher shop also has exposed brick, but its tile floors and subway-tiled walls represent a throwback to old neighborhood delis. After the butcher shop closes at 6 p.m., it transforms into a 20-seat private dining area for the steakhouse.
Unlike other steakhouses, B&B's extensive menu includes 22 steak options. "Something I wanted to do, after noticing meat offerings were becoming more limited in today's steakhouses, was to go the other way," says Berg.
The number one seller is filet mignon, while coming in a close second is a 28-day dry aged bone-in 22-ounce ribeye, a signature cut. B&B also offers Wagyu from both west Texas and Japan. Its Gearhart Cowboy Cut, a 40-ounce Wagyu filet for two, is also a popular item.
As a combination butcher shop and restaurant, B&B Butchers cuts all meat on-site."We are among only nine restaurants in the country that offer certified Kobe," he says. "We also offer the outside part of the ribeye, or the Spinalis — we call it Butcher's Butter; it has the most marble and is the best part of the cow."
For sides, customers can choose from items such as creamed spinach, lobster fried rice or fried mac and cheese with fontina, Gruyere and truffle Italian cheese topped with bacon. The Carpetbagger appetizer also is popular, featuring oyster shells piled with filet mignon, fried oysters, bacon, blue cheese dressing, hot sauce and crumbled blue cheese.
The kitchen connects to both the restaurant and butcher shop. Its cook line includes two double broilers, a double fryer and an open grill. Staff broil all steaks, except the Wagyu, which they prepare on the open grill. "Due to the fat content, we've found this meat shrinks too much when cooked with the intense heat of a broiler," says Berg.
The separate equipment also ensures the correct meat types are served, since the different types vary a great deal in price but not so much in appearance.
This line also utilizes two ovens, one with two burners and a flat top and the other with four burners; a steamer; and a baking oven for bacon that marks the most recent addition. Other main equipment includes a tilt skillet, tilt kettle, fryers and mixers. A 26-foot-long walk-in with three chambers houses vegetables, sauces, filet mignon and fish.
The butcher shop utilizes a band saw and vacuum sealer as well as a walk-in for dry aging.
The restaurant offers Sunday brunch on weekends, utilizing the flattop for pancakes. Popular dishes include roast beef hash with bacon and poached eggs; chicken and waffles; and the Carpetbagger Eggs Benedict.
"Appetizers are really where a steakhouse can get stale, but chefs can have fun and be creative with these," says Berg. "Also, fish doesn't have to be an afterthought."
Chef-driven Inspiration
American Cut sets its offerings apart with presentations, such as old fashioned smoked cocktails.Created in the same vein as flagship BLT Steak, Marc Forgione's American Cut Tribeca in New York City is described as a new American steakhouse by Chef Greg Rubin. Opened in 2013, the menu's elevated traditional fare pays homage to old New York.
The 160-seat restaurant is known for its steak, most notably the Tomahawk ribeye, in addition to its Chili lobster, Kampache Tartare, Compache and a la carte sides such as sunchoked creamed spinach, a gluten-free dish with fontina and parmesan.
The big leather banquettes, dark woods, orange and black color scheme and brick walls harken to the quintessential steakhouse, but the preparation is anything but pedestrian.
The kitchen resides on the lower level and connects to American Cut's private event room. The kitchen includes a garde manger area with a triple low boy refrigerator, four pullout drawers for oysters and cold seafood, a tabletop for pans and a cheese melter. The hot appetizer section includes a six-burner oven, cheese melter, speed rack, fryer and broiler where steaks are prepared. Meat is finished off in cast iron pans over a French top.
"We cook our steak in dry-aged beef fat in the broiler, which is key to production, and finish in cast iron pans on the flat top," says Rubin. "The French top next to the charbroiler is a great setup, since there's a lot of fire power. It's a nice flow with the burners, flat top and broiler [all together]."
The fish station includes two six burner units with a double salamander above. Stoves incorporate swivel grates to more easily move pans around and eliminate gaps.
At the end of the line sits a grill for cooking burgers as well as a double fryer. "Our burgers really caught on after only being a verbal off-the-menu item at the bar," says Rubin.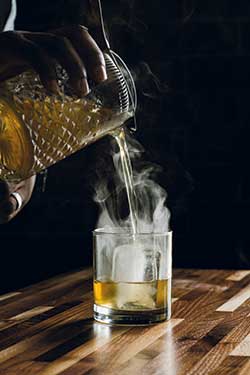 The ambiance at American Cut evokes a traditional steakhouse feel, with big leather banquettes, dark woods and an orange-and-black color scheme.American Cut also offers its large format steaks flambeed tableside with brandy and butter.
Over the years, the kitchen has improved its efficiency, which has led to increased speed of service. "Our three walk-ins are directly across from the main cook line, also dry storage is just 10 feet away from the line," says Rubin. "The kitchen layout is really efficient."
In what some say is a saturated market, American Cut seeks to set its offerings apart with presentations, including the aforementioned tableside flambee and smoked old fashioned cocktails. It also offers in-house cold-smoked pastrami as well as a New York signature cut rubbed with pastrami spice and cold smoked, then cooked with caraway brown
butter and mustard.
"What makes us different is our specials and our service," says Rubin.