Never underestimate the power of networking — even when it's done late at night over a few drinks. After all, that's what led Christopher East and Duane Guidry to start Chrane Foodservice Solutions in 2008 and look at Chrane now. The regional rep group serving Texas and Oklahoma has become a model for how to be successful while treating clients and employees with respect. And to think it all began with an after-hours gripe session.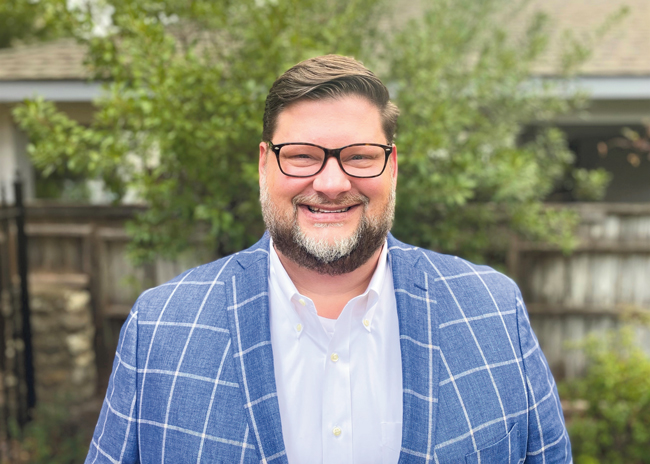 At some point, East adds, an aha moment occurred: What if the two men started their own company, representing a limited number of complementary manufacturers and paying more attention to each client and end user? At 7 a.m. the next day, Guidry and East met at East's home to begin planning. Eighteen months later, Chrane Foodservice Solutions was launched.
Truth be told, East likely was always destined for his own rep group. "My mother, Donna East, is a rep with another company, a competitor," he explains. He also has an uncle who once owned a rep group in Southern California. So, East had some exposure to it.
As a hospitality major at Purdue University, East loved the foodservice industry, but he was sure he didn't want to work in hotel or restaurant management after graduation. He preferred regular hours and most weekends off. So, while at Purdue, he took an internship with Premier Equipment Group in Atlanta. He joined the company full time, and, he notes, "I've been a rep ever since."
After working with Premier for five years in Atlanta and Birmingham, Ala., East moved to Houston. He wanted to own a rep group. However, there wasn't an opportunity to do that with Premier, so he ended up joining another organization. As time progressed, he began to form a vision for what a company of his own could become one day. Enter Guidry and, as East put it, "the rest is history."
Chrane was built on three core principles. First was to intentionally limit the number of complementary manufacturers — complementary being "if you sell a serving line, you sell the heated cabinets and pass-through that support it." Second was to build an infrastructure to support the organization. Last, but in East's mind the most valuable, was to "hire, grow and retain the best talent we could."
East quickly credits those around him who add value to Chrane, including Nick Hughes, the general manager. "He helps everyone do their jobs better but doesn't get any recognition for it. He is the true rock star," East says.
Corporate Growth Awakening
Four or five years into Chrane's history, East recalls, "we were the hotshot new rep group. We had massive growth. Then we plateaued, and we couldn't figure out why."
After what East called "a contentious conversation" at a leadership retreat, company executives identified the problem. "We realized that everything we had been doing up to that point was self-serving: grow sales, grow profits, add more bodies, add the next manufacturer," he says. "We realized we were doing this wrong. We needed to understand what it is that makes our customers successful, and we need to adapt our business to that on a case-by-case basis. Then, Chrane becomes a tool bag, and the manufacturers are our tools. By going from a transaction to a real relationship, our customers become more successful and our success should naturally follow."
Another element which grew out of that new philosophy is The Mix. Described as part test kitchen and part event space, Chrane has two in place: One is connected to its Houston office and the other to its Dallas/Fort Worth location. Both serve as test kitchens, "but a lot more," says East. "They are meant to be all the ways you can use the word 'mix.' Mix a recipe. Mix a cocktail. Hold a mixer or networking event. Get in the mix with your customers. Do a deep dive. It can be a place to kick the tires on equipment, a place for menu ideation, recipe development or industry association events." With kitchens, classrooms and showroom spaces, each location hosts at least two groups a week. East says the company is examining ways to increase that number.
COVID-19 has strained Chrane's ability to work with its customers, as it has for most companies in the foodservice industry. But, says East, the company used the pandemic to send a positive message to its employees and its clients by simply urging employees to spend some money.
Called the Chrane Community Challenge 2020, the event was simple: Give each employee $200 — money that ordinarily would be used for travel or entertaining clients — and tell them to spend it at local restaurants. Then Chrane began to challenge other businesses to do the same.
East also finds time to serve as a board member for the Manufacturers' Agents Association for the Foodservice Industry, and participates in two committees: the Rep Group of the Future and Virtual Reality.
So, what's next for East and his team? Continuing the evolution through COVID-19 and beyond. "We are trying to evolve by developing the next round of leadership," says East. "Extending trust to more people to take on new manufacturers and having faith that they can do the job. It's not just up to me and Duane."
Advice and Inspiration
Q: What was the first job that meant something to you (and why)?
A: The one that probably sticks out the most was a student manager internship at the Sagamore Room in the Purdue Memorial Union. It's where I met my wife Erin, and ultimately led to my first career stop out of college with Premier Equipment Group.
Q: Where do you find inspiration?
A: I don't go anywhere per se to find inspiration. It tends to find me. I'd say the big-picture ideas come either via problem-solving collaboration with my Chrane peers or, honestly, when I let my guard down completely, like when I'm off on vacation or having a few beverages with buddies. I'll see something or hear something that triggers an idea, so I send myself a note about it to build on.
Q: What advice would you give your younger self?
A: Ask for help! When Duane and I started Chrane, we were hell-bent on blazing our own trail. There were a lot of folks who had successfully done it before us who could have provided some invaluable direction, had we asked. We spent a lot of time, energy and Chrane resources reinventing the wheel due to not engaging industry peers for advice.
Q: What is a lesson you learned from a project or while working with a client/customer?
A: Make sure it fits in the building! Seems like a no-brainer, but this was one of many lessons Fred Cypress at Dixie Store Fixtures taught me early in my career. He took the time to teach me NEMA [National Electrical Manufacturers Association] electrical configurations, how a basic refrigeration cycle works, the process to measure for a new serving line, what to look for in a combi oven install and countless other nuggets of knowledge. I was extremely fortunate early in my career to have a great employer, wonderful customers and even a few competitors who were all generous with their willingness to impart both industry and sales skills on me.
---
Please click here to see the complete list of 2021 Top Achievers