"I'm one of those very rare people who ended up doing what I planned to with my career," Eisenbarth says.
Eisenbarth's semiretirement was a well-deserved shift in priorities after more than four decades as a foodservice design consultant. He served as Cini•Little's president and chief operating officer until last fall. Still, Eisenbarth has no plans to completely step away from the business, putting in just enough time — typically 5 to 10 hours a week — to stay engaged and connected.
In addition to his dedication to his craft; colleagues describe him as one who gives of his time, wisdom and expertise freely and respectfully. He is viewed as that rare individual who has both a storied career and stature, yet remains humble.
Photography by Agnes Lopez
A Predestined Beginning
Growing up in Indianapolis, Eisenbarth was always interested in building and design, but he didn't know the exact career path he would take. After attending Indiana Vocational College to study architectural engineering, Eisenbarth switched gears and enrolled at Purdue University, where he majored in hospitality and tourism management.
"I had a great professor there who was my mentor throughout my career, Arthur Avery, who passed away in 1998," Eisenbarth says. "Even back then, I lived and breathed everything to do with design."
It was at Purdue that Eisenbarth met his wife, Polly, who was also majoring in hospitality and tourism management and taking identical design classes. "At one point, she was working with someone else on a class project, while I was doing the same one but on my own," he recalls. "I was so mad she had a partner, and I was pulling all-nighters to get it just right. We still joke about that."
Eisenbarth didn't come away from Purdue with just a degree; he says he also graduated with a cocky attitude. "I thought I knew everything since I was technically trained and had the background," he says. "I thought I'd be God's gift to foodservice design." What he quickly discovered was that although his background was a good foundation, he had to learn the trade from the ground up.
Luckily, Eisenbarth's early experience in the industry gave him a good leg up. Prior to graduating from Purdue in 1977, he had managed a half dozen restaurants for an amusement park for two seasons during college. He had also worked in foodservice at a private club in Indianapolis throughout high school and college.
"While at the club, I worked with Mitch Daniels, the former governor of Indiana and now president at Purdue," Eisenbarth says. "Mitch was a lifeguard, and I worked in various foodservice capacities until I was promoted to banquet manager."
Working in the back of the house at the amusement park restaurants and club provided invaluable insight from an operational perspective. Most important, Eisenbarth learned not to overpromise and under deliver, which he says is a necessity to be a good designer. "It was then that I realized the importance of design and layout and making sure the equipment is user-friendly," he says. "Seeing poorly designed and operationally flawed projects during this time really set me apart from other designers later on and put me on my path of focusing on form and function with projects."
After graduation, Eisenbarth moved to Cleveland to start his career as a draftsman at Cini-Grissom Associates in 1977. Eisenbarth quickly discovered his inexperience wasn't his only detriment as being left-handed initially put him at a disadvantage. "It was my first boss at Cini-Grissom, Harry Schildkraut, who informed me I had the food stations designed backward," Eisenbarth recalls. "I didn't realize at that time I had to change my way of thinking as a left-handed person in a right-handed society."
After marrying Polly, Eisenbarth decided to shift gears into a project management role at Cini-Grissom in 1980. "We were talking about starting a family, and I wanted to focus on marketing to get out from behind the drafting table and also start meeting people," he says.
After nine years in Cleveland, Eisenbarth was considering making a move to another company in Minneapolis when Cini•Little's Ron Kooser offered him a position in Florida. He considers Kooser one of his mentors, along with Jim Little, Bill Eaton and John Cini.
Eisenbarth knew he had to prove himself when taking over the company's Ft. Lauderdale, Fla., operations. Not surprisingly, he was successful in transforming what he describes as "a basically nonexistent" arm of the company into one of Cini•Little's most profitable. He counts this challenge as one of his career highlights.
Transformational Times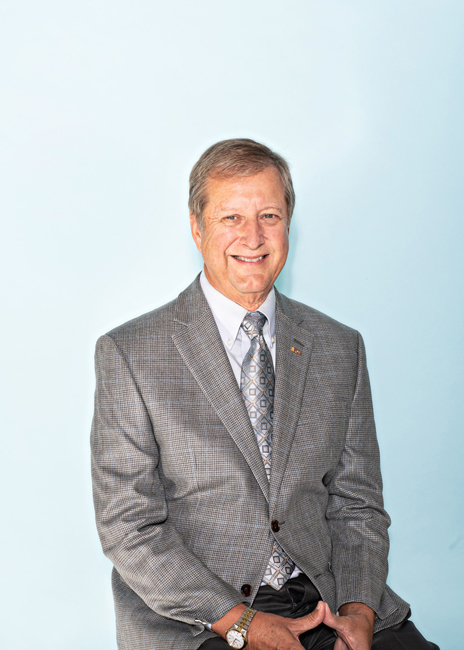 Eisenbarth's move to Florida was not as exciting and glamorous as he had anticipated — at least at first. "When I got the offer to go to Florida, I thought I'd be working on private clubs and hotels since it's a hospitality state," he says. "I soon found out that wasn't going to be the case as I did a lot of healthcare and prison work. It seemed like every county in Florida was building a large prison."
One project, though, set Eisenbarth on a different path early on: the stadium that is home to the Miami Dolphins football team, for which he designed the foodservice operations in 1986. "This was the first stadium in the U.S. that had suites," he says. "I remember having to describe what these were to the project manager I was working with."
This project led to Eisenbarth's involvement in more than 20 stadiums, including high-profile football, hockey and baseball stadiums. Notable stadium projects include Atlanta's Olympic Stadium, built for the 1996 Olympics, and Cleveland's Major League Baseball park, a new construction project that began in 1992. "These were a lot of fun, very demanding, and none were cookie-cutter," he says.
In 2005, Eisenbarth left Cini•Little to join a commercial kitchen development firm before returning to Cini•Little four years later. He became chief operating officer and president in 2015 and rose to the CEO role in 2019. That year he began working closely with Kathleen Held, who was then chief marketing officer. "Kathleen had joined the company as marketing coordinator, working her way up," Eisenbarth says. "I knew I wanted to retire but couldn't consider it until I felt comfortable with who would be leading the company moving forward."
They worked together to rebuild the internal structure of the company prior to Held taking over Eisenbarth's role last year. "I led that charge, and she was right there with me," he says.
Held, who is a 25-year veteran of Cini•Little, says she learned a great deal from Eisenbarth over the years. "He has been a huge mentor to me, always taking the time to answer questions with a thorough approach," she says. "Dick also is so passionate about foodservice, getting to the root of our clients' needs and capturing it in the projects. I've watched him engage with staff working at his completed projects to ask how the [design] is working for them."
One of Eisenbarth's most notable projects to date is still in development — Universal Beijing Resort, which Cini•Little began working on about five years ago. Eisenbarth, who serves as project executive, thought his firm would be lucky to work on 4 or 5 restaurants; Cini•Little instead wound up working on all 27 restaurants and a 100,000-square-foot commissary. It is the company's biggest project to date. "Earlier in my career, we worked on all the Universal theme parks for Orlando, including Universal CityWalk, Universal's Islands of Adventure and the studio projects," Eisenbarth says. "It was a real feather in all our caps."
It's on these Universal projects that Eisenbarth has worked closely with Gary Waechter, vice president, Food Services International Operations, Universal Parks and Resorts, based in Orlando. "I first met Dick over 20 years ago at a kickoff meeting in Orlando for a Universal project," Waechter recalls. "Over the years, we talked and met various times on issues when I needed some help. Since 2015, I have worked with Dick on Universal Beijing Resort, formerly Universal Studios Beijing."
Waechter describes Eisenbarth as always making himself available and being very level-headed. "Dick helped to work out solutions along the way, no matter how small or large they were," Waechter says. "He got involved directly in our project and was always there for meetings, tours of facilities and the many conference calls."
Waechter notes that Eisenbarth's organizational skills help set him apart. "For our Universal Beijing project, staff from at least three of the Cini•Little offices were involved to complete the design. Dick managed this process as we worked on over 30 separate food facilities," Waechter says.
Industry Involvement
Many clients have benefited from Eisenbarth's design talents and expertise; he's similarly shared his knowledge and efforts with many in the industry. One that he has been a part of since the late 1980s is Foodservice Consultants Society International (FCSI), for which he served on the board of directors for a total of seven years.
"John Cini encouraged me to join FCSI and get involved with the organization," Eisenbarth says. "I just went off the board a year ago because of term limits; otherwise, I would've stayed longer."
Eisenbarth's dedication to FCSI was put to the test in January 2018 when he was diagnosed with throat cancer. At that time, he decided to step away to concentrate on his health and helped fill his spot with one of Cini•Little's associates. "I was right in the middle of my radiation and chemotherapy when my co-worker became ill and had to resign from FCSI's board," he says. "I wanted our company to be represented on the board as we always have been, so I offered to come back on."
William Caruso, now semiretired himself from YoungCaruso, formerly William Caruso & Associates, recalls the details in how this came to pass. "When Dick's replacement had to step down, the board looked at one another to see who could jump in and not miss a beat. The one guy that came to mind was Dick," Caruso says. "I called him, and he said absolutely, then he beat the cancer. This shows the type of person Dick is — coming out of forced retirement and jumping back on the board like there were no blips. He has a willingness to do whatever it takes to help people, further our organization and help the industry. Dick went above and beyond and got us through an important time when we needed his support."
In addition to his involvement with FCSI, Eisenbarth has served as one of nine judges for the National Restaurant Association's Kitchen Innovations (KI) program for the past five years. "Each year, a group of us review various foodservice equipment manufacturers' submittals for judging what they consider innovative products," Eisenbarth explains. The judges wean down sometimes as many as 40 submissions to fewer than 25 who earn recognition as innovative products of the year.
"For the KI program's visibility and credibility, judges need to be top-notch, established, accomplished and high-profile," says Brian Ward, consultant/project manager for the KI Awards. "Dick has been so giving of his time, insights and perspectives. He has such a breadth of knowledge and has been a terrific thought leader. He is always raising questions that stimulate the whole panel and brings so much experience to the table."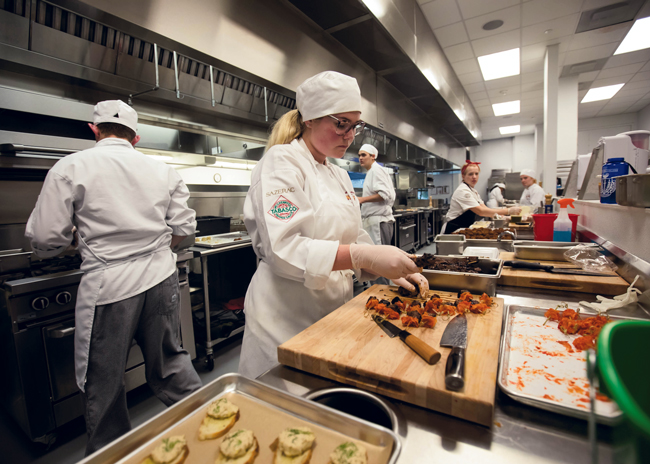 New Orleans Culinary & Hospitality Institute. Photos by Sarah Baxter Photography
Staying Involved
Even his semiretired status isn't keeping Eisenbarth away from the career and industry he loves so much.
While Eisenbarth continues to put in some casual hours for Cini•Little and judges the NRA's KI Awards, he also remains involved with his alma mater. In 2017, he was recognized for his career achievements and contributions to Purdue University with its Hospitality and Tourism Management Hall of Fame award. He continues to sit on Purdue's Hospitality and Tourism Management Strategic Alliance Council and speaks to classes whenever he can. "I want students to know that there are other positions in the industry aside from operations that pay a decent wage," he says.
Rather than the glamorous side of design, Eisenbarth is more interested in espousing the engineering aspects of HVAC, including building heat loads and controlling the environment. "There have been many different energy savings innovations with induction cooking and demand ventilation controls," he says. "With it being so hot here in Florida, many times, a design is about controlling the tonnage of AC used in buildings. I look at how I can do that by designing the cooking battery to maximize space underneath. This way, the exhaust hoods aren't constantly running and are operating at full efficiency all the time. Today's designs also are about shrinking the kitchen and menu engineering and how that works together."
Eisenbarth continues assisting Held in various aspects of running the business as well as serving as a mentor for Cini•Little associates. "I continue to enjoy the hunt, chasing work," he says. "I've always had a marketing side to me; running a business like Cini is a big ball to roll, and we always have to be looking for the next project."
The Attributes of a Hall of Famer
"Dick is probably one of the most level-headed people I know. His true passion is teaching people and helping them understand things better so they can propel themselves to excellence. Even now, with him stepping back in retirement, we talk often. He's the person I turn to when celebrating successes or when I've had a bad day and need a pick-me-up because he understands. He always makes it known that he's available to our staff if they need any assistance, mentoring or to kick an idea around."
— Kathleen M. Held, CPSM, Cini•Little International Inc.
"Over the years, Dick was always willing to help others and share ideas, even when people weren't so eager to do so. He won't say anything unless he means it and wouldn't ask anyone to do something that he wouldn't do himself. Dick is a leader in its truest form."
— William Caruso, YoungCaruso
"I've always regarded Dick as one of the best consultants in the business. Like me, he was trained in the Cini•Little way, to always put the client first. He has a good business head but is also great with people and a family man. Dick is just an all-around good guy."
— Harry Schildkraut, FCSI, S2O Consultants Inc.
"I remember working on Emeril Lagasse's restaurant, Emeril's Orlando, at Universal CityWalk with Dick. He was cool as a cucumber when there was a lot of fur flying. It was difficult enough getting the project built, but on top of that we were working with Emeril's wife at the time, who he was in the process of divorcing. Everything about that project was tough. It used to be that foodservice designers were on the sales side of particular types of equipment, but Dick was able to back off of that and come at projects globally, while working out all the details. He has elevated the role of foodservice designers."
— David Froelich, ITEC Entertainment
Words of Wisdom from Industry Veteran Richard Eisenbarth
Learn the operational side of the business so you can speak with authority when working with clients. That way, you can walk the walk and not just talk the talk.
Take architectural and engineering courses to understand how a building is put together. This has helped me quite a bit. I was able to look at a plan and know what I was looking at.
Many times in early planning, the structural components, like columns and footers, are not in the plan yet. You need to know what questions to ask so you don't have to go back several times and redesign.
Understanding the aspects of HVAC systems, plumbing and electrical loads is important.
Live and sleep your profession. Many times, I'll be working on a plan all day, and it isn't right. I'll then put it down, go home and look at it after dinner.
One of the things I learned early on is to surround yourself with smart people who will make you look good.
You need to overcommunicate, ask questions and sometimes talk people out of things. In this business, the client isn't always right, and you need to advise them accordingly.
There hasn't been anything that I've found impossible to achieve; there is always a solution. Sometimes it takes some tugging and pushing and pulling, and it is usually budget related, but that's part of it, too.
Project Portfolio
Richard Eisenbarth, FCSI, has worked on an array of projects throughout his career with Cini•Little. Here, a look at three: a new culinary institute, a hotel renovation and a corporate office space.
New Orleans Culinary & Hospitality Institute. Photos by Sarah Baxter Photography
New Orleans Culinary & Hospitality Institute, New Orleans
The main cooking lab and bakery are just two components of this culinary school. The 93,000-square-foot facility includes 5 dedicated teaching kitchens, a cafe and bar open to the public, plus event spaces and rooftop terrace. One unique aspect of this project was the involvement of the North American Association of Food Equipment Manufacturers, which coordinated sponsorship of equipment donations.
---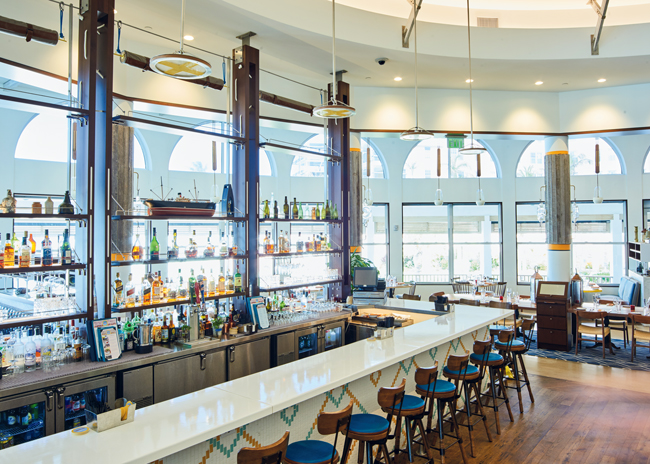 Hamilton Princess Beach Club. Photo by Nhuri Bashir
Hamilton Princess Beach Club, Bermuda
This multitiered, three-year renovation project touched multiple spaces at the hotel. The bar transformation went from "a dark and dismal environment to an open and airy one," says Eisenbarth. "The open space with the glass allows guests a view of the bay."
---
Comcast Technology and Innovation Center Photos courtesy of "The Market," photos by Randy Van Duinen
Comcast Technology and Innovation Center, Philadelphia
Two unique aspects of this corporate office space include a coffee/bar area (below left) and what's dubbed as the Main Marketplace (below right). Eisenbarth especially likes the herb-garden window boxes by the Marketplace. "They warm up the whole feel of the space," he says. The corporate office houses different local restaurant concepts in this space. The bar setup transitions from a coffee concept to traditional bar service during on-site functions, which can include producers and directors visiting the building for screenings and/or to pitch ideas.