Our judges were impressed by the innovative design elements, including altering equipment to look more like furniture; attention to detail in developing the cookline; and the creative blend of form and function introduced in this $3.5 million renovation that debuted as Q on the Riverwalk at the Hyatt Regency San Antonio in November 2010.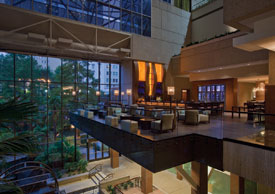 The net result of these efforts was the transformation of antiquated space in the hotel into a lively venue that attracted nearly 76,000 customers during its first year of operation.
A comprehensive redesign and renovation of the Hyatt Regency San Antonio's lobby restaurant and bar are part of Hyatt's brand positioning and strategy to highlight food and beverage within its properties. Q on the Riverwalk features barbecue (hence the name Q) and beer in a casual, unique setting.
"The dining experience is sophisticated but casual, offering varying price points and seating options, including everything from a communal table to soft seating in the bar," says Susan Terry, vice president of Hyatt Culinary Operations for North American properties.
Inside Q, customers see a semi-open kitchen with a display action station. Spanning about 16 feet, the display kitchen is comprised of a wall containing various cooking formats. "The goal for the front-of-house kitchen was diversity in cooking capabilities, not capacity," says Lee Simon, principal, Innovation Foodservice Design Team.
The cooking wall contains a rotisserie for roasting free-range chickens used in many breakfast, lunch and dinner menu items. To the right of the rotisserie stands a two-section, 48-inch charbroiler with manual cranks so cooks can raise and lower the grates, giving a modern, sophisticated twist to a rustic-style piece of cooking equipment.
Highlights of Q include:
In order to give the equipment a uniform and integrated look, the rotisserie and convection ovens were designed with the same dimensions and exterior aesthetics to symmetrically anchor the cooking wall on the left and right above the work counter.
All visible components of the cooking wall were powder coated for a softer finish; stainless steel was limited to the interior spaces of the cooking equipment; and all drawer faces incorporate panels of bonded metal that were coordinated with the finishes specified by the interior designers in the front-of-house areas.
Sitting in front of the vertical cooking wall, a counter serves multiple purposes for breakfast, lunch and dinner.
A plancha and four-burner range sit in the center of the hot buffet/service counter.
The lid for the refrigerated rail between the plancha and range slides into the counter wall and "disappears."
Refrigerated and ambient storage space, as well as electrical and plumbing connections, sit below the counter.
For the cold buffet and community dining counter, a refrigerated glass display case with LED lighting and drawers was inspired by a refrigerated, jewelry-style, full-service case seen at the HOST show in Milan and modified for self-service access.
At the bar, a glass display refrigerator for the beer and some wine was incorporated into the design as a featured element.
Refrigerated wine storage is below counter height and behind solid doors so it won't detract from the comprehensive beer display. Additional ambient wine storage is located within the restaurant's private dining room.
"The designers did a good job of dressing the equipment to look like furniture instead of dressing around the equipment to achieve their goals," the judges concurred. "This operation takes expo cooking to another level."
Q on the Riverwalk Team
Owner: Hyatt Development Corporation
Project Manager: Mike Cardwell, Hyatt Development Corporation
Owner's Representative: Advent PDS; Paul Joseph, project manager
Vice President of Hyatt Regency's Culinary Operations, North American Operations, Chicago: Susan Terry
Corporate Director of Culinary Operations: Jon Benson
Director of Food and Beverage, Hyatt Regency San Antonio: Michelle Geiger
Executive Chef, Hyatt Regency San Antonio: David Wirebaugh
Chef de Cuisine, Hyatt Regency San Antonio: Jake Andrews
Restaurant Manager, Hyatt Regency San Antonio: Betsy Krug
Architect: Douglas Architects, San Antonio; Andrew Douglas, principal
Interior Designer: Looney & Associates, Chicago; Jim Looney, principal, and Victoria Hardy, interior designer
Foodservice Design Consultant: Innovative Foodservice Design Team, Tampa, Fla.; Lee Simon, principal, and Vince Ferraro and Jeremy Hughes, project managersEquipment Dealer: Louis Wohl & Sons, Tampa, Fla.; Jose Gutierrez, project manager
Equipment Dealer: Louis Wohl & Sons, Tampa, Fla.; Jose Gutierrez, project manager
2012 Facility Design Project of the Year Metropolitan State Hospital's Central Kitchen and SatelliteRethermalization Kitchens in Norwalk, Calif.
2012 Facility Design Project of the Year, Honorable Mention: Café 5555 at Banner Thunderbird Medical Center in Glendale, Ariz.