Successfully replacing an inefficient operation, the new kitchen, catering support kitchen, residence hall serveries and retail operations transform the student experience.
Photograph courtesy of Opsis Architecture; photograph by Christian Columbres
FACTS
Gonzaga University: Student enrollment, 7,500; student residents on campus, 4,800; 2,800 people on mandatory meal plans (for 2 years) and 800 on voluntary meal plans
Opened: August 2015
Scope of Project: Concept development, master planning, space allocation, preliminary design, detailed design, specification writing, site inspections, construction administration, pre-opening inspections, and interior design for a production kitchen on the lower level, residential dining serveries on two floors, a catering support kitchen and retail operations on the first and second floors
Size: 167,726 sq. ft. total for building; foodservice space includes an 8,438-sq.-ft. production kitchen; 11,300-sq.-ft. board dining servery and seating on the first level; an 8,250-sq.-ft. board dining servery and seating on the second level; and a 710-sq.-ft. catering support kitchen on the third level
Seats: 720
Average Check: $7.50
Total Annual Sales: $9 million
Daily Transactions/Covers: 3,800
Hemmingson Center's Hours: Breakfast, 7 a.m. to 10:30 a.m., Monday through Friday; brunch, 9 a.m. to 2 p.m., Saturday and Sunday; lunch, 10:30 a.m. to 4:30 p.m., Monday through Friday; mid-meal, 1:30 p.m. to 4:30 p.m., Monday through Friday; dinner, 4:30 p.m. to 8:30 p.m., Monday through Friday and Sunday; 4:30 p.m. to 7:30 p.m., Saturday; late night, 10 p.m. to 1:30 a.m., Saturday
Menu Specialties: Daily Bread (deli-style sandwiches on house-baked breads, house-made soups, salads and baked goods from in-house bakery); Spike's Diner (chicken pot pie, meatloaf, burgers and fries, and made-to-order breakfast omelets); World's Fare (global cuisines); Zagriculture (vegetarian-centered and allergy-free menu options, including seasonal produce from the rooftop hydroponic greenhouse); Mediterranean Coast (pizzas, flatbreads and other dishes baked in a wood-fired oven); 360 Degrees (Mongolian-style grill)
Retail Menu Specialties: A licensed Starbucks (first floor); Marketplace (first floor); The Bulldog (second floor); Einstein Bros. Bagels (first floor)
Staff: 400 employees campus-wide; 250 employees at Hemmingson Center.
Total Project Cost: $60 million
Equipment Investment: $4 million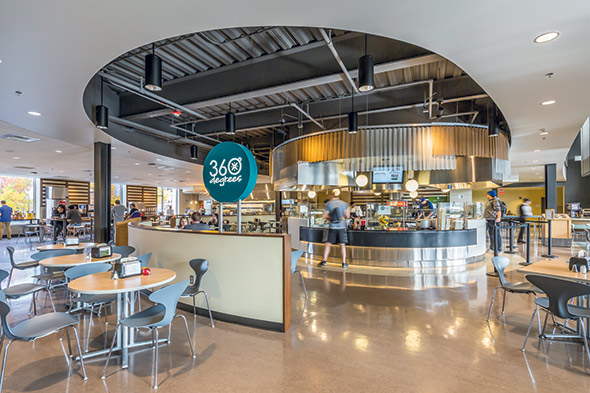 Curvilinear platform at 360 Degrees features a Mongolian grill, fryers and rice cookers that supports staff production of rotating menu items each week.
Paint colors at World's Fare and other platforms are warm and inviting. Photography by Steve Whittaker, Whittaker Photography
Owner: Gonzaga University, Spokane, Wash.
Director, John J. Hemmingson Center and Auxiliary Services: Chuck Faulkinberry
Executive Chef: Thomas Morisette, Sodexo
Architect: Opsis Architecture, Portland, Ore.; Alec Holser, AIA, LEED AP BD+C, principal, and Paul Kinley, AIA, LEED AP BD+C, principal and project manager; with Bernardo Wills Architects, Spokane, Wash.; Mike Wallace, AIA
Interior Design: Webb Foodservice Design, Anaheim, Calif.; Linda Midden, design director; and Opsis Architecture, Portland, Ore.; Jeri Tess
Foodservice Consultants: Webb Foodservice Design, Anaheim, Calif.; Costel Coca, FCSI; Ben Pollock, senior project manager, Colorado Springs, Colo., office
Equipment Dealer: Smith & Green Co., Kent, Wash. (acquired by Edward Don & Company in 2018)
Construction: Hoffman Construction, Portland, Ore.
Zagriculture offers an all-vegan menu featuring sustainable, seasonal foods as well as produce from the hydroponic greenhouse. This platform's equipment package includes a combination range, cooler and refrigerator, a griddle and several hot and cold wells.
Worth Mentioning: The Judges' Comments
The project successfully replaces an inefficient operation and exceeds expectations for both Gonzaga University and the design team.
This design features great flow of product from the dock to the dining room.
The placement of the seating helps to create a good atmosphere.
Often a retail component can be an afterthought in a project like this. Here, market placement was well thought out.
A Mongolian grill at the center of the servery creates a visually intriguing design.
The facility includes a nice balance of franchised and proprietary food concepts to provide a diverse array of options that allow customers to dine as they desire.
The inclusion of a cold room for food prep is notable. Not many dining operations are willing to add this feature.
As a result of the thoughtful design and execution, this project went beyond its stated goals in less than two years.
The overall facility earned LEED Gold certification.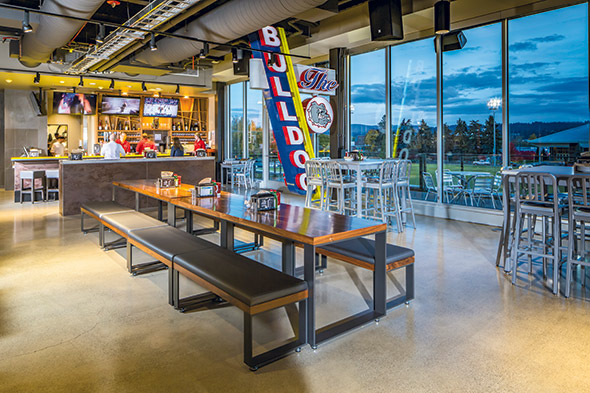 The Bulldog divides into three distinct areas — a bar, pub and restaurant — within one space. The back-lit bar top adds a pop of color to the bar area. Photography by Steve Whittaker, Whittaker Photography
Objectives and Goals Set and Met
The old COG — an acronym for the phrase Circulus Omnium Gonzagaorum, which is Latin for "circle of company of all Gonzagans" — could no longer sustain the university's existing and
future needs. It was demolished in 2013 in preparation for the new student center named after John J. Hemmingson, a university trustee.
The facility serves as a vibrant hub at the heart of campus where students, faculty, staff, alumni and community members can gather, dine, study, interact, collaborate, build community and foster new connections in a manner never before possible at Gonzaga. The project also reflects Gonzaga's commitment to sustainability and creates a flexible space into which the university can expand.
The $60 million center brings to life Gonzaga University's rich history and educational experiences, and serves as a gathering place for the university and greater Spokane community.
The building supports essential activities native to a residential campus, providing multiple dining options, flexible meeting space and robust multipurpose space. The 190-seat auditorium, multipurpose gathering spaces and study/media/active lounges accommodate more than 800 people. The two-level, residential, all-you-care-to-eat dining hall, retail food venues, market, and Gonzaga Bulldog-themed pub together span four levels with total seating for 972 people.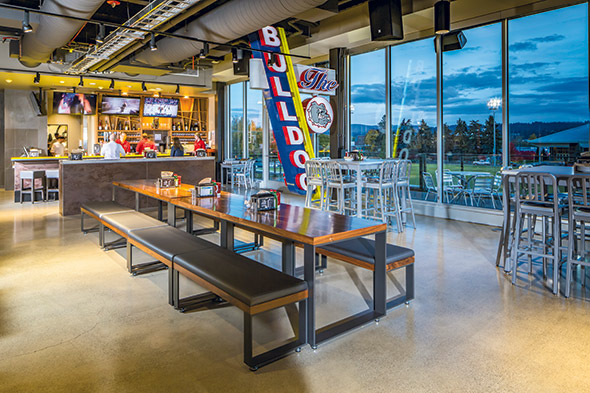 The Marketplace's industrial appearance serves as a neutral backdrop to merchandising. The exposed ceiling takes advantage of the height of the glass and natural light spilling into the space. Photograph by Steve Whittaker, Whittaker Photography
Design Features
The building achieved LEED Gold certification by using a sustainable design approach, incorporating sustainable building materials and energy-efficient features, and using environmentally sensitive construction and operational plans. These include diverting 92.5 percent of construction waste from landfills and using geothermal heating and cooling. A rooftop hydroponic greenhouse offers a venue for teaching and growing fresh produce while providing a home to 100,000 bees that produce Hemmingson Honey for the campus.
Shelled, unfinished space at the lower level allows for future kitchen and program expansions. The university expanded into that area less than a year after the project's completion.
How to place functional areas in relation to one another given footprint and height restrictions challenged designers. Other challenges included concealing the loading dock from view, distributing fresh product from the lower-level production kitchen to residential dining hall platforms, and designing for collecting soiled dishes in a multilevel residential dining hall.
Resolutions include distributing foodservice operations on all four levels of the Hemmingson Center with stacked service elevators and designing the loading dock to be largely concealed from public view. Satellite exhibition cooking platforms are self-sustaining and include cold and dry storage space, work counters and sinks. A vertical accumulator for dish transport moves items from the dish room on level two to the dish room in the residential dining hall on level one. Dishwashing takes place on level one and the lower level.
The design of multiple food and beverage locations provides efficient flow from the lower level receiving area and main kitchen up to the three levels of the building.
The all-you-care-to-eat dining hall provides a dynamic foodservice experience. The strategic distribution of satellite exhibition cooking platforms throughout the different levels of the dining facility draw students into the center of the dining activity. By the nature of the multilevel building, each food station features a display kitchen. Each food station was developed as a microrestaurant concept with a high-level of attention given to detail and materials to reinforce the brand story.
The innovative Zagriculture station serves plant-based meals that feature the seasonable vegetables and herbs grown at the rooftop hydroponic greenhouse. The rooftop greenhouse and garden was expected to produce 120 heads of lettuce per day but now produces 150 per day.
The greenhouse venue also serves as a teaching space.
The open staircase and vaulted dining area makes the split-level dining hall feel connected.
The design of the space makes significant use of natural light.
A specially designed crowd-sourcing app for the student community displays wait times and provides a platform for students to voice their opinions about the food.
The garde manger's cold prep area contains multiple work tables and smallwares so staff can support multiple dining operations simultaneously. Hidden from sight in back of the utensils are the vegetable prep and other cold prep equipment.
Since the Renovation
A variety of student organizations previously scattered throughout campus now call the Hemmingson Center home.
"This has become the hub of the campus, as we hoped," says Chuck Faulkinberry, director of the Hemmingson Center and Auxiliary Services. "We were hoping for 8,000 visits a day and now we have 10,000, and we were hoping for 14,000 events and we've exceeded 21,000."
"We set high expectations, received great input in the beginning and now receive feedback from customers and staff about the high-quality food and continuous interaction among customers and staff," Faulkinberry adds. "We're very pleased with the results."