This renovated eatery offers a focus on sustainability and fresh, healthful food through 10 self-contained, European-inspired, bistro-style concepts, as well as the gourmet Harvest Market. The operation also provides room service for the adjacent hotel.
Blue Wall Facts
Ownership: University of Massachusetts (UMass)
Opened: September 2, 2014
Scope of Project: Located on the Amherst Lincoln Campus Center Concourse, the 9-month-long project featuring the renovated Blue Wall Café includes 10 themed, retail, bistro-style dining concepts, each featuring a dining specialty: Yum! Bakery with a concept (Paciugo) within, Famous Famiglia Pizza (a licensed concept), Green Fields, Tamales, Wasabi, Deli Delish, Star Ginger, The Grill, Chef's Table, and Peoples Organic Coffee. The project also includes the gourmet-style Harvest Market. A small garde manger area supports the dining concepts' front-of-house production. The project is LEED Silver CI-Retail registered; designers are applying for Gold CI-Retail.
Size: 32,000 sq. ft.
Seats: 920
Average Check: $7.59
Total Anticipated Annual Sales: $11 million
Transactions/Daily Covers: 7,500 (4,500 before 2 p.m.)
Menu Specialties: European-inspired cuisine and a gourmet market
Staff: 5 managers; 1 dock supervisor and 6 staff members; 27 full-time culinary employees, including 2 chefs; 169 seasonal employees; 226 student employees
Total Project Cost: $19.5 million
Equipment Investment: $2.5 million
Blue Wall Key Players
Owner: University of Massachusetts Amherst, UMass Building Authority
Executive Director, Auxiliary Enterprises, UMass Amherst: Ken Toong
Director, Retail Dining Services, UMass Amherst: David Eichstaedt
Manager of Campus Center Foodservices: Van Sullivan
Executive Chef, UMass Amherst: Willie Hock Leng Sng
Chef de Cuisine: Matthia Accurso
Architect: Bruner/Cott & Associates, Cambridge, Mass.; Robert Simmons AIA, LEED AP, principal/partner; Dan Raih, AIA, LEED AP, principal-in-charge
Interior Designer: Bruner/Cott & Associates, Cambridge, Mass.; Robert Simmons AIA
Foodservice Consultants: Colburn & Guyette Foodservice Consultants; Todd Guyette, owner; Peter McGillicuddy, senior associate; Brian Thistle, senior project manager
Lean Process Consultants: Haley & Aldrich, Bedford, N.H.; Nick Masci, lean process facilitator
Equipment Dealer: Kittredge Foodservice Equipment & Supplies, Agawam, Mass.
Construction: Lee Kennedy Company; Allan Fiddes, project executive
Worth Mentioning: The Judges' Comments
Beautifully designed urban marketplace that promotes fresh, locally sourced ingredients
Imaginative design of the foodservice within a Cold War–era building design
Creative design and selection of many concepts within a cohesive design and ambiance
Very good use of display kitchens and customer visibility of concepts from inside and outside the venue
Impressive college foodservice and room service components
Appropriate and effective use of LEAN design principles
Inclusive process to get students involved in the concept design and theme selections
Rare and smart decision to feature a tamale station
Excellent application of sustainable practices
Good use of communal and flexible seating
Impressive financial and traffic results
Objectives and Goals Set and Met
UMass Dining, ranked second in the country by the Princeton Review for its food program, wanted to create a
Tamales is one of customers' favorite viewing areas as they watch staff make tamales in a cooker that takes a ball of dough, drops it into a chute, spreads it out, warms it and shoots it out onto a conveyor at the other end. Photo courtesy of Bruner/Cott; photography by Emily O'Brienworld-class venue that would reinvent the perception of an outdated facility with two venues that almost completely lacked natural light. From the exterior of the building, there was little awareness that the venue even existed, and it was hard to find inside the concrete lobbies of the building. The new facility serves 2,500 more visitors daily from a new classroom building, generating double-digit increases in revenue, and has reduced food and labor costs and increased operational efficiencies.
Project Design Features
The architects added a new glass vestibule to celebrate the activity within the space. They also captured an outdoor sculpture court and glazed it over with a skylight to create a greenhouse dining room, which can accommodate private events as well as general dining.
The space had to serve 1,500 more meals per day, and the seating concepts had to encourage a higher turnover. The solution was to install European-style standing tables modeled after Eataly in New York City, dense urban seating at high-tops and food options that promote grab-and-go offerings, as well as 22 points of sale.
To solve a complicated kitchen exhaust issue, the design team proposed to mock up queuing for station designs and playact the flow and timing of orders at the station to test flow, adjacencies and equipment placements.
Key features of the design include adding 200 seats in 20 percent less total space. Using the Japanese concept of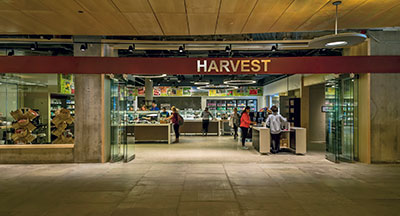 Harvest Market features hot Indian, Ethiopian and other entrées, as well as a salad bar, locally sourced bagel bar, yogurt bar, all-natural and organic snacks, local cheeses and deli meats, grab-and-go salads and sandwiches, and a made-to-order juice and smoothie bar."gemba," going to where the work happens, the product flows efficiently from farm to dock to dry storage to processing to cooking to the customer and, finally, to the compost facility. Back-of-house storage was reduced 50 percent, and a just-in-time inventory system was implemented. Back of the house was reduced to just the dishwashing station. The garde manger station and hotel room service production are visible from the customer side. The 12 venues for the Blue Wall have integral cold and dry stores in or near the station, with one large freezer at the loading dock on the floor below.
Since the Renovation
Q&A with Van Sullivan, associate director, retail dining, UMass Amherst
FE&S: Now that you've had time to live with the new facility, what are the three accomplishments that you are most proud of?
VS: First, our new facility features 11 opportunities to prepare fresh food in front of our guests. This is all based on a
At Star Ginger, staff hold ingredients in a refrigerated rail and use a six-burner range with oven beneath, a wok range, and a fryer to prepare Asian favorites. Photos courtesy of Bruner/Cott; photography by Emily O'Briensystem of just-in-time ordering at each station of enough food for just one day and even sometimes just one shift. We rebuilt our loading dock to make this happen and it worked — it really worked!
Second, Harvest Market was originally planned to handle overflow and offer an opportunity for some extra convenience sales. Sales have exceeded our wildest expectations at over $15,000 daily. Harvest has provided a new prototype for our campus market stores. Guests are enjoying fresh juice and smoothies, freshly prepared hot and cold bars, and a wide assortment of healthy snacks and world cuisines.
Third, the whole campus wants to use the facility. Meetings and catered events are being scheduled almost daily at the Blue Wall, and we had to create a whole new meal voucher system just to handle the amount of campus groups and conferences that want their guests to dine here.
FE&S: Is the facility meeting your expectations for traffic, customer acceptance and financial return?
VS: Yes! The pro forma was built on 6,500 guests a day, and we regularly serve over 9,000 and have a good chance at 10,000 in the next few weeks. Renovating a long-time campus institution can meet with some negativity, but we have nothing but positives from our customers, and the traffic bears that out. In addition, we have been able to lower the food cost almost 6 percent from the old model and maintain comparable labor percentages. Traffic has reached a level that we have already added seats once and are now looking at creative ways to add more space in the building. Not a bad problem to have! The project's goals of double-digit revenue increases were more than met by an initial upsurge of 25 percent increase, followed by a 35 percent increase when final design of the Marketplace grab-and-go venue was completed.
FE&S: What advice would you give to design teams as they embark on design adventures with ambitious goals?
VS: First, stick to your guns and be flexible at the same time. This may sound odd, but if you are in the middle of one, you will know what we mean.
Second, plan out your workspaces before going into millwork stations. Mock up a station, get some people and walk through a day — the experience is invaluable.
Third, paying careful attention to traffic flow and pinch points can be greatly helped by a good queuing study and architectural traffic management design elements.