Six microrestaurants expose customers to preparation techniques for various cuisines and give staff an opportunity to run their own establishments. As a result, dining services continues to make a significant contribution to the success of this $94.8 million multipurpose facility, earning the highest honor in FE&S' Facility Design Project of the Year competition.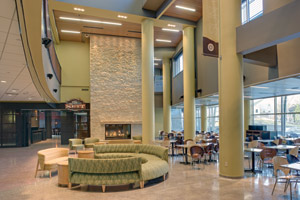 A high-ceiling atrium, fireplaces, natural light and many seating options make Union South a popular and comfortable place to socialize.
Since the Renovation: Q&A with Carl Korz, director of dining services, Wisconsin Union
FE&S: Since the project opened, how has business been? Is it meeting your expectations?
CK: The results on the project have been beyond our wildest dreams. The flexible design of the units, the equipment layout and the adjacency of the spaces have contributed a tremendous amount to our ability to produce a high-value product.
The numbers from the first year speak volumes. We projected up to 80 percent growth based on the best information at the time. We went from $1.8 million to $5.24 million in annual sales. This success created 12 new jobs with good benefits for the local economy, and more than 300 new student jobs.
FE&S: Now that you've had more time to live in the facility, so to speak, what works as you had hoped?
A: Our coffee house and wine bar, Prairie Fire, is closing in on 1,000 customers a day. So is our c-store, Badger Market. In our Badger Market operation, we are able to sell three times as much product, in one-third the space, due to an efficient layout.
At 10 seats, the Prairie Fire wine bar is not a high-volume operation but we have used it for monthly wine samplings and tastings. We pair the programming and educational mission of the Union with our operations. Each month we have a certified wine specialist, sommelier or local vintner make a presentation or tasting for 25 to 50 people along with tapas that we offer at the wine bar. Because we are a LEED Gold building, we always have one local and one organic wine in our choices.
Ginger Root, our pan-Asian restaurant, has been one of our more unusual successes. We are only open from 11 a.m. to 2 p.m. but the line starts forming at 10:40 a.m. and will stretch 40 deep so customers can get the stir-fries and curries with homemade sauces. Due to its popularity we will expand our dinner market by opening the unit during the evening this fall. We projected that 300 covers would be our maximum service during that time period, based on style of service and register processing speed. When we had our first 320 cover day, the exhilarated but exasperated general manager of that unit said, "That's it, we won't ever go higher than that!" One year later they reached their new high count of 559 in 3 hours.
Our pizza operation, Urban Slice, produces 20-inch pizzas, sold whole and in slices. We use a custom cheese blend for maximum gooey-ness, and our guests enjoy the organic look of hand-shaped dough. We also offer freshly tossed salads that have taken off nicely.
The Sett includes the recreation area with climbing wall and bowling alleys. It is also our concert stage for local and national acts of all genres. The first year, of 49,000 sandwiches sold, 42,000 were burgers. We offer garlic-parmesan fries — one of our more popular offerings — and an extensive selection of tap and bottled Wisconsin beers. We host the only trivia night available to those under 21 in town, and we can get up to 100 people on a Monday night for that event. A 19-foot diagonal screen and multiple smaller flat screens project mainly sports.
Catering is our largest growth area. We went from $240,000 in sales to $1.2 million. We have an 825-seat ball room with reclaimed ash and walnut floor cut from the crossbeams of two dairy bars in the middle of the state. We have a true back of house space that Ricca Newmark designed to handle the high volume with grace. We can prep for multiple future events while still servicing 800 people due to the efficiency of the layout.
The whole operation hosts Badger Bash on football Saturdays. A packed house of 4,500 turns out to see the marching band, lead by Mike Leckrone, do its fan-favorite pre-game show. The band then does the March to the Arch and leads fans through the Camp Randall historic arch, to the adjacent stadium.
We abandoned fast food and moved to a fast-casual concept. We work in small batches and focus on quality. It was a switch that was a steep, but quick learning curve for our team, and not without hiccups. However, the most important result is that we proved to ourselves that it could be done, and done well. We pushed through uncomfortable territory, but it would be no exaggeration to say that this project totally changed the trajectory of our dining service operation at the Unions. The focus is now on providing our guests a high-value product...the quality must be at least 1 percent ahead of the price to provide that high value. And as our prices compete with local private retail, it gives us strong incentive to keep that value high.
As we move forward, we will expand our dinner business at Union South, and apply our lessons from Union South toward the current renovation of the Memorial Union.
FE&S: And what might you change?
CK: We're now looking at improving queuing. We didn't anticipate the response that we received. We developed an open flow but lines are longer than we thought. We're looking at where customers make decisions and investigating whether customers can make more decisions before they get to the counters.
FE&S: What advice would you give to design teams as they venture into new territory like this?
CK: Get credible market research and spend as much time on market research as you can. Don't be afraid to go beyond what the naysayers say you should. And engage as many people as you can in the process; we had a much richer process because we involved 3,000 people in various stages. We used the resources we had to get a core knowledge of the stakeholders' needs and they put their imprint on the project. It took longer to manage the process but we got the 360-degree perspective, which led to a richer tapestry of the building and its amenities.
FE&S: Any other lessons you learned about equipment, design or operations during this project?
CK: We would have been more conservative but Ricca Newmark turned us on to new technologies and high quality equipment with higher durability and performance, which helped us. It's like buying a new car. You don't want to spend the money on a better new car at first but when you get in it you're glad you did.
New technologies included energy-efficient dishwashers that helped earn the LEED rating, and high-efficiency ranges and combi ovens with a full computerized interface that has helped our staff who don't have English as a first language.
Project Background
Built in 1970 between the engineering and science campuses, University of Wisconsin-Madison's Union South was grossly underutilized.
A two-to-one majority student-passed referendum in 2006 authorized a rebuild of the union primarily funded by their own fees.
After much collaboration with the university population and community, a new $94.8 million, 276,644-square-foot Union South was built.
Goals Set and Met
Increase campus collaboration through improved dining and amenities.
Create flexible, scalable operations that endure peak periods throughout the different times of day and can meet the needs of different restaurant divisions such as catering, markets, cafes and culinary production.
Generate strong performance with "sustainability through high-efficiency components."
Develop a viable back-of-the-house structure to ensure the discreet flow of products and services.
Implement an efficient and safe flow of product through a production and distribution platform that enhances food safety and reduces double-handling of items.
Provide a progressive, functional front-of-the-house structure that adds to the overall character of the operation.
Why It Won: The Judges' Comments
This is a multi-use space, which is the norm for this type of facility, and designers met the standard.
A well-used and well-received facility.
Creative design and layout.
A self-operated facility that did a good job of creating its own proprietary branded concepts, which is not easy to do.
Restaurants with individual storefronts offer customers variety but are easy to manage from an operational perspective.
The monetary investment in foodservice makes sense in light of the revenues the facility generates ($5.2 million in expenses to $1.6 million in annual revenues, which seems to be a good ratio).
LEED Gold status is impressive.
The centralized support allows for efficient use of labor across all of the foodservice platforms. The operator can ratchet up labor and scale down as needed.
Good use of technology across the board.
Union South Features
Three entrances
A light-filled environment with bright, soft seating flanked by two massive stone fireplaces
Student- and artist-designed stained glass and other graphics
Organic design featuring a winding, river-like interior streetscape that acts as the building's artery and connects the union's six destination microrestaurants
Dining Services Features
Six freestanding microrestaurants, each with individual storefronts and interior thematic environments: The Sett, Harvest Grains, Ginger Root, Urban Slice, Daily Scoop and Prairie Fire
Two back-of-the-house kitchens
Invisible hub on the lower level
Trash removal via a behind-the-scenes corridor
Multipurpose equipment that allows condensation of the service areas and layering of equipment into these areas.
Staff teams create unique menus for their units
Cross-trained staff works at more than one area during slower times
UW-Madison Union South Team
Owner: University of Wisconsin-Madison
Union Director: Mark Guthier
Associate Union Director: Hank Walter
Director of Dining Services, Wisconsin Union: Carl Korz
Head Chef, Union South: Tim Vertein
Facilities Director and Internal Project Manager: Paul Broadhead
Divisional Heads: Jim Long, restaurant division director; Peter Behrendt, markets and café director; and Lisa Wadzinske, catering division director
Architect: Workshop Architects, Inc., Milwaukee; Jan van den Kieboom, principal; Wally Johnson, project coordinator
Foodservice Management Advisory Services: Rob White, president, and Eric Leonard, Envision Strategies, Denver
Culinary Design: Kathleen Seelye, managing partner, Ricca Newmark Design, Denver; Derek Sisson, project director, Michigan office
Branding & Signage: Mark Schmitz, principal/creative director, Zebradog, Madison, Wis.
Equipment Dealer: Stafford-Smith, Inc., Kalamazoo, Mich.; for project, satellite office, Elkhorn, Wis.
Construction Management: CG Schmidt, Milwaukee; Dave Albrecht, project manager