Content sponsored by: Alto-Shaam
Like a Swiss Army Knife, combi ovens are designed to be an all-in-one solution for efficient and consistent volume food production. These units can take the place of convection ovens, kettles, steamers, fryers, smokers and dehydrators, saving money on equipment costs and space in the back of house.
Even though these units have become staples in many commercial foodservice kitchens, most operations are not utilizing combi ovens to their full potential.
"When I ask people what a combi oven is, the answer I get is that this equipment is a combination of a steamer and convection oven, and I challenge that," said Andy Mayeshiba, corporate chef at Alto-Shaam Inc., a leader in providing cooking solutions to the foodservice industry, including a wide range of combi ovens. "If that's the case, then why not just utilize a convection oven and a steamer rather than a combi oven? These units are much more than that."
Unlike a steamer, a combi oven allows operators to use humidity at any temperature. While a steamer only uses steam to create 212-degree Fahrenheit heat, a combi oven offers the ability to control the temperature of the environment and amount of humidity in the air. This provides the means to poach, bake and roast, all with the benefit of a high humidity environment. A traditional steamer is limited to only steaming.
"These ovens can cook with added humidity in temperatures ranging from 85 to 575 degrees Fahrenheit," said Ryan Norman, corporate chef at Alto-Shaam. "This added moisture offers numerous advantages from both cooking and food quality standpoints."
With added humidity and increased air circulation, product is heated more efficiently.
"Combi ovens provide 40 to 50 percent faster cook times and higher yields, since cooking is accomplished in more humid air," Norman said.
With traditional convection ovens, food is cooked in a dry cavity and operators have no control over the humidity. Fans that circulate warm air within the oven's cavity also are creating forced evaporation with the dry air withdrawing moisture from food. The result is decreased yields as well as compromised moisture, flavor and nutritional value, since most of the juice is evaporated.
"Combi ovens combine the strengths of a convection oven, which cooks food faster using air motion and temperature control, and the humidity benefits of a steamer, which keeps product more moist, offers improved yields and holds food better for longer periods," Mayeshiba said.
One of the biggest myths with combi ovens is that the use of steam will produce soggy food, wash off seasonings and won't provide browning.
"
Steam is a gas and gases are dry," says Mayeshiba. "This means that steam will not waterlog or wash out the flavors of your food, as many believe. Browning is a function of heat, not of dryness. The additional heat energy held in steam actually helps to create better browning results than dry air."
And when limited space is a factor, combi ovens are the perfect solution since this equipment can be used in place of various equipment types.
There also are a wide range of Alto-Shaam combi ovens available, from a small countertop unit that accommodates four hotel pans to a large floor combi that holds 40 hotel pans, to fit any need.
Along with size options, Alto-Shaam's new combi oven technology offers a number of benefits for today's operations.
The CT PROformance line features a turbo mode, which increases power output by 20 percent, while providing faster recovery and reheating that results in quicker cook times overall.
In addition, there have been a number of innovations with combi controls. Alto-Shaam's line provides easier programming capability with one-touch technology that ensures cooking is consistent, regardless of who is operating the combi oven. Today's ovens also allow operators to control humidity from 0 to 100 percent in one percent increments, which offers better precision. Five-speed fans create an ideal environment for a wide range of products, including foods needing a more gentle cooking environment.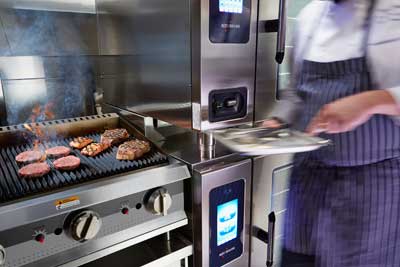 While combis traditionally required between 18 and 20 inches of standoff from heated equipment, new oven designs don't need any clearance. The result is a better workflow and increased efficiency in the back of house.
"Combi ovens are a great addition to any kitchen out there," Norman said.
---
Learn more about the benefits of combi oven cooking at http://www.alto-shaam.com/en/combi-white-paper-request.