Published on Sunday, 02 June 2013
Written by The Editors
Pot and pan washers may not be necessary for every foodservice operation, but for specific applications these units can save significant labor.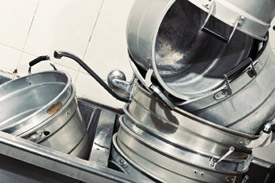 Generally, traditional commercial dishwashers do not properly clean pots and pans, which tend to be more heavily soiled than plates and glassware. Although it's possible to run pots and pans through conventional warewashers, multiple cycles may be necessary to remove baked-on food.
Pot and pan washers feature separate wash and rinse tanks, self-contained booster heaters, adjustable wash and rinse cycles with a selector switch, high-velocity spray nozzles designed for fast stripping action, an external pre-rinse wash-down hose, automatic fill functions on utensil models, heavy-duty racking systems, electric, steam or gas heating systems and, sometimes, a loading ramp or pit grid for rack washers. Operators can tailor multiple cycle times to address soil loads.
Pot and pan washers' high water pressure can quickly clean heavily soiled pots and pans can but may also damage more fragile items, such as dinnerware and glassware. Unlike traditional warewashers, dedicated pot and pan washers use larger pumps spraying higher water pressure patterns and have longer wash cycles to improve soil removal performance for baked-on debris. These units position wash arms as close to wares as possible, while still allowing room for clearance. Because the water comes directly out of the machine's cleaning arms in a specific pattern, it mimics manual scrubbing motions.
These represent a good option for operators seeking versatility to clean various types of large cooking vessels and baking pans. For example, these washers are suitable for use in conjunction with pasta or sauté stations to clean large pots and pans that wouldn't fit in a conventional warewashing machine. In addition, bakery operations can clean items like bundt pans quicker, since these specialized washers more effectively clean out crevices and remove excess oil.
In addition to washing and sanitizing pots and pans, operators can use these machines to clean sheet pans, hotel insert pans for makeup tables or service lines, kitchen utensils, bakeware, skillets and sauté pans. In fact, operators can clean virtually any metal item in these machines.
Do You Really Need A Dedicated Pot and Pan Washer?
Because not all operations warrant utilizing a dedicated pot and pan washer, operators need to justify that the volume warrants mechanical washing versus hand washing. A restaurant that has only 20 sheet pans will not recoup the investment of a specialized warewashing unit.
When choosing a pot and pan washer's capacity, operators need to consider the volume they will wash. The capacity for these machines generally ranges from 6 to 60 pans per hour. While some models can clean 100 steam table pans or 120 bundt pans per hour, other units can accommodate full sheet rack dollies, cleaning upwards of 78 pans per cycle.
It is not uncommon for operators to undersize pot and pan washers when specifying. Even if it seems like the volume will be lighter, it is always better to overestimate the machine's size. A large commissary with a big bakery operation will have different needs compared with a hospital running through a couple of stock pots a day or a mom-and-pop restaurant with a bakery.
When choosing a pot and pan washer, operators should also determine the level of soil the unit will need to clean. Baking or sheet pans using parchment paper won't have much residue and will mainly need sanitizing, while pots used for making tomato sauce will need more extensive cleaning and possibly numerous wash cycles.
Operations with limited storage areas should consider incorporating a pot and pan washer, because the hot water these units use sanitizes items and flash dries after washing, which saves on drying space for larger pots and pans. For machines that use racks, operators can choose from various types of options that can hold specific types of wares, such as trays and sheet pans.
In terms of sizing, one common mistake operators typically make is neglecting to premeasure the pot and pan washer, which can interfere with the kitchen layout or flow. Manufacturers recommend creating a floor template of the unit, or confirming with a new facility's architect, to make sure the machine fits properly into the allotted space.
Operators also should be aware of configuration challenges. For example, scraping tables cannot be located on front load machines and need to be integrated into the unit.
The types of wares being washed also play a critical role in specifying the appropriate pot and pan washing system because not all units are designed to handle the same items. For example, some units are configured for large stock pots, while others are built for sheet pans and better suited for bakery operations.
Because the capacities of continuous pot and pan washing systems vary greatly, with some having a smaller wash tank capacity but an overall larger footprint, operators need to consider how many pots, pans and sheet pans need to be washed in a specific time frame and the size of the wash tank.
Further Considerations for Specification
One common mistake operators make is not considering the water connections and drain systems prior to purchasing a pot and pan washer. Some units have different fill and drain systems, which may necessitate larger or more complex plumbing than standard dishwashers require. Operators should review spec sheets and drawings to make sure the current water connections and drains can accommodate the unit they intend to purchase. Also, when specifying these units, it's important to ensure that the hood design is large enough to capture vapor.
When specifying a pot and pan washer it is important for operators to understand the costs associated with the many consumables related to warewashing, such as detergent, rinsing agents and other chemicals.
Energy Efficiency Concerns
By nature, pot and pan washers can be pretty water efficient. Typically, these units recirculate wash water in the tank and only use fresh water for final rinses. Still, before purchasing a pot and pan washer, operators should research the unit's energy consumption and water usage. By the end of this year or early next year, it is expected that new designs will include better insulation, more efficient pump motors that utilize less electricity and updated heating systems.
Many foodservice professionals are well aware that Energy Star-rated warewashers can save money over time. New to the industry, however, is the fact that through Energy Star the Environmental Protection Agency (EPA) has released new standards for pot and pan washing systems. The EPA's limited idle energy data suggests that pot and pan washers use more energy overall than standard door type machines. As a result, effective Feb. 1, 2012, EPA revised its required idle levels for these units to be similar to standard door type designs.
High-temp pot and pan machines should have idle energy rates less than or equal to 1.20 kW and water consumption less than or equal to 0.58 gallons per square foot of rack space. For low-temp pot and pan washers, idle energy rates should be less than or equal to 1 kW and water consumption less than or equal to .58 gallons per square foot of rack space.