May 9, 2012
FE&S Names M Tucker's Morgan Tucker DSR of the Year
Foodservice Equipment & Supplies presented its 2012 DSR of the Year award to Morgan Tucker, of Patterson, N.J.-based M Tucker, a division of Singer Equipment NY, LLC. Tucker accepted the award in front of the hundreds of foodservice professionals in attendance during FE&S' 2012 Dealer of the Year and Industry Awards Gala, which took place May 5 at the Ritz-Carlton Chicago.
First NRA Operator Innovations Awards Winners Announced
The National Restaurant Association recognized six foodservice operators with its inaugural Operator Innovations Awards. Selected by an independent panel of judges, the winners in each award category, plus an Innovator of the Year, were revealed during the 2012 National Restaurant Association Restaurant, Hotel-Motel Show.
Vulcan PowerFry™ VK Series Fryers
Our PowerFry™ VK Series Fryers feature higher performance, superior energy efficiency and a patent pending FivePass™ heat transfer technology, all in one package. It's the most energy efficient
fryer you can buy–period. See how much you can save with the PowerFry™.
Sysco Senior Management Changes Announced
Sysco Corporation announced a series of leadership changes.
Direct South to Merge with Citisco and Update Management Team
In a pair of separate announcements made at the same time, Direct South Inc., a Macon, Ga.,-based foodservice equipment and supplies dealership, announced plans to merge with another dealership and to update its management structure.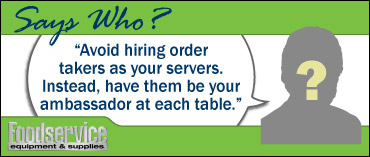 Max and Erma's Promotes Weis
Casual dining chain Max & Erma's promoted Steve Weis to president from vice president of operations.
Koenig Named Chairman of the Board for Quaker Steak & Lube
Casual dining chain Quaker Steak & Lube appointed Debra Koenig chairman of the board.
RD+D Magazine - Free from the publishers of FE&S
Restaurant Development + Design (RD+D) is a brand new user-driven resource for restaurant professionals charged with building new locations and
remodeling existing units. Sign up for Free today.
Grindmaster-Cecilware Names New Sr. VP of Sales and Marketing
Grindmaster-Cecilware named Greg Immell its senior vice president of sales and marketing.
NSF Names New VP for Global Food Safety
NSF International promoted Tom Chestnut to vice president of its Global Food Safety and Quality Division.