September 12, 2012
This Week in Foodservice: The Employment Picture
Amid the confusing and bleak U.S. employment figures emerges one positive note: the foodservice industry continues to add jobs.
Cheek Takes Flight as FREEBIRDS VP of Franchise Development
Fast-casual chain FREEBIRDS World Burrito named Chris Cheek vice president, franchise development. In this newly created position, Cheek will work to find selective franchisee partners across the country.
Special Editorial from FE&S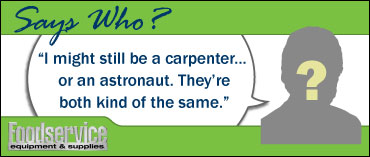 Master-Bilt Updates Rep Network
Master-Bilt Refrigeration added Richard Yeomans of Richard Yeomans Sales and Marketing to its network of independent manufacturers' reps. Yeomans becomes Master-Bilt's Canadian rep in the company's north, east and south Ontario territories effective immediately.
Free FE&S Cross Contamination Webcast
Please join us on Tuesday, September 25, 2012 at 1:00 pm CDT for a free webcast entitled Eliminating the Hazards of Cross Contamination. Experts will share best practices and their
experiences in helping foodservice operators reduce potential risks.
Manitowoc's Ovens Division HQ Moves to Cleveland
The Manitowoc Foodservice Group will consolidate its oven manufacturing and related business activities in a single facility in Cleveland. The company expects the transition to be complete by the end of the year.
IFED Names New Executive Director
Foodservice equipment industry veteran Mike McNeel is the new executive director for IFED, a dealer-based foodservice equipment buying group.
Run a Profitable Kitchen with Alto-Shaam
Is there a thief in your kitchen? There is if you still cook meats with traditional equipment. Learn how the Alto-Shaam Cook & Hold avoids product shrinkage and puts 20% more

profit back in your pocket.
Chain Operating Report for Sept. 12, 2012
Despite the challenging economy, several chain restaurant concepts continue to ink new development agreements and expand their presence into new markets. And, in this week's chain operating report, one iconic concept makes history.