Published on Wednesday, 18 January 2017
Written by The Editors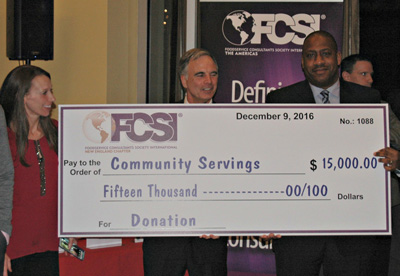 From left: Chandra Comfort, northeast chapter secretary, Tom McArdle, Northeast chapter treasurer, and Kevin Conner, Community Servings Executive Chef. Missing from picture: Ed Arons, Northeast chapter chair. Photo by Joshua LabrecqueAs part of its 13th annual Holiday Social, the Northeast chapter of Foodservice Consultants Society International (FCSI) donated $15,000 for Community Servings, a Massachussetts nonprofit organization. A food and nutrition program, Community Servings provides services throughout Massachusetts to individuals and families living with critical and chronic illnesses.