Published on Sunday, 01 June 2014
Written by Amelia Levin, Contributing Editor
Entrepreneur Luke Sanders launched Farmer's Fridge, a series of refrigerated kiosks selling fresh, gourmet salads and healthy snacks, in 2013 debuting in various food courts, business-heavy areas and shopping spaces throughout Chicago.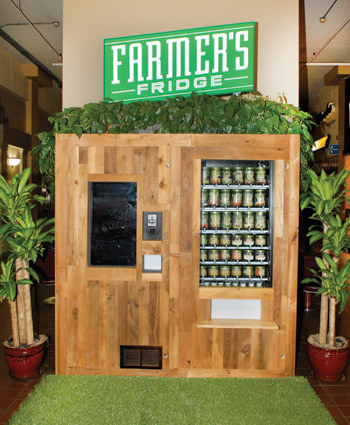 Salads such as an Antioxidant Salad (mixed greens, almonds, berries, carrots, flaxseed and sprouts) and a High Protein Salad (spinach, corn, peas, pumpkin seeds, figs, broccoli, chickpeas, and quinoa) with optional extra proteins like salmon, chicken and tofu are made fresh each morning and loaded up in the automated "vending" machines. At the press of a button, buyers receive their meals or snacks, such as yogurt parfaits and sliced apples, in seconds and can recycle the empty containers in a bin on-site. Farmer's Fridge also runs a catering business serving office workers healthier lunch options.