2013 FE&S' Dealer of the Year and Industry Awards Gala
Published on Wednesday, May 08, 2013
Written by The Editors
Foodservice Equipment & Supplies magazine will honor some of the industry's best and brightest minds during the magazine's 2013 Dealer of the Year and Industry Awards Gala. Drawing hundreds of foodservice professionals from virtually all segments of the community, the annual FE&S' Dealer of the Year and Industry Awards Gala is the premier venue to reconnect with colleagues and meet some of the industry's rising stars.
The 2013 Dealer of the Year and Industry Awards Gala is being held at:
The Four Seasons Hotel Chicago, 120 East Delaware Place, Chicago, IL, (800) 582-6190
May 18th, 2013
Event begins promptly at 6:30 p.m.
Sorry but this event is SOLD OUT
For information on attending the 2014 event please contact This email address is being protected from spambots. You need JavaScript enabled to view it. .
This year's award winners included:
Dealer of the Year: Singer Equipment Company, Elverson, Penn.
Hall of Fame Inductee: Martin Cowley, Design and Construction for Walt Disney Parks & Resorts
Top Achievers:

Dealer: Jameel Burkett, Burkett Restaurant Equipment, Toledo, Ohio
Consultant: Steve Carlson, Robert Rippe & Associates, Inc., Minneapolis, Minn.
Service Agent: Brock Coleman, Commercial Kitchen Parts & Service, San Antonio, Texas
Rep: Michael R. Posternak, PBAC & Associates, Eastchester, N.Y.

Facility Design Project of the Year: University of Wisconsin-Madison Union South, Madison, Wisc.
DSR of the Year: To be announced at event
Our Platinum Sponsors

Our Gold Sponsors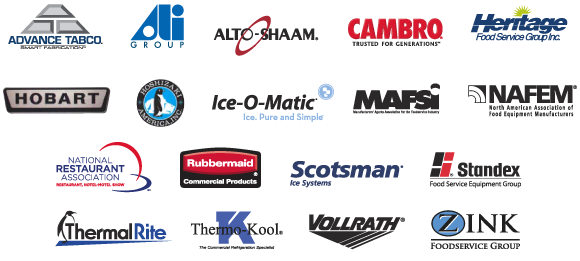 Click here to see the previous year's Dealer of the Year winners (2012) and a photo gallery of that event.