We've always been strong proponents of developing an emergency plan. Each situation has something different to contend with, but regardless of the reason — hurricanes, wildfires, snowstorms, whatever — when power goes out, our experience has proven to us that having an emergency plan can be quite helpful.
Multiple Phases of Planning
Jeffrey Simon, CFSP, president, Louis Whol & Sons Inc., TampaInnovative Foodservice Design Team's emergency plan consists of several phases, which break down as anticipation, eminent, actual and after. Anticipation functions as an early-warning phase; that's when we stock up on batteries to avoid shortages at stores, check generators, and run through other routine basics.
Eminent goes into effect roughly 48 hours before a natural disaster strikes. In the case of Hurricane Irma, we spent that time sending emails to our associates to make sure they had the correct apps downloaded to their phones. Every program we work with today seems to have an app, and so much of our data resides in the cloud. In the event of a business interruption, our associates can use their phones to answer questions and help keep projects moving.
During the actual event, employees without cell service can touch base through the toll-free hotline we set up and hear company-related updates.
Next year we plan to move to a text-based method to create a two-way system so people can tell us where they are and how they are doing during a natural disaster. Text-based, cellular systems are far more likely to maintain connections than email.
After our most recent emergency planning went into effect with Hurricane Irma, we decided it was time to tweak the after phase a bit. Our entire executive team came together for a recap and to discuss improvements.
One thing that was a win with Hurricane Irma for us was opening our headquarters building in Tampa to our team as a shelter. We had roughly 30 people hunker down in our office space, including pets. We had some food on hand, and cash as well, in case the ATMs were down. Because the building is a hefty structure, we knew it would potentially be a safer building than where some people may live. It was also a less stressful place to choose to go than a public shelter.
While we had plenty of food on hand, we didn't anticipate local restaurants closing as early as they did. In hindsight, we could have ordered hot food at noon and put it in warmers for those staying on-site.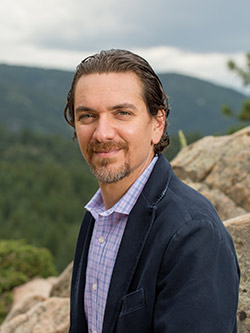 Lee Simon, principal, Innovative Foodservice Design Team, Boulder, Colo.After the danger passed, some people returned to work the first day we were open, and others worked remotely for a while. It's important to be supportive not just during the event, but afterward as well — that's where the teambuilding comes in as well as the opportunity to take negative situations and turn them into something positive. That after piece sometimes gets lost.
Where to Start
Starting a disaster plan can be a daunting process. When designing a foodservice operation, we often advise our clients to follow the flow of food. That same principle applies here: follow the flow of your business. Whether a service agency, rep firm, etc., know where your business starts, where it meanders and where it ends. That's a great place to start and the perfect way to guide the process.