Tom Ferdinandi, COO, Milano Restaurants International, Fresno, Calif.Most recently, the team launched a new fast-casual pizza and self-pour beer concept, Blast & Brew. The brand has already inked a deal with franchisee Cristallo Ventures LLC to open 12 units in California over the next eight years in Santa Barbara, Ventura and San Luis Obispo.
FE&S: When did Blast & Brew open and how did you come up with the idea?
TF: We opened Blast & Brew in May 2013 as a single conversion unit. We had an existing pizza-by-the-slice operation, but after a lot of R&D, we changed the concept to Blast & Brew. With the new concept, our guests have complete customization of their pizza — they choose the crust and then an array of toppings before the pizza is fired and handed to them in minutes.
FE&S: How does the self-pour beer program work?
TF: With the self-pour system, the restaurant scans the guest's driver's license and credit card and provides the guest with a loaded reader in a wristband or card version with fixed amounts of ounces to pour and a maximum of 2 pints per person. The guest can then use that reader to sample different beers from the tap.
Customers can sample freely from the wall of beers or seek assistance in beer-food pairings from a "beer genius."You can either cash out before the 32 ounces or sample up to that amount. Our San Louis Obispo franchise was the first to test out the concept and after we found it to be successful, we incorporated it into some of our current units and also brought it into Me-n-Ed's Pizzeria's flagship location.
FE&S: How do you cook the pizza?
TF: We use a dome-shaped oven with a combination of gas and wood to cook the Neapolitan-style pizza at 825 degrees F so it's ready in a matter of minutes. For the toppings, we focus on high-quality ingredients and seasonal vegetables to match many of the seasonal beers we also offer during different times of the year.
FE&S: The fast-casual pizza space is becoming more saturated. How do you differentiate Blast & Brew to stay ahead of the competition?
TF: We started off with pizza and beer as an old-fashioned pizza parlor with the classic benches and take-out and delivery options. As we enter the quick-serve arena, we're seeing a little bit of a shift back to that dine-in experience with a focus back on the guest inside the restaurant as opposed to eating the pizza at home.
There's nothing new about pizza and beer, but at Blast & Brew, you're able to craft your own selections to the highest level of personalization and choose exactly what you want on your pizza, and pair it with whichever beer or beers you want. Each beer-pouring station is accompanied by a "beer genius" to assist guests in selecting the perfect beer and food pairings. When selecting the beers, we tried to include a range of all the popular styles, like IPAs, domestics, ales, stouts and wheat beer, so there's always a range, but we also source many local and unique brands for our guests to try.
FE&S: How many Blast & Brew locations exist and will franchisees be involved? What is the growth plan?
TF: We currently have 9 total locations with 12 total in progress, a mix of some corporate-owned and franchise stores. With the fast-casual pizza segment so crowded right now, we have to be more strategic in our growth plans. We want to make sure our locations have a high probability of success. We're certainly positioning Blast & Brew as our growth brand.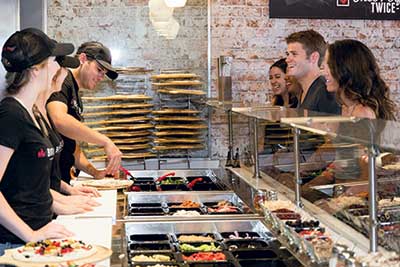 Blast & Brew combines custom pizzas with a self-pour beer concept.FE&S: Who are your core customers for this brand?
TF: We still offer a family-friendly environment so you'll see many young couples with children, but also groups of individuals of all ages looking to socialize or have some pizza and beer and watch their favorite sports team. But we're also penetrating the craft beer aficionado who is interested in trying the various beers that are out there, which can be difficult and financially challenging to do on your own terms.
FE&S: What are you looking for when you select franchisees?
TF: The most important thing for us is that they have experience. It's critical that they understand the benchmarks for success and know how to hire correctly and focus on building a solid team and great guest experience. To support conversion to Blast & Brew, we help set up the self-pour beer systems and make sure the POS is properly integrated and we also help with training, which is important for this concept. We're also looking to grow franchisees across the Southwestern region of the U.S., including Phoenix, Ariz., Dallas and college towns.