Sam Stanovich has been involved in the hospitality industry more than two decades. Prior to his current position as area representative and franchisee for Firehouse Subs, he served as director and partner, product development and industry relations, for the National Restaurant Association. Stanovich also served as president and CEO of the Heritage Corridor Convention and Visitors Bureau and spent 12 years working for Marriott International.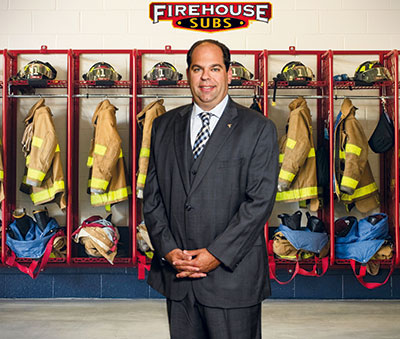 Samuel D. Stanovich, Founder Stanovich Hospitality Inc. Riverside, Ill. Area representative and franchisee for Firehouse Subs in Northern Illinois and Northwest IndianaThrough Stanovich Hospitality Inc. he consults with operators and restaurateurs on quality assurance, training, customer service, strategic development, operations and marketing. Stanovich additionally serves on the board of directors for a variety of nonprofits, including Housing Forward, an Illinois-based homeless prevention organization; the American Culinary Federation Chicago; and the International Food Service Executives Association. He also remains an active member of the Illinois Restaurant
Association, the Council for Hotel and Restaurant Trainers (CHART), and Les Amis d'Escoffier Society. He frequently presents at industry events and guest lectures in Riverside, Ill., where he resides with his wife (Carmia), children (Constantine and Adriana) and dog Twix.
FE&S: You've had a lengthy and diverse career in all aspects of the foodservice industry. When and why did you decide to join Firehouse and run your own franchise location in Stone Park, Ill.?
SS: I started as an area rep in January 2016 and soon after invested in my own location. I made the move back into operations because after nearly a decade at the National Restaurant Association I've always had the internal desire to be like one of the many entrepreneurs in the association.
Getting to know the Firehouse brand and the leadership, I found that their core values around great food and great service and helping communities was a natural fit. The Firehouse Subs Safety Foundation was established in 2005 after Hurricane Katrina and now donations go toward providing life-saving equipment and disaster relief as well as education to first responders and public safety organizations.
FE&S: Describe your responsibilities as an area rep for Firehouse.
SS: We're a 20-year-old brand but just started focusing on the Midwest six years ago. We now have 21 restaurants in
Northern and Northwest Illinois and plan to add 5 more locations in 2017.
Our business model is slow and steady growth. We want to pick the right franchisees in the right locations, and we want them to be successful. Our target is 75 restaurants for this region, so we have quite a bit more growing to do.
FE&S: How do you balance the responsibilities of area management with owning your own location?
SS: We have assembled a fantastic team that includes my wife, sister-in-law and a full-time manager, along with great team members in the store. We really are a family business, but my wife has extensive hospitality experience and we have worked together in the past, so it works. My sister-in-law also does a great job.
FE&S: How many franchisees do you oversee in your area and what's your philosophy in working with them?
SS: There are 15 other franchisees in our area. As the area manager, I try to inspire and communicate and create plenty of opportunities for collaboration among our franchise community because every one of the franchisees are not just representing the Firehouse brand, they're in business for themselves and their families just like me. I serve as the conduit between Firehouse the parent brand and the local level.
FE&S: What are some ways in which you work to create this culture of communication, community and collaboration?
SS: We focus on the customers in the dining room first, and then everything else second. It's about serving the best, steaming, hot toasted sandwich with the best service possible. But then we really try to create a community out of our restaurants, and we do that by getting everyone involved in our public safety foundation and in our community days and local partnerships.
We just concluded a campaign with the Chicago Fire Department — we raised funds for two off-road ambulance vehicles worth more than $55,000 and also provided the Chicago Police Department with two automatic external defibrillators, as well as 42 bulletproof vests. We also host regular, local community night events — most recently, we hosted a meet-and-greet in Vernon Hills and partnered with NHRA (National Hot Rod Association) for a fun drag-racing event in Lincolnshire. Just the fact that we continue to add franchisees and locations, especially in the Chicago area, which is new for us, speaks volumes of our success.
We want to support family businesses and offer as much support to our franchisees as possible so that at the end of the day we can compete with the hometown sandwich restaurants that have been here much longer.
FE&S: What's your day-to-day job like?
SS: It's a combination of being in the restaurant, working to grow sales and communicating and collaborating with franchisees. I send out a weekly newsletter to our franchisees and will frequently meet with them to do business reviews. I also make plenty of regular phone calls to keep in touch.
At our restaurant, we just focus on serving great food and providing great customer service to develop repeat business like any of our franchisees. Lately, we've put a lot more effort into looking for catering leads to grow sales.
FE&S: How was it making that transition from the National Restaurant Association to restaurant owner?
SS: I spent 12 years at Marriott so it was more of a change going to work for a trade association than returning to the operations side of the business and owning a restaurant. But serving customers was honestly what I've always loved. Now I have the opportunity to be an entrepreneur and live out the American dream.
The harder I work the more opportunities I create, from jobs for others to those supporting my own family. It's definitely a different type of game, but one that I control more and let my strengths shine. We're having a ton of fun.