Chris LaRocca opened the first Crushed Red Urban Bake & Chop Shop location in Clayton, Mo., just outside of St. Louis, in February 2012. The chain has six locations with extensive plans to grow.
FE&S: How would you describe the Crushed Red concept?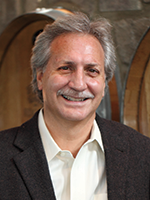 Chris LaRocca Founder and CEO Crushed Red Urban Bake & Chop Shop www.crushed-red.comCL: We are a fast-casual, organic, chopped salad concept first, but we also serve hand-stretched, build-your-own pizzas. We like to call ourselves "artisan fast" because all of our recipes are chef-driven and ready in less than five minutes.
Customers walk up to the counter and order one of our signature pizzas or a build-your-own. Then, the pizza dough is hand-stretched and moved down the line to the salad station where the customer verbally picks out their toppings. They can also pick out a signature salad or build-their-own salad and watch it hand-chopped in front of them. The customer then moves down to pay for the food and fill up beverages. A table-tracking unit is put on the table so the pizza can be delivered to the right place. By the time you sit down and have a couple bites of your salad, your pizza should be ready.
FE&S: Why did you add pizza to the mix?
CL: We knew salads would do well, but we had to think about what other food product we could serve with salads because we didn't want that veto vote. There's always someone in a group who might not want just a salad. We thought about sandwiches, but that market was pretty full and that's what drove me toward pizza.
Once I decided on that I focused on a hand-stretched dough that could bake in the oven in 90 seconds for a fully cooked pie. So now, mom might come in and want a salad and a glass of wine but the kids can have pizza and dad can get a beer and everyone is happy.
The menu includes pizzas made from hand-stretched dough that bakes in a double stacked oven in 90 seconds.Offering wine and beer was also important because if you look at fast casual, traditionally they struggle with the dinner segment. I thought if I could bridge that gap and cover that alcohol void that might give people a reason to want to come for dinner, not just for lunch. Looking at our numbers, we've proven that makes sense.
FE&S: How did you come up with the name?
CL: Originally, we wanted to call the concept Urban Flats but one of my partners suggested something with a little more edge and grit. My wife said something about Orange Crush and I thought about crushed red pepper and how in the restaurant industry we abbreviate everything. So it became Crushed Red, which can signal the spice we use or even the tomatoes for the sauce or red wine.
FE&S: What are some of the key equipment and supplies in your operation?
CL: We partnered with a manufacturer to design and produce our own ovens. They are gas-fired, double-stacked ovens that each have their own chamber with a rotating stone and that's the part that makes them so unique. The stone rotates so you don't have to worry about hot spots you might get with a traditional oven and it prevents the need for specially trained staff to rotate the pizzas themselves. You can pop in the pizza, walk away and in less than two minutes, it's cooked.
As far as the salad setup, we're a chopped salad concept so we rely on a mezzaluna, which is Italian for half-moon. It is a double-bladed, curved knife that is rocked back and forth in the bowl to chop the ingredients. It's so popular among our guests that we even engrave them and sell them as gifts around the holidays. We sell out every year. In fact, one year a customer waited in the parking lot and came up to me to make sure she got one before they were all gone.
LaRocca describes Crushed Red's interior has having a comfortable and clean, Boulder, Colo., feel that enhances the restaurant's appeal to a variety of customers.Aside from the pizza oven and salad we do all our prep work in the restaurant, roasting our own chicken and making our own dressings, so we have some prep tables and supplies for that.
FE&S: What is the overall design of the space?
CL: We were looking to go with a really elevated design for the space to set us apart from all the growing competition. We wanted a nice, quality statement with custom millwork displaying our wines and beers and an edgy, but comfortable and clean, Boulder, Colo., feel. This has helped make us popular with all different types of customers, from college students and sorority sisters coming in for dinner to office workers for lunch, high school students, and lots of parents and kids and grandparents in the evening.
FE&S: How would you describe your role with the company?
CL: I am the self-proclaimed best bus boy in the company. I have done just about any job in any restaurant! I also work on most of the menu development because I'm very passionate about the food. Mike Marino is my partner and he served for 17 years as the national director of baking for Panera, so he has really perfected our dough and other recipes.
FE&S: What is your restaurant industry background?
CL: I was the director of franchise relations for Tony Roma's for four and a half years, and before that I owned my own restaurants. I had a group of restaurants in St. Louis — one was called Crazy Fish and another was Tomatillo Mexican Grill, similar to Chipotle but before it was open. This was 1993, and we did seven of those Tomatillo restaurants and two Crazy Fish. An investor wanted to do 12 more Tomatillo restaurants in one year but I didn't have the bandwidth and wanted to focus on Crazy Fish, so I ended up selling it.
FE&S: You must have been a little ahead of your time because now fast casual is really growing. What made you want to jump back in that segment?
CL: Over the years I started to spend more time in the fast-casual world. The CEO of Tony Roma's who hired me knew I had experience with that and asked if I would help revive the brand, in part by developing a fast-casual outlet for the chain. I started to work on that, but ironically, the same month we were about to open that new concept, the company was sold and the new board of directors wondered why we were working on other concepts. I ended up going off on my own and opening Culinary Architects, which is my side business now. Through that I have developed many different concepts for developers and hotels. These days, Culinary Architects has become more of a group purchasing organization where we get better deals from food companies and negotiate contracts and provide other services.
FE&S: Do you see fast casual continuing to remain popular?
CL: Honestly, that's the way I always saw the restaurant industry headed since 2005. People don't have the time and don't want the brain damage of having to always sit down and have a server. They want to get in and out at their own pace and don't necessarily want to tip. But at the same time, they want higher quality food.
FE&S: What are your growth plans?
CL: We have three franchise and three company-owned locations, but plan to more aggressively grow our franchised units. We have a Colorado franchisee opening four more locations in that region and the franchisee in Columbia, Mo., will be opening three more around there. We also have a Kansas franchisee with plans to open 20 more restaurants throughout his home state and in
Oklahoma, Northern Texas and Arkansas.
Crushed Red's design package includes custom millwork that displays its ingredients and menu items.In 2017 we're also going to open two more company-owned restaurants in the first quarter, including one in Chesterfield, Mo., and one in Edwardsville, Ill.
FE&S: As a former director of franchising, how do you work to maintain good franchisee/franchisor relations?
CL: We have three franchise partners on board and every one of them discovered us. We have had a lot of inquiries about the concept, but we have actually said no to more potential franchise partners. We are looking for franchisees that are at least as good as us or better.
We also work really hard on chemistry. If you're a franchise partner there are certain qualifications in terms of financial and operations experience, but honestly, my final evaluation is whether or not I can envision having a beer with the person after a long day of working together. If the answer is no, we probably won't have great chemistry.
FE&S: How do you try to create that culture of camaraderie throughout your company?
CL: We're very transparent. We have quarterly roundtables with staff
members and ask what they like and don't like about our operations.
Once I asked one of our managers, "What is it about Crushed Red that you really love?" He said, "Because you really care about us." I pushed him on that a little to find out what it is that translates to that and he said, "When you come in you look at us in the eye and can carry on a conversation with us and you know everyone's names. I can't tell you how many restaurants I have worked in where the area director comes in, asks how you're doing, and then walks by before you get a chance to answer.
FE&S: What are your future goals and vision for the company?
CL: We've got our systems down and we're really happy with the model. We're in a niche where we have offerings others don't, so at this point we're just focused on growing locations. We're going on five years old with six restaurants, but that will be changing soon.
Chopped salads represent a key menu item at Crushed Red. Seen here is the Farmer's Market Salad.