Caroline Kauffman-Kirschnick, General Manager, Electric Motor Repair Company (EMR), Baltimore
Caroline Kauffman-Kirschnick has worked every facet of her family's nearly 90-year-old foodservice equipment parts, repair and installation company since her preteen years. Now she stands to become the company's first female president, and the youngest at 36 years of age, offering a fresh perspective to this segment of the industry and determined to take EMR to new levels of service innovation, employee engagement and customer service.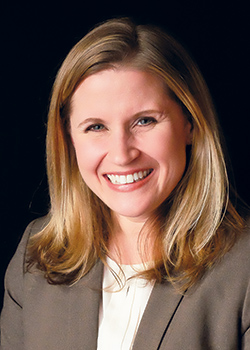 FE&S: What is the history of EMR?
CK: We trace our history back to 1927 when my grandfather, Harry Kauffman, purchased the company from a partnership of four gentlemen. At the time, the company was focused on repairing portable household appliances, electric motors and some commercial wiring. My father, Roger Kauffman, took over as president and CEO in the early 1980s and helped grow the commercial kitchen equipment repair division exponentially, as the household appliance repair division was fading. EMR still has a profitable industrial division, which has always been a significant revenue and profit center, servicing electric motors in the elevator, printing, and shipping industries to name a few. But now the majority of our business is in commercial foodservice equipment repair, parts and installation.
FE&S: When did you join EMR?
CK: I worked at EMR during the summers throughout junior high and high school. After graduating college, I spent a few years with a small business that serviced industrial tech equipment before joining EMR full-time in October 2003. I started out in accounts receivable where I worked for a little less than a year until the human resources department had an opening that intrigued me. I was given the opportunity to work in HR for five years and saw firsthand the importance of the human aspect of our business and the internal workings of the company. I moved on after those five years and got my feet wet in operations, learning every position in the company, from dispatching to parts to billing and more. I also worked in sales for a couple of months. I eventually transferred to our Delaware branch where I accepted a promotion and served as assistant branch manager for approximately one year before a promotion to operations manager of that branch. After three years in Delaware, I returned to Baltimore as the operations manager of our headquarters, where I functioned for three more years before the promotion I received in June 2015 to general manager, overseeing all branches and service areas. I have been involved in every aspect of the company for the last 13 years. The opportunity to touch so many parts of the company provided me a valuable skillset to use in my new role as general manager. I am looking forward to my future with the company I've grown to call my home.
FE&S: How would you describe EMR's culture and business philosophy?
CK: Our philosophy is laser focused on caring about our customers and their businesses and what we can do to support their success. When their equipment is down, their businesses are not operating to their full potential and revenue is hindered; it's up to us to keep that equipment running so they can thrive. Our customer base runs the gamut, from institutions like prisons, hospitals, and school systems to chain restaurants and local eateries.
FE&S: It's been said you are next in line to become president of the company. When might that happen and what are your visions and goals for the company long-term?
CK: Tentatively we're looking at 2018 for the transition to be final. My vision for EMR is to expand our geographic markets as well as the products and services we provide our customers. We currently have five brick and mortar offices on the commercial kitchen equipment side but are expanding into the Tidewater, Virginia area, Western Maryland and West Virginia. Eventually we would like to move even farther south into the Carolinas. Our installation department will be growing in tandem with the commercial kitchen equipment division. Many of our customers would like us to provide additional services to function as a one-stop-shop for their convenience and to limit the number of vendors involved in running a restaurant, hospital kitchen, school cafeteria, etc. As a result, we have looked into adding chemical supply and possibly leasing equipment to our repertoire, and are even considering offering plumbing services.
FE&S: How do you see that the role of the service agent has changed?
CK: There was a time when service providers did not sell equipment or even handle the installation — those services were handled by the product dealers. But, we've seen service providers focusing more resources into that side of the business, as we are at EMR. Many of our customers see us as experts and ask us for recommendations about what they should or shouldn't do with their equipment. Oftentimes, they'll ask us first if they're better off servicing existing equipment, requiring emergency or preventive maintenance, or investing in new equipment. We're not the factory so we don't benefit from a customer buying new equipment, but we have built a high level of trust over the years by helping our customers make the right decisions for their businesses.
FE&S: How have you leveraged technology and employee engagement to grow the business?
CK: Technicians use tablets in the field, giving them immediate access to a variety of information they might need while communicating with a customer or working on-site. With tablets, it's much easier to work remotely and cover more ground. We may only have five brick and mortar branches, but our service areas are much broader. We also use UPS drop boxes for parts to limit the miles our techs are traveling daily, providing them with more flexibility and time for each customer. We also believe strongly in bettering our customer service from the inside out. As a culture, we encourage teamwork and promote a positive outlook in everything we do. That, in turn, spills out into the way we work with our customers. We believe if people are happy working here, they will be happier in providing support and service to our customers. If we help our employees succeed, they will help our customers succeed.
FE&S: What are some lessons you learned from your father over the years?
CK: He taught me to always think through situations and challenges before taking action. For example, if a customer calls in with a complaint, it's important to take note of all the information and assure the customer that you will look into the problem and get back to them in a timely manner. Then get all your ducks in a row by involving the appropriate parties and working together to offer the best solution you possibly can. He also instilled in me that everyone deserves a second chance and an opportunity to learn from mistakes.
FE&S: EMR has been very active in CFESA — how do you plan to continue that partnership?
CK: As one of the founding members of CFESA, the camaraderie and connections we share with all CFESA members keeps us going. Through the association, we're able to share our challenges and ideas with like-minded people in the industry. In addition, we send many EMR team members, across all departments, to CFESA trainings. The association has been a great resource for information and building our knowledge of the latest equipment.
FE&S: What has been a significant challenge for you in your work?
CK: Being a woman in a male-dominated industry is one general challenge I've faced and had to overcome. On top of that, I am 4 feet, 10 inches tall! It used to be frustrating and sometimes a little discouraging, but I always find ways to embrace these differences and make it kind of fun. Once I found my confidence it has been great to be able to move forward through it all.