We don't specifically target any group but try to stay involved in our communities by supporting little leagues, band, grammar schools, high schools and sports teams.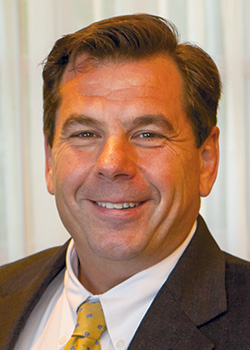 FE&S: When did you first join Jersey Mike's?
MM: I worked for Peter Cancro in the late '70s. Pete had worked at Mike's Subs, a small sub shop in Point Pleasant, New Jersey, when he was just 14 years old. Then at 17, when he was a senior in high school, he was able to buy the shop for $125,000 using money he was loaned from a former football coach who was the local banker. Peter would sit in a few classes, then run back to the shop for the lunch rush, and then go back to school. I went away to the Marine Corps and when I came back in 1985 Peter had named the shop Jersey Mike's and started franchising. I've been there ever since — he's a great man to work for and has done a lot of charities around the country and always looks to give back.
FE&S: Jersey Mike's has been steadily growing over the past several years. Does the chain have any more expansion plans?
MM: We opened 35 stores in the first 3 years in the '80s and have since grown to over 800 locations in the last 7 or 8 years, primarily as a result of our existing franchisees. We've stopped growing and recalibrated and started up again over the years. This year we opened about 190 stores for a total of 1,040 locations in 43 states, from Seattle to San Diego, and Texas and we even opened a location in Bozeman, Mont. Last year we opened about 150 stores and 60 percent came from our existing franchisees. Next year we plan to open about 200 stores and we're in the middle of a décor change.
FE&S: How does Jersey Mike's work with its franchisees?
MM: We're very fortunate to have a strong group of franchisees. Before someone signs on to be a franchisee we have a more informal interview process involving a meeting with myself, the president, the owner and other executives before we sign off on the person. We look at the people plan more than the financials and the experience.
FE&S: What's your job like on a daily basis?
MM: As COO my priority is food safety, supply chain and operations. Our company is pretty well aligned with the fundamentals of the business — we've been operating the same way for the last 20 years, becoming more efficient.
FE&S: With the growth of the fast-casual sector, you seem to be at an advantage having already been doing the customized sandwich thing for a long time. How do you continue to play in that game?
MM: That's fortunately the category we think we've always been in — our brand is associated with a little more food quality and service expectations above quick-service restaurants. We don't specifically target any group but try to stay involved in our communities by supporting little leagues, band, grammar schools, high schools and sports teams. We have many loyal followers and try not to be the "cool" brand, just consistent and focus on the food and that has resonated with all generations of customers. That said, we have been focusing more on technology to stay current. We have been working with our IT department to upgrade our systems and in 2016 we also plan to update our app and online ordering.
FE&S: How do you reinforce the positive culture that seems to exist at Jersey Mike's?
MM: Our team culture started with Peter who would always treat anybody who worked for him with total respect and make that person part of the business. Our message is 'your voice matters.' We have had many people start behind the counter who have gone on to become franchisees.
FE&S: You mentioned food safety is a priority. How do you assist with training in that regard?
MM: We have strict contingency plans with our vendors if anything were to happen and almost full traceability on our products. We have also doubled the amount of training we conduct over the years. This year we will do 500 road training sessions for our franchisees to help them not only open stores but train their staff in the field.
FE&S: What are your greatest challenges in your job?
MM: There are many things in life and in this industry you can't control. I like to at least try to control what we can inside our four walls — we hold everyone accountable, from franchisees to vendors to operations — everyone must do their job to serve our customers. I can't control competitors, but I can control the culture of our company. We believe we have two customers. One is the customer who pays for a sandwich and the other is our employees and we need to make sure we're taking care of both. Our ongoing challenge is really just to remain true to the brand, our customers and to ourselves.