In today's foodservice industry, everyone wants to be more environmentally friendly and the corporate dining team at Freddie Mac is no exception.
Like many other foodservice operations, we specify compostable "take out" containers that our customers can use as they purchase their meals. But if we have no way of actually turning these compostable containers into actual compost, we are coming up short on our goal to become more environmentally friendly. That was a challenge we were facing not that long ago. Through some diligent research and working collaboratively with our supply chain, though, we have been able to solve this challenge.
Before exploring our solution, here's a little background about our operations. Freddie Mac's main campus consists of four buildings that are home to three full-service cafes, two c-stores and one coffee bar. Full breakfast is served from 7:30 a.m. to 10 a.m. and lunch from 11:30 a.m. to 2 p.m. The salad bar is open to 2:30 pm and snacks/desserts are available until 3 pm. On average, we handle 5,073 transactions per day in support of a campus population of almost 6,000 people.
We believe we do a great job with recycling thanks to the efforts of our building facilities team. In the foodservice area, however, there was still much that could be done to improve on these efforts. So I took a closer look at how much waste we generate each day and started looking for opportunities to lower that total and recapture some of that food waste.
Waste management has always been a priority for us. Our contract foodservice provider, FLIK Hospitality Group, has a practice called Trimtrax which requires each member of the culinary staff to add all their trimmings and waste into clear buckets at their stations. At the end of the shift, the total Trimtrax volume is recorded and a preset "per quart" value is assigned to the material before it is bagged in compostable liners and added to our organic collection bins that are emptied twice a week. The material is then transported to a commercial composting facility across town. By assigning a value and tracking the volume, the FLIK management team is able to better control food cost. It allows the staff to actually see how much of the raw product is really used.
As a result of my involvement with our Green Campus initiative, I decided that adding an organic material grinder/dehydrator to the dish room operation needed to be considered. I had seen these machines before and they turn food waste into something that looks like a mix of peat moss and sawdust. Plants love it because it's so nutrient rich. My thinking was that we could bag the processed material and sell it to our employees who could then use it in their gardens at home. Unfortunately, this option was too costly at that time.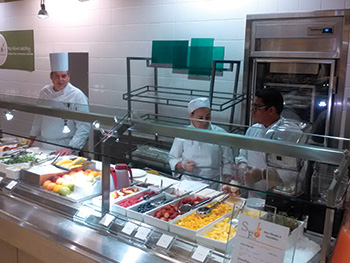 Freddie Mac's main campus includes three full-service cafés. Across all of its operations on this campus, Freddie Mac handles 5,073 foodservice transactions per day in support of a campus population of almost 6,000 people.Our attention turned back to the compostable food containers. For various reasons our guests love to eat out of them even though we offer china in our cafés. All these relatively expensive compostable containers were ending up in the solid waste stream and taking up a lot of space, because we did not have any equipment available to reduce their volume other than the solid waste compactor. Each day we were hauling about 16 65-gallon trash bags full of these containers to the compactor.
We tried to find ways to shred them and identified an option that could be integrated into our existing dish room operation. This machine was originally designed and manufactured for use in the galleys of U.S. Navy ships.
Reclaiming the compostable clam shell containers turned out to be straightforward. They come down the tray conveyor into our dish room, where the staff collects them. The next day they are shredded and bagged in compostable liners. As a result, we will have eliminated over 3,000 bags by year's end from our solid waste stream by diverting all this material into our organic waste stream. The composting facility likes this shredded "brown" material because it facilitates the overall composting process and is a key ingredient for them when it comes to making compost.
Of course, implementing new technologies of this nature into an existing operation requires both staff and customer education. We worked in partnership with FLIK, which does not have a shredder like this in any of its other accounts. Naturally, proper staff safety training was a key concern and we had to take into account how this new process and equipment would impact the overall dish room operation.
By implementing a system to shred compostable containers, Freddie Mac will divert more than 3,000 bags from its solid waste stream by the end of the year. This process also allows Freddie Mac to close the loop on its purchase of compostable containers by sending them to a composting facility instead of a landfill.One of the sous chefs took the initiative and helped develop the most efficient way to "feed" the new shredder. Next, a manual was developed that showed employees how to work safely with the unit.
After some trial and error we figured out the best way to feed the boxes into the hopper so they would land correctly on the grinding wheels. You could also run food waste through this shredder because it uses a powerful, high-torque, low-speed motor. In the future we will look into shredding compostable flatware as well.
This entire implementation process was very educational for all parties involved. For those organizations who work with an on-site foodservice provider, I recommend that you engage them early in the process because it is obvious that it directly impacts their operation. We did that right away and they were enthusiastic about participating in expanding our Green Campus initiative into Freddie Mac's existing campus foodservice operation. It truly felt like we achieved this success together.
My company's management was very supportive as we took this leap.
Foodservice is a very resource intensive business so anything we can do to lessen its impact on the environment is a win.