August is our DSR of the Year issue and it gives me a chance to relive one of my favorite nights of the year. Combing through the photos and deciding what to include as representative of the Dealer of the Year and Industry Awards Gala is a big job — but a rewarding one.

This has been a banner year with Ken Gill accepting Hall of Fame honors and Fred Clark from Clark & Associates taking home the Dealer of the Year Award. I hope that you will enjoy the photographic recap provided here and visit us at fesmag.com/doy2015 to view all the photos and see everyone's amazing ?acceptance speeches.
All of the winners from that May night in Chicago are worthy of the attention that they have received, but one who should not be overlooked is our DSR of the Year, Troy Jacobsen of Hockenbergs. The DSR of the Year is selected through an extensive year-long process that includes several interviews, customer and peer feedback and ride-alongs by FE&S staff. The whole experience can be somewhat grueling, capped by an event where twelve well-qualified DSRs, handpicked from across the country, anxiously wait to hear if they have been selected for the ultimate award. Out of the orchestrated chaos, Troy ?Jacobsen from Eagan, Minn., stepped to the microphone with graceful confidence and delivered a heartfelt speech that reinforced everything that we had learned about him through the DSR of the Year selection process.
Please enjoy reading all about Troy's success story in this issue.
And, a special thanks to our staff: all the Zoombas pictured here who made this special night possible.
Standing, left to right: Jessica Runnion, Rebecca Kilbreath, Samantha Slocum, Maureen Slocum, Dave Slocum, Anne Locascio, Joe Carbonara, Patty Dvorak, Nicholas Slocum and Eric Uhl. Seated: BG Burg, Carol McAdam, Amelia Levin, Tracy Mugan and Kris Duvall.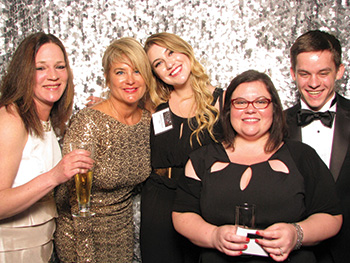 Left to right: Tracy Mugan, Maureen Slocum, Samantha Slocum, Rebecca Kilbreath and Eric Uhl.