FE&S: Tell me about the new restaurant and café.
JC: There are a number of different parts to this animal. If you walk in the front door and head to the right, you're in front of our café where everything is cooked à la minute but with quicker service. You select your items from the menu board overhead, place your order, pay and get a table tracker disc that you set on your table. Magnetic strips underneath the tables relay the order and table number back to the kitchen and a runner brings out the food.
John Caputo, Executive Chef, Labriola Ristorante & Café, ChicagoTo the left of the front door, there is a bar with craft cocktails and 14 craft beers and a number of wines on tap. Straight back behind the bar, sort of like a little speakeasy, is the upscale dining restaurant, which is great for a longer business lunch or dinner. Here we have prime steaks on the menu as well as pastas all made from scratch. We also source from a lot of local farms and producers; our burger includes meat from Slagel Farms in southern Illinois.
FE&S: You also have a carry-out section?
JC: We tested a retail or grab-and-go section, but it didn't work out with our operation. Instead we have a refrigerator with specialty sodas and juices and a window where customers who have called in their order can pick up their food. We can do a burger in about 11 to 12 minutes and other food pretty fast, as we have a separate catering kitchen in the back where we handle these orders. This is great for the office workers in the area, especially those ordering for a group.
FE&S: How is the kitchen set up?
JC: Under one large hood, there are two back-to-back kitchens, so to speak. The front end consists of the final cooking line. There is an L-shaped line beginning on the left with the garde manger station. That station has an 8-foot refrigerated prep table we use for salad mise en place and it also has a refrigerator and freezer for desserts.
On the hot line, we have a stand-up broiler for steaks with two drawers for cooking. The pasta station consists of a pasta cooker with two graduated French tops, one on each side of the pasta cooker. Handmade pastas are a huge part of our menu so having two cooks working side by side is important. In front of all the stations are refrigerated prep tables with doors below for mise en place.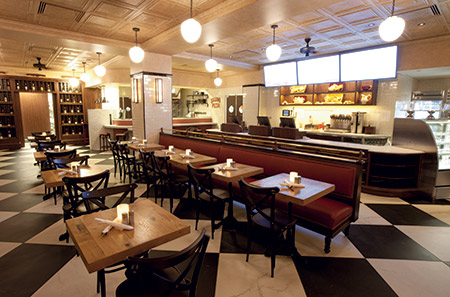 Moving down the line we then have the sauté station with a 6-burner open flame range and convection oven underneath. The grill station has a 36-inch grill, and the fry station has two 50-pound fryers for our hand-cut fries and chips.
The line ends with a 6-foot flat top griddle where we cook our burgers and we use a double panini press for sandwiches. Behind the front line using the same hood is our prep area, pastry prep and catering area. Here we have a 10-foot long undercounter refrigerator wth a heavy-duty surface we use for cutting boards. Going down the cooking line we have a double-stacked combi oven, a 6-burner range with a convection oven, a steam kettle for stock making and a smaller tilt skillet. And last, that line ends with two fryers we use for blanching fries.
FE&S: How did you develop the menu?
JC: While the café menu has stayed similar to the Oak Brook location, with its sandwiches, pastas and salads, I focused mainly on the restaurant side. We have the ability to print menus in-house so we can change things from day-to-day. We make all our pastas from scratch, including a seasonal lasagna using individual cast iron pans. We also have a seasonal pizza that changes on a daily or weekly basis as well as a selection of salumi and cheeses that we serve with fig compote, honeycomb, olives and grilled bread. We once served grilled head-on prawns from Patagonia with charred eggplant purée, braised chickpeas, lobster butter, mint and pistachio. We also have a popular pan-roasted filet mignon with Gorgonzola and mascarpone cheeses.
FE&S: Are there any particular challenges you face?
JC: Finding good staff for all of the various areas. Initially, I spent at least five weeks interviewing and hiring — I helped hire 70 people for the kitchen and front of the house. Recruiting and retaining talent is always a challenge for any restaurant.