Camp Howard, CEC, is a Culinary Institute of America graduate and chef-turned-foodservice director at Vanderbilt University in Nashville. He joined the staff 18 years ago in 1997 as executive chef, earning the director role in 2008. Camp has watched the Vanderbilt college foodservice industry go through dramatic changes. Currently, Vanderbilt operates two main dining halls/serveries that seat 550 and 800 people respectively, along with several retail, convenience store/market, and coffee kiosk outlets around campus. Howard and his team have earned multiple awards for their innovative food, including a Chefs of Tomorrow Award (2012), presented by Olson Communications, and a Number 15 ranking out of 75 Best Colleges for Food (2014) by the Daily Meal.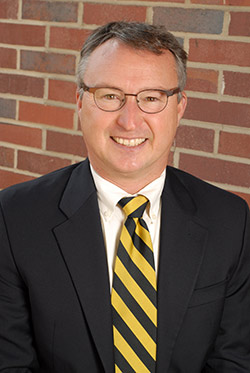 FE&S: How has your role changed since becoming a director?
CH: There were dramatic changes when I went from executive chef to assistant director, associate director, interim director and
finally, director of Vanderbilt Campus Dining. The biggest difference is I went from running kitchens and managing chefs to being in charge of a $29 million operation. I regularly work closely with our executive chef and unit chefs, but I'm not a micromanager; part of my philosophy is to give them their own expression of creativity, but I definitely set the bar high from a food quality perspective because I'm a food guy myself.
FE&S: How has college foodservice changed over the years?
CH: College foodservice has evolved so much in the past 20 years. We have really come from a place of mystery meat and every line serving the same thing to beautifully redesigned kitchens and servery with a lot of variety, ethnic choices and chef-crafted food being prepared to order. We're also offering more vegetarian, vegan and gluten-free dishes and otherwise taking on a lot of the trends happening in the food world. Students these days are much worldlier — they understand food and different ethnicities — and they get quality and like big bold flavors. That has opened the door for us not only from a menu perspective but also from a design one. We're redesigning dining centers that are very food-focused.
FE&S: On that note, how have you helped with the design and equipment selection of your dining program?
CH: We tend to look at a piece of equipment and figure out as many different menu applications as possible. Because we have so much variety in our menus, I can't stress enough the importance of looking at a piece of equipment and not just thinking what you're going to use it for but what you could use it for. We need the equipment to support our variety. We wouldn't buy a plancha grill, for instance, and use it for just one item. We'll figure out which menu items need really high heat and work around that. When it comes to the design of the kitchen and services, I am very involved. We hire a consultant and that helps, but again I like when the equipment drives the design because we want a
platform of multiple, multi-use equipment so we can change the menu frequently and not get stuck on the same things.
FE&S: What does your equipment package look like these days?
CH: We use a griddle for a lot of different menu items, from making omelets to searing fish. We use a Mongolian grill for blackening meat, stir fries and pancakes. We use a rapid cook oven in our sandwich shops and convenience stores, many of which have a full kitchen. We use a lot of open-air refrigerated display units for our huge grab-and-go program. Combi ovens are so versatile and we have one in each of our restaurants. We use high-heat impinging ovens for sandwiches and pizzas and also use traditional, hearth-style pizza ovens for primarily pizza but also for roasting chicken and vegetables. And we use blast chillers so we can make things fresh and chill them down quickly.
FE&S: You mention blast chillers: How do you get away from industrial cooking but still handle large volumes?
CH: We have kept industrial cooking at a minimum by reducing the number of hot boxes we have and by cooking things in smaller batches. I don't feel like I need this giant steam-jacketed kettle or tilt skillet. If we're making marinara sauce, we're only going to make 10 gallons, not 50. Typically we use blast chilling only for items we're pre-cooking, like grilled salmon. But all of the cooking finishes in the servery in front of the students.
FE&S: Sounds like Vanderbilt focuses more on made-to-order food, which differs from many college/university foodservice programs.
CH: It's all about quality for us — all of our all menu items are chef-crafted to order and retail driven. We don't subscribe to an all-you-care-to-eat program, and this has also helped us reduce a tremendous amount of waste. I'm not a fan of picking through a buffet; I want that commitment where you look at a menu, choose your dish and it's made for you. Everything in the servery is served by staff except for the salad bar. Students these days want restaurant-quality food.
FE&S: How do students like to dine these days?
CH: We have 6,000 students on a meal plan, but uniquely we're 100 percent retail-based. That means a student can pick out an entrée and three sides, which equals one meal when they swipe their card. It doesn't matter what the venue is — they can go to the coffee shop and get a protein-based smoothie, an apple and something else and that counts as one meal off their plan. They can also use their meal plan like a debit card if they choose not to buy a full meal, but rather
order items individually. This helps maintain the quality of the food without having to go to a cafeteria line setup.
FE&S: What about late night dining? I'm sure that's an area that's grown tremendously.
CH: Oh yes, we have seen growth in late-night dining. Our convenience stores, which we call our markets, offer items like pizzas, breakfast sandwiches, even chicken and waffles, from midnight to 3 a.m., and a couple of them have full kitchens. One has a completely new, full cooking suite.
FE&S: How do you cater to students with many different dining needs — allergies, special diets/requests, vegetarian, gluten-free, etc.?
CH: Most of our students can self-select when it comes to dietary restrictions. We have a robust vegan and vegetarian program and those items are easy to find, thanks to signifiers at the point of service. Then we have students who are looking for Kosher or Halal items. When it comes to our gluten-free students, we segregate them into two categories: one is the severely allergic and those diagnosed with celiac disease, and the other encompasses those making the choice to go gluten-free because they believe it's a healthier diet. For our severely gluten-free and allergic students, in the summertime we send a mailer to all incoming students and ask them to contact us if they have questions or concerns about the dining program.
At the start of the year, we bring our chefs, dietician, general manager and myself together to talk to a group of typically 20 or 30 students with allergies and more dietary restrictions about what we can do and how we can provide the assistance they need, while also assessing the severity of their needs. Those who have very serious reactions or intolerances — usually to peanuts and shellfish — we have them meet the chefs and go through menus. We also give them the chef or general manager's cell phone so they can call them in advance to prepare food especially for them and segregate those items from the rest of the kitchen. It's a lot of work but I think this is partially what sets us apart from other college/university foodservice programs.