There is a lot to be said for those of you managing college and university dining programs. You are surrounded by educators and forward-thinking people who seek, in their own way, to advance the world in which we live. The students you serve and sometimes employ are typically energetic and full of ideas. Some student workers approach things without any knowledge of "how it used to be done" while others always look for better ways to approach the task at hand. Many of your staff may be comfortable with how it has always been done, but you probably have other staff who continually seek opportunities for improvement. This mix of interests and skills puts you in the best possible place for innovation: an environment of opportunity, challenge and progress.
By Jim Sukenik, FCSI President and Design Principal Bakergroup Foodservice Consulting & Design Grand Rapids, Mich.Innovation in foodservice often centers on simply doing things better: not adopting the tried and true methods without pausing to consider how your processes might improve. The definition gets broader when you consider how many things could be done better.
So how can you innovators, or future innovators, make innovation a regular part of your world? One constant in foodservice management I am guessing you know quite well is that the often unexpected needs of the moment often consume any so-called extra time you may have. Who knew the compressor would fail? Why aren't the new menu offerings popular? The list goes on and on. You are busy. Recognize this and consider baby steps toward innovation. Many of the people you do or might regard as innovators formed the basis of their innovative moment over a cup of coffee, or at dinner, after an exhausting day. Epic innovative change can start with a kernel of an idea; a thought that "we can or should be able to do this better!"
With a little refinement and nurturing, an innovative idea can move a culture. Consider the ongoing innovation at the University of Colorado Boulder. On the way to planning one of the most successful dining operations on any campus, CU-Boulder's Deputy Director Department of Housing & Dining Services Kambiz Khalili suggested their new dining commons should consider including both Persian and Kosher offerings, among the dozen other options being considered for the facility. The outcome? A Persian venue that opened to excitement and remains one of the top two most popular venues.
The stucco-like brick oven and rotary range used to cook a variety of dishes, including kebabs, offer customers entertainment with their meal. Even more amazing, the appeal of these two venues continues to advance the campus' cultural food interests. This certainly represents innovation in its purest form. And, stay tuned for more innovation as Director of Auxiliary & Dining Services Amy Beckstrom guides the planning for another innovative outcome for the CU-Boulder campus.
Sabai at the University of Missouri includes a culinary demonstration and training kitchen that allows staff and students to live and learn together. The menu includes Asian-influenced cuisine.The most innovative design outcomes often emerge from the most collaborative processes, where the planning team actively seeks the best ideas from the people closest to the work. In the design and planning realm, we have learned so much from those closest to the experiences we seek to improve, e.g. the student customer, pot washer, server, prep cook, supervisor, student worker and others. The collaborative team approach works. So, if you want to innovate, consider what others can do to help you develop your new thing. Bring people to your table who have a connection and specific insight into the thing you are trying to improve. Ask for their input and you will learn something. And learning from them puts you in a much better position to craft an innovative outcome that can address your operation's specific needs.
The University of Michigan planning team took this collaborative approach in the planning for the South Quad dining project (page 75). The outcome was innovative on many fronts: a transformative space that easily morphs, with the help of some clamshell doors, from use as a dining room to a casual lounge. Amazing and innovative on many fronts.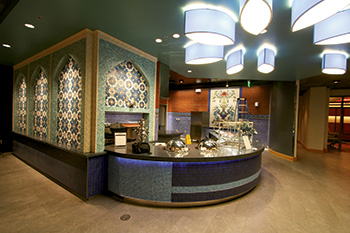 The Persian food station at the University of Colorado Boulder uses a stucco-like brick oven and rotary range to cook a variety of dishes, including kebabs, and offers customers entertainment with their meal.University of Missouri's Silver Plate Award-winning Campus Dining Services Director Julaine Kiehn considered how to address the needs of an aging residential foodservice located in the lower level of a residential hall complex, and she and her team hit on their innovative solution: Sabai. The challenge of the site was its location: a lower level space with small, ground-level windows, difficult access, an almost complete lack of visibility to those passing by (the space appeared to be a part of the residential hall) and a less than central location on the campus as well as a tight construction budget.
Kiehn's innovative solution was to focus on creating a destination restaurant designed to attract and retain the interest of those seeking something different on a campus that already offers so many dining opportunities. The difference, the innovative vision, was to incorporate an Asian-influenced cuisine that had already proven popular on the campus into a restaurant environment developed to such a complete level that the spaces would be attractive to students, even without food. Her second innovative moment was the prescient vision she had to build a culinary demonstration and training kitchen into the corner of the space, so that both staff and students would be able to live and learn together.
Since opening, Sabai has been a consistent success for the campus. Kiehn's crew holds regular and special culinary training kitchen events for students. The tickets for those events sell out quickly. Amazing innovation.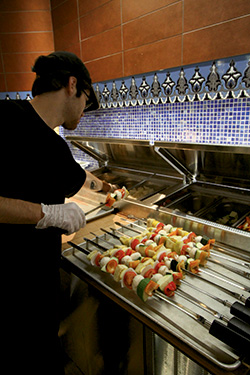 Innovation is not only about methods and processes. Consider the many innovative changes that have occurred in the equipment industry that you can leverage to improve your operations. Wood and gas-fired "brick" ovens now come with rotating surfaces, reducing the hand work and arm strain of the operator.
So much innovation started with a little idea for improvement. Examples include campus card dining access, apps that provide your customers with real-time data on current menu offerings, nutritional data, length of service lines, organizations like the Green Restaurant Association and the U.S. Green Building Council, solar and wind options, oil recovery options, progress in recyclables, waste reduction options in digesters and pulpers, control systems that shut down equipment not being used — and the list will continue — because you and so many like you continue to innovate, to bring new ideas and products to life.
Your innovative moment will often start with an easy first step. Look at what you are doing. Ask why you are doing what you are doing? Look at what others have done. Compare. Review your metrics: How fast is your service? How do your customers feel about their dining experience? Are your facilities as market relevant as those of your peer competitors? What do your numbers look like — labor and other sales costs? What are you doing to save energy and water in a world that is running out of both? When you look at these and other aspects of your operation, seek opportunities to make the small steps every innovator makes to move their operations to the top of the market. Along the way, you may discover, as so many have, an opportunity to innovate in a much larger way.