Atanasio has received many industry recognitions and honors from magazines and associations, including the AHF Spotlight Award 2015, NRA Innovation Award 2013 and Practice Green Health Partnership Award 2015. He has held offices for and participates on many association and advisory boards including AHF, Middlesex County Vocational Technical School, American Heart Association Executive Leadership Committee, the Greater New Jersey Society for HFM, Union Chamber of Commerce Board Member and Union Rotary member. He has participated in a number of think tanks and has written for and contributed to newspapers and trade magazines.
FE&S: What are the five key challenges you face as a healthcare foodservice director today?
MA: First, we're challenged to increase quality while reducing or maintaining costs.
We are in a healthcare environment that we have never been in before. People who may say things are cyclical are incorrect. With pay for performance and healthcare reform, if a hospital has a poor rating, it will not get its Medicare reimbursement. These are tantamount to each other. Our reimbursement is at risk if quality goes down and if we make reductions in services such as charity care.
The second key challenge is reducing staff turnover with Generation Y and Millennial employees. Higher turnover brings higher cost and a lack of continuity in service. We must identify ways to keep these generations engaged.
The third challenge is staying ahead of the curve with technology. We live in a very technologically advanced society. Our patient and retail consumers are more tech savvy than ever. This creates an expectation of instant gratification, or results, and service that can come only with technology. Technology, for all of its benefits, also may come at a high cost and a very short depreciation period. In addition, incorporating social media to marketing plans and programs will be a great benefit. Technology increases throughput and customer engagement. Customers are very adept at using smart devices, and now use them and the web for many of their purchases. Technology is part of their lifestyle. We need to emulate that in our operations.
Fourth, we must unify operations through multiple sites. Healthcare systems are merging at a very high rate as a result of healthcare reform and other healthcare changes such as acquisitions of other medical facilities and physician practices. Having the ability to exploit synergies and economy of scale will become more and more vital. We'll be challenged to do this while still maintaining some uniqueness.
And fifth, we need to offer food and services that are in tune with contemporary trends while keeping our costs as low as possible and in line with budgets. Many changes and trends such as sustainability and gluten-free foods drive labor and food costs up.
FE&S: What are you doing to answer these challenges?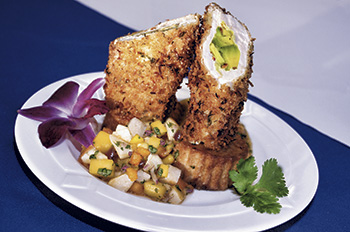 Overlook's tropical chicken roulade pleases customers at Donna's Café and was entered in AHF's culinary competition.MA: Staying engaged and staying creative. The ability to maintain and meet these challenges takes a high level of creativity to leverage ideas, operations, funds and so forth. I must stay engaged in the industry nationally and locally to become aware of resources and ideas to help navigate through these challenges. Leaders in healthcare foodservice must gather information and keep an eye out for changes and trends in everything from food and customer behaviors to economic influences and foresight into future trends so we can proactively meet rather than react to challenges. Staying engaged with staff and having an engaged staff puts one ahead in the game. For example, practicing simple behaviors like sending thank you notes and employee rounding goes a long way.
FE&S: What types of foodservice equipment will most benefit your operation during the next five years?
MA: Pieces of equipment that will benefit us include combi ovens, conveyor ovens, microwave ovens, charbroilers and other rapid-cooking solutions. Also, equipment and procedures that reduce energy consumption are very important because they will help us save costs and support our sustainability efforts.
FE&S: Has the fact that healthcare foodservice has become more of a beacon for healthy eating and healthier lifestyles impacted the way you design and equip your operations?
MA: It has had a profound effect. I look at operational changes with staffing and other resources as well as equipment such as greaseless fryers and spinners that can produce food quickly, produce food in the moment and produce food with less fats, salts and other health-related attributes.
FE&S: Grab-and-go foodservice and even limited-service operations such as coffee kiosks have become more popular in healthcare foodservice. What are some of the operational considerations you have to weigh when setting up this type of operation?
Atanasio and the department raise bee hives on the hospital's roof and produce honey, lip balm and lotions.MA: Providing service in a quick and easy fashion is in big demand in hospitals. Time is a commodity! Using technology such as online ordering can help with throughput. I develop these types of operations also to fill off-peak hours in my main retail outlet. I look for equipment and menus that can support the service by producing quality items in large quantities, and by reducing staffing and energy needs. These operations are a one person show and I need equipment that can offset the labor and occupy a small footprint of space.
FE&S: Healthcare foodservice has to balance a variety of needs, including employee feeding, patient service, catering and more. How do you
balance these needs?
MA: It starts with the right person in the right job. You must hire competent people with potential to meet immediate needs as well as implement succession planning. This enables the managers to have several perspectives based on experience. Menu planning should be a significant consideration. Composing menus that have variety, ethnicity and popularity is the easy part. Using common and fresh items to accomplish this is where skill and experience of the foodservice team come into play and will make a good operation great. Having equipment and technology to complement these practices is key.
FE&S: What will tomorrow's healthcare foodservice professional need to do to be successful?
MA: They must be mindful that there are still revisions from the Centers for Medicare and Medicaid Services (CMS) that will require more bending of the cost curve. If a staffing position opens, it must be scrutinized. Can tasks be centralized or absorbed so the position does not have to be filled? We must look at descending dollars reports frequently for opportunities in food and direct costs savings. We must also plan operations and recruitment now for the future and be aware that the labor pool is moving. As the labor pool moves away from baby boomers and Gen X's to Millennials and Generation Z, we must be able to figure out how to motivate and retain them.
FACTS of Note
Number of Beds: 525
Annual revenue: $3.5 million
Annual budget: $10 million
Annual patient meals: 1.1 million
Annual retail meals: 650,000
Annual catering sales: 550,000
Staff: 140