Chef Gerard Craft, a five-time James Beard Foundation Best Chef Midwest nominee, is the executive chef and owner of Niche Food Group in St. Louis, Mo., the parent company of the original Niche (open since 2005) as well as Taste by Niche, Brasserie by Niche and casual Italian concept Pastaria. Porano Pasta + Gelato, opening mid-summer, will be Craft's fifth concept and first foray into the fast-casual segment.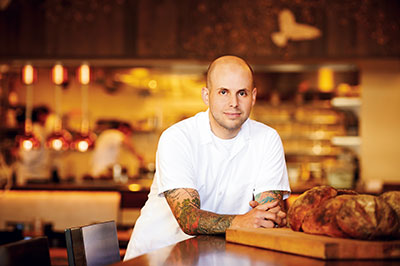 Gerard Craft, Chef/Owner, Niche Food Group, St. Louis, Mo.FE&S: What is the Porano Pasta + Gelato concept?
GC: The concept is fast food pasta and more, with "choose your own adventure," customizable options. You can start with a pasta — we're making our own Strozzapreti, which is a basic extruded pasta that is similar to cavatelli or gluten-free pasta. Or, you can choose farro (which is an Italian grain), focaccia or lettuce to form a sandwich or salad. Then from there, you can layer protein or vegetables — all of our proteins are naturally raised, meaning no hormones or antibiotics. We're serving braised beef brisket, slow-roasted pork shoulder, pork meatballs, grilled free-range chicken or Calabrian-spiced, non-GMO tofu for vegetarians and roasted seasonal vegetables. We will have different sauces, starting with oils — olive oil, chile oil, garlic oil — or butter. We also have a pomodoro, with tomato, basil, garlic and white wine, a roasted sweet red pepper sauce, a Sunday sugo with smoked pork simmered in a tomato sauce for a few hours to develop that rich, smoky flavor, and then we have an herb pesto and three vinaigrettes, red wine, creamy anchovy and spicy Italian vinaigrette. Toppings will include everything from different cheeses like Parmesan, mozzarella and pecorino to chopped pistachios, pickled golden raisins, fresh herbs, green olives and breadcrumbs. We're also considering offering combo options.
FE&S: What about the gelato?
GC: We'll have a selection of different gelatos in portable cups made fresh daily by our pastry chef, Anne Croy, along with some gelato sandwiches. We already do 12 different flavors at night at Pastaria — crowd pleasers are birthday cake and salted caramel — and we've also had some more unique and seasonal flavors like candy cane in the winter, honey-caramel and cannelloni with chocolate, candied orange zest and mascarpone.
FE&S: Where did the name Porano Pasta + Gelato come from?
GC: Porano is a tiny town in Umbria. Although I'd been fortunate to travel to Italy several times, my perspective of true Italian hospitality changed forever after this trip. The second that you sit down for a meal, you are part of the community. Just like that, you're laughing and joking with complete strangers. My daughter was only two years old at the time, and by the end of every meal, the chefs would have her in the kitchen. I'd never experienced that kind of warmth outside my own home — a place where everyone feels equal around a table.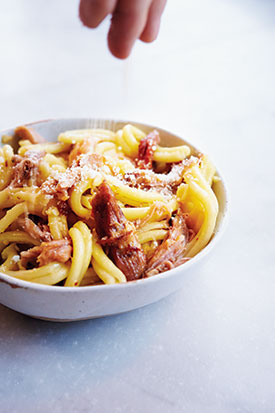 Slow-roasted pork shoulder with oils, pecorino, chili flakes and fresh herbs.FE&S: Why did you decide to get into fast casual?
GC: It started with Pastaria — that's the most casual restaurant I've done and it's geared toward families and is the kind of restaurant for everyone. It's a place where people can just go to eat without the pretense of having something deconstructed on a plate or the poetic version of what my dish is. Sometimes people are just really busy and want to go somewhere that has good, honest food for a good price and they can bring their kids or their wife and enjoy the same quality that anyone would serve in a fine dining restaurant. Even though I'm a chef, we're not always cooking at home. If we're really busy sometimes we'll grab Chipotle, but there are few options out there for that kind of good quality fast food. So we thought, why not bring something to the market that we feel doesn't exist but that we want?
FE&S: Do you think that's a growing trend among chefs and restaurateurs — opening fast-casual concepts?
GC: If you look at our general public now and how food savvy everyone is, that's at an all-time high. Now all consumers — or at least the large majority — are starting to demand better quality food. That's why you see older model fast food chains having a tough time. Everyone knows what's good and what's not now. It raises our standards as restaurateurs, but then it also opens up this whole new market of people. Because before, it used to be only people with money could afford to go to fine dining restaurants and enjoy good food. Now everyone's craving really good food but not everyone is rich and famous.
FE&S: What's the look and design of the space?
GC: We wanted to design Porano with personality much like our other restaurants so it doesn't feel like a sterile fast food restaurant. There will be concrete floors, schoolhouse lighting, maybe some church pew-like benches, and wood tables made by a local table maker. We'll also have some personal elements — photos of my family and our trips to Italy. We wanted to create a warm space where it doesn't feel like we're trying to push you out. If you want to come in the evening and stick around for a bit we want it to be the place where you can still have a nice dinner for $10. There will also be a lot of transparency — the pasta making room will be right at the front with glass windows so everyone can see and the kitchen is completely open.
FE&S: So, why pasta?
GC: Italian food has always been popular. But oddly enough, pizza has been the only type of Italian food to dominate the fast food setting. Pasta is not easy. It requires a higher level of consistency and management. That's why we focused on hiring the right people to make sure the pasta is always perfect. We're training real restaurant chefs to learn how to run these types of fast-casual restaurants, which will offer them a better career maybe than in the fine dining world where they would otherwise work longer hours and have less time for their families.
Farro with grilled free range chicken, pecorino, herb pesto, brussels sprouts, brown butter bread crumbs and fresh herbs.FE&S: It's true, consistency is the key to success for fast-casual restaurants. How will you strive for that same type of consistency?
GC: Part of maintaining consistency is in the technology and recipes and systems but again, it all comes down to having the best people. Using pasta cookers with timers and machine-based extruders makes it a lot easier to make the pasta. We'll also use combi ovens for cooking because they are programmable and make things a little more exacting. And just using strozzapreti for pasta helps because it holds its structure really well and doesn't get soggy or overcooked as easily as say, spaghetti or another type.
FE&S: How do you plan to balance Porano with your four other restaurants?
GC: Again, it's all about the people. The person taking the helm of Porano is Michael Petri, who has been with me for six years now as the executive chef of Pastaria and he will help build the brand as well. This is something I could see happening more in the future — trained restaurant chefs taking over fast-casual concepts.