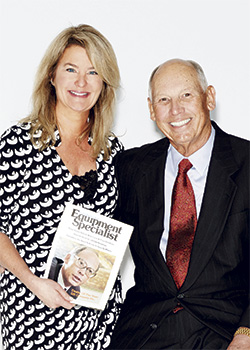 We were thrilled to be able to join in the excitement in our own offbeat little way. Our Zoomba Group booth offered a green screen and a photographer allowing brave attendees to have their pictures taken on the cover of either FE&S or restaurant development + design magazine. We welcomed more than 1,000 willing participants and created more than 850 magazine covers. Check out some of our handiwork and the (mostly) smiling faces on our Facebook page.
Being stewards for some of the industry's most time-honored and respected forms of recognition, like the Dealer of the Year and Hall of Fame awards, can sometimes feel like a weighty obligation. There is always the pressure to get it right and thereby honor not only this year's recipient, but also those who have been honored in the past. There is no greater feeling of elation than knowing that we got it just right.
During this year's NAFEM Show we had the opportunity to do our photo shoot with Ken Gill, the man featured in this issue as the recipient of FE&S' 2015 Hall of Fame Award. The majority of our team had the chance to interact with Ken, one of the most universally well-respected people in the foodservice industry, and discover why he is held in such esteem. The knowing glances shared by team members during the day spent with this engaging man told the story as the realization set in that we had gotten it just right with yet another most-deserving Hall of Fame designee. Check out the picture of Mr. Gill on the cover of FE&S as our 1984 Dealer of the Year.
Next month we have another amazing story to reveal…that of Clark Associates, Inc. — FE&S' 2015 Dealer of the Year.