An interview with Cedric Junearick, director, Huntsville Hospital System
For a complete list of FE&S' Future Foodservice Leaders see The Future Is Now.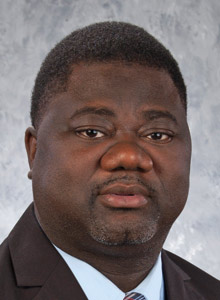 Name: Cedric Junearick, CDM, CFPP
Company: Huntsville Hospital System
Title: Director
Age: 43
Years in foodservice: 20-plus
Educational background: A.S. Culinary Arts Degree, Certified Dietary Manager, Bachelor of Arts Degree
What's the most important lesson you have learned?
The most important lesson I have learned is to manage the political aspects of being a director, which can be very different than the direct approach that I was accustomed to when I was an Executive Chef. Expanding my communication skills has been very rewarding.
What's the best career advice you have been given?
The best career advice I have been given is to put your best out every time. Be fair, firm and consistent. Always believe in yourself and your principles and don't brag about what you can do…let your work speak for itself.
What makes you want to stay in the industry?
I want to stay in the industry to help change the way that food personnel are perceived. I hope to see the skill sets and salaries to change in this profession at an entry level.
What attracted you to the industry?
I grew up in Mississippi watching my grandmother cook over a pot belly stove and I knew that I wanted my career to focus on food. Over twenty years ago, I joined the U.S. Army where I fell in love with cooking for large groups. It didn't hurt that I loved watching the Food Network and knew I wanted an indoor job.
What has been your proudest accomplishment?
My proudest accomplishment was working with a team of professionals to save my organization around $750,000 in my first year as director and to run a patient day rate around $29.00.
Describe the biggest challenge you have overcome?
The biggest challenge that I've had to overcome was communication. My ability to become an effective communicator has allowed me to coach and develop new team members to realize the operations and organizational vision, mission and goals.
What excites you most about the foodservice industry?
I'm excited to see that outlets like the Food Network have raised the profile of the culinary and food industry in the eyes of the general public. I love the challenge of coming to work to prepare special meals for restricted diets and seeing the patients and customers satisfied. Working in healthcare foodservice is especially rewarding because we are nourishing patients, helping them to get better. I'm also excited about the foodservice community; through the Association for Healthcare Foodservice, I have a lot of networking opportunities, tools and resources.

If you could improve one thing about the industry, what would it be?
If I could improve one thing about the industry it would be that all foodservice personnel are given more respect. The people that serve, cook and wash dishes have one of the most important positions in the industry — people are directly impacted by what they do — and yet these individuals are sometimes undervalued. I would like to see that change.