An interview with Chad Hemming, vice president of marketing for Serv-U.
For a complete list of FE&S' Future Foodservice Leaders see The Future Is Now.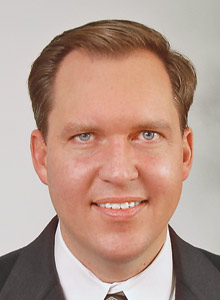 Name: Chad Hemming
Company: Serv-U
Title: Vice President of Marketing
Age: 38
Industry involvement: Member of SEFA Marketing and Training Committee
Years in foodservice: 16
Educational background: Bachelor of Science
What's the most important lesson you have learned?
My brother and I have held every position in the company. The most important lesson I have learned is the importance of our employees working together. Our goal as management is to have a team environment with everyone pulling together to achieve department goals, and all the departments working together for the success of Serv-U. A breakdown in any one area affects the whole company. We know our staff, hire from within when possible, and encourage our employees to grow into leaders. Our employees know we understand their job, are willing to listen to problems and solutions, and want to help them achieve to the best of their ability.
What's the best career advice you have been given?
The best career advice I have been given came to me indirectly. Since my early years at Serv-U, I have been on the negotiation team with my brother, father and former business partner, Mike Ciolli. I have learned to seek out people and companies that want to have us as a partner. I work with them to find mutually beneficial outcomes. We find creative ways to save money or improve efficiencies for the manufacturer and Serv-U. If a manufacturer can help me become more profitable and increase our growth with them without incurring a lot of costs on their side then we both come out ahead.
What makes you want to stay in the industry?
What makes me want to stay in the industry are the relationships I have developed over the last 16 years. Serv-U has an exceptional staff with people who want to learn, grow, and lead. Although our industry is very large, our manufacturing base has a lot of family-owned companies. The majority of my manufacturing contacts have been friends for over 10 years. SEFA provides me several opportunities a year to spend quality time with these manufacturing friends.
What attracted you to the industry?
Serv-U was formed in 1994 while I was at the Ohio State University. I was offered the opportunity two years later to join Serv-U and grow a business from the ground up. What attracted me to Serv-U was the challenge of growing a small business and working with my family. I enjoy working with my co-owner brother and having lunch with my brother and father almost every day; they are my mentors.
What has been your proudest accomplishment?
My proudest accomplishment is the current marketing team. I enjoy working with a team that supports each other, proactively helps other groups achieve deadline goals, and openly shares thoughts and opinions. We produced six 268-page catalogs and have redesigned a 10,000-plus product e-commerce website this year. I am proudest of the growth in leadership of several of the marketing teammates.
What excites you most about the foodservice industry?
I joined the SEFA Marketing and Training Committee last year. Working with the SEFA team and other committee dealer peers allows me to be part of the future direction of SEFA marketing and training initiatives. Jim and Tedde Reid study our industry and other similar industries to look for ways to be more relevant to the SEFA dealers and the end users of the 21st century. I am excited about the innovations and growth possibilities of Serv-U, the SEFA buying group and the industry as a whole.
If you could improve one thing about the industry, what would it be?
I worry about the effects of MAP pricing on the industry. There is no industry standard in MAP policy that would allow for easier implementation of the rules. Margins selling at MAP vary widely by category even on comparably priced items and must be taken into consideration when choosing suppliers. These problems have effectively increased my labor cost in order to remain in compliance with multiple rule sets, and have lowered my sale prices and profit margin in order to remain competitive at the MAP policy prices. Additionally, rule breakers gain a sales volume advantage over those who comply and enforcement of MAP has been ineffective with many manufacturers. Although some manufacturers have been successful with MAP policies, many have created more problems than they solved.