An interview with Amy Hegarty, principal, Foodservice Consultants Studio.
For a complete list of FE&S' Future Foodservice Leaders see The Future Is Now.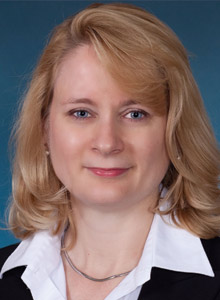 Name: Amy Hegarty
Company: Foodservice Consultants Studio
Title: Principal
Age: 42
Industry Involvement: CFSP member, FCSI Sr. Associate member working toward professional membership, FCSI ICON committee member
Years in Foodservice: 19
Educational Background: Interior Design
What's the most important lesson you have learned?
Be engaged in what you are doing. It is so easy sometimes to go through life half asleep and miss out on the important things.
What makes you want to stay in the industry?
This is the type of work that I know and I want to continue to learn new things.
What attracted you to the industry?
I enjoy the functional part of design over the decorating part of interior design. The foodservice industry is certainly more about the flow and function of spaces.
What has been your proudest career accomplishment?
Being president of the Virginia Chapter of the American Society of Interior Designers.
What excites you most about the foodservice industry?
There are so many different types of projects that we can work on. And even if you only work in a few segments, there can be so much variety from project to project.