An interview with Christopher Heina, director of business development for Cobblestone Ovens, Inc.
For a complete list of FE&S' Future Foodservice Leaders see The Future Is Now.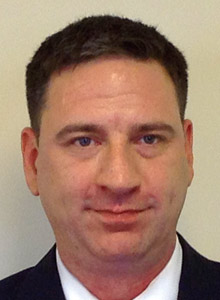 Name: Christopher Heina
Company: Cobblestone Ovens, Inc.
Title: Director of Business Development
Age: 38
Industry Involvement: Board Member of CFESA, Co-Chairman of CFESA Marketing Committee, Co-Chairman of CFESA's 50th Anniversary Planning Committee
Years in foodservice: 6
Educational background: BS in Business, Illinois Wesleyan University, Centro de Lenguas, Universidad de Granada
What's the most important lesson you have learned?
Create an honest, transparent employee-employer environment based on trust. Provide consistent leadership, open dialogue and transparency in business practices.
What's the best career advice you have been given?
Honesty and integrity are the pillars of a solid business. Build long-term relationships.
What makes you want to stay in the industry?
There are many exciting innovations, like energy-efficient products being introduced into the marketplace. For example, Papa John's is using the WOW! oven from Middleby Marshall as a marketing tool. Equipment already introduced and on the horizon is becoming much more sophisticated and complex. It will be a challenge for both manufacturers and their service providers. Training will continue to be a challenge.
What attracted you to the industry?
My Grandfather, Karl F. Heina, was an installation engineer for Middleby Marshall. He traveled around the country installing huge revolving tray ovens. At one point, when Middleby was purchased by Stewart, they gave him a $17 bonus check. Karl didn't feel that a $17 bonus check accurately reflected his commitment to his work and his overall performance so he went off on his own in 1980 and founded Cobblestone Ovens, Inc.
I started my career in high technology consulting and sales. After a few years, I realized that the cyclical nature of large corporations and businesses in general was going to stunt my career just like it did for my grandfather. I decided that joining my family's 30-year business would allow me to have a future and career based only on my own limitations. I see being a small business owner in today's rapidly changing business climate not only as a chance to build a legacy for myself and my family on my own terms, but also an opportunity to make an impact in the foodservice industry and provide meaningful jobs, training and growth opportunities to professionals who share the same passion for foodservice equipment as I do.
What has been your proudest accomplishment?
When I joined Cobblestone, the company was experiencing a plateau and had little to no technology infrastructure. I saw this as a huge challenge, but I also knew that I could manage a turnaround first by addressing and refining internal operations, including investments into upgrades of our facility, accounting, scheduling and telephony systems, and second by re-introducing the company into the marketplace. These two strategies significantly contributed to our resurgence and growth. In addition, I continue to actively pursue growth, expansion opportunities and excellence in service delivery for the company.
Describe the biggest challenge you have overcome.
Changing and re-positioning industry-wide perceptions about what Cobblestone is and the wide variety of services we offer was a big challenge. We are known for our legendary expertise in revolving tray ovens. While that is true, we also sell parts and provide technical support on an international scale. But our customer base wasn't uniquely aware that we are a much more diverse company with a very deep and wide service offering and skill set.
What excites you most about the foodservice industry?
Middleby Marshall is changing the fast-casual restaurant space with their energy-efficient WOW! technology and their infrared CTX cooking technology that Chili's is adopting. More sophisticated and energy-efficient equipment is going to change the way the fast-casual restaurants cater to customers; the end result is that they are cooking their protein faster, more consistently, and with fewer people, which translates into higher quality meals at a lesser cost.
If you could improve one thing about the industry, what would it be?
The challenges of sharing information. It's frustrating that in 2013, we still have all of this hard copy paperwork, each unique to each individual manufacturer. The foodservice industry is still so fractious about whose technology we use and why there are so many obstacles to share this information.