Culture can be a tricky thing. So many companies today say they want to be one type of organization but their actions typically indicate they're headed in a completely different direction. When it comes to corporate culture, having two divergent paths can cause all sorts of problems from an operational perspective and that impacts customer service and, ultimately, it shapes customers' perception of your brand.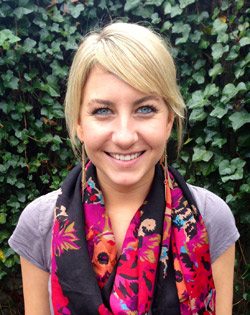 Amanda McCallisterOur corporate culture at Barberitos is warm, fun and welcoming. And this did not happen by accident. It begins at the top with our founder, Downing Barber, who walks the walk in addition to talking the talk when it comes to our corporate culture.
Every day he brings a positive energy to the workplace and Downing expects the same from us. He took the initiative to start the company and expects us to be committed to cultivating the Barberitos experience every day in everything we do. This is not a business where you can just show up at 9 a.m. and leave at 5 p.m.
In a relatively short time, Barberitos has grown to a system with 30 locations in operation and 13 more set to open soon. All in all we expect to have a total of 50 restaurants in operation by the end of the year. We've done this with a franchising staff of only eight people. Our franchising team is relatively small and for that reason none of our positions are anything alike. Our main principles of what we want for the company are set and we hire to fit that. We make sure people have a lot to offer and we don't want them to be pigeonholed.
We all have to be on the same page to keep Barberitos moving in the same direction. This is important because of our hands-on approach to helping our franchisees grow.
In fact, everyone on our team remains committed to being in the stores to make sure they are supporting the franchisees' efforts to deliver a memorable experience to their customers. Because Barberitos has such strong local ties, we see the concept as doing more than simply selling burritos made to order with fresh ingredients. We want Barberitos to be part of the community and for the people working at the store level to really get to know their customers.
As a result our franchisees are required to be owner-operators, meaning not only do they have an equity position in their restaurants but they also work in their units. We do this to help keep a local feel and it lets our customers know we are happy they are spending their hard earned dollars with us and that we want to contribute to the community in more ways than one.
The goal is to make our restaurants fun, light-hearted places. We also want to make customers' days a bit better and make sure they feel their money is going back into the community.
For example, last fall our Thomasville, Ga., location raised more than $1,800 in one day for the area chapter of the Susan G. Komen Foundation in support of finding a cure for breast cancer. Similarly, this past December our Athens, Ga., location made a contribution to Poverty Is Real, a concert that was raising money to ensure that by 1 p.m. on Wednesday, July 1, 2020, every child in Athens-Clarke County will be on course to graduate from a post-secondary education provider.
The Johnson City, Tenn. Barberitos set out to help one of its own this past holiday season. A regular customer is a soon-to-be Eastern Tennessee State University student who mentors at-risk youth in the community. Under extenuating circumstances, he had depleted his $1,000 car savings to help out his family, who recently hit a financial rough patch.
Andy Osbolt, owner of the Johnson City location, wanted to help, so he started a fundraiser where customers could buy Christmas ornaments for$2-$5 to decorate the store. All of the proceeds would go toward the purchase of a car for this customer in need. After a week or 2, the store was full of ornaments as the Barberitos family helped raise more than $3,000 plus 6 months of free car insurance.
On Christmas Eve, Barberitos staff brought him to the store after hours and presented him with a car, paid for in full. This car is the key to his future, as he will be the first in his family to attend college.
This personal approach applies to recruiting franchisees, too, because our way of doing business may not be for everyone. In fact, Downing is still very involved with the franchisees, who typically start out as people who have learned about the brand by eating there and want to be part of that. So it starts with a conversation about being a part of something bigger and discussing whether we want the same things and can grow together.
We talk with our franchisees to make sure they want the same things we want as a company and that both organizations' values align well with each other. Because we are in the stores all the time, communication is critical. But so is having that positive energy, and a desire to be part of something bigger. To be part of our team you have to believe that the sky really is the limit. Because what you put in is what you get out.
A key element of our culture is embracing the notion that many voices are better than just one. By listening to others you keep your ears open to ideas you never thought of and you get to places you have never been previously. The way things are done and can be done continue to evolve on a constant basis and that particularly applies to a fast-growing restaurant chain like Barberitos. Technology will continue to change and impact the way we interact. So it's necessary to evaluate what you are doing to look for ways to keep improving. Great successes come from rolling with the changes and you do that by paying attention to your stores and customers.
That's why when in the field I will try to wear as many hats as possible and learn as much as possible from the owner-operators and their teams. They are the ones seeing the customers' reactions and work side by side with the employees. So their experiential knowledge is important and they might come up with better or more innovative ways to approach our business.
The truth of the matter is we learn so much from our franchisees and that's why we try to visit the individual markets. An open exchange of ideas and experiences with the frontline personnel — the folks who are Barberitos' brand stewards — helps us to see how we can best help them on a location by location basis because no two owner operators or markets are exactly alike. And having a diverse perspective helps us see the grand scheme of things as Barberitos continues to become bigger and better.
As a staff we are well versed in our own areas and have ideas about how we can take the next steps to let people know we have a strong brand based on a good culture. The perspectives my colleagues share from other aspects of the business help me do my job better and support the experience we are all trying to create. When we work collectively and share that sense of empowerment that's when we do different things.
The bottom line is this: If you don't take the steps to establish your corporate culture someone else will do it without you — for better or worse. It needs to come from inside, the heart of your business, and exude outward through your employees to your customers and even your suppliers. When that happens your customers and employees can develop an emotional connection with your brand and when that happens, the sky's the limit.