An interview with Nick Barlow, RD/LD, Saint Francis Health System, Saint Francis Hospital South.
For a complete list of FE&S's Future Foodservice Leaders see The Future Is Now.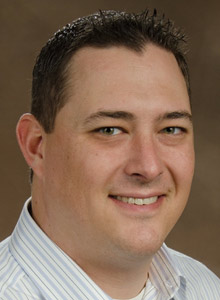 Name: Nick Barlow, RD/LD
Company: Saint Francis Health System, Saint Francis Hospital South
Title: Nutrition and Food Service Manger
Age: 32
Industry Involvement: 9 years
Years in Foodservice: 5 years
Educational Background: Bachelor degree in Nutritional Sciences from the University of Oklahoma, Registered and Licensed Dietitian.
What's the most important lesson you have learned?
Celebrate small victories, remember that everyone likes to be recognized and document everything.
What's the best career advice you have been given?
The best advice I have been given is to always try to remain positive and make sure to really listen.
What makes you want to stay in the industry?
Being involved with the Association for Healthcare Foodservice (AHF) has given me the opportunity to interact with other colleagues from all over the country as well as many different leaders within our industry to stay informed about current trends, equipment and products available within our industry. It is very encouraging to me to see the healthcare foodservice industry moving toward a more upscale room service style of dining for patient meal service and seeing different cultural and ethnic types of cuisine in retail dining areas.
What attracted you to the industry?
I have always liked to help people and being in healthcare foodservice gives me the opportunity to help people by providing them with nutritious meals to help them in the healing process.
What has been your proudest accomplishment?
My proudest accomplishment is coming into a position as a new manager with a staff that had never done a room service style of dining and starting a successful room service style dining program from the ground up.
Describe the biggest challenge you have overcome.
I think the biggest challenge I have overcome and my proudest accomplishment are one in the same. Stepping into a new position and implementing a new style of dining certainly brought a few challenges with it. This style of dining was new to me and my staff so we all learned together. My team pulled together and did an excellent job making the transition to a room service style of dining.
What excites you most about the foodservice industry?
I believe that presentation is a very important part of any dining experience and that visual appeal is as important as the flavor of the food. I am excited about the healthcare foodservice industry trending toward a finer dining experience and the attention to detail and presentation.