Published on Tuesday, 30 April 2013
Written by Amelia Levin, Contributing Editor
LYFE Kitchen, an upscale fast-casual concept, is looking to speed up expansion plans via franchising.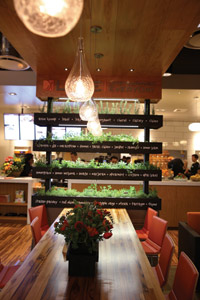 Lyfe Kitchen's herb wallThe chain has two locations in California (Palo Alto and Culver City), and will open its first franchised location in Chicago later this year. Drawing menu support from celebrated Chefs Art Smith and Tal Ronnen, LYFE Kitchen features a better-for-you menu with many items coming in at less than 600 calories and 1,000 mg of sodium.