Page 9 of 9
Veggie Grill
Growth plans target urban sites to build on a "veggie positive" customer base versus unfounded assumption of a core vegetarian clientele.
Launched in 2007, Veggie Grill has grown to 28 units along the West Coast. Fueled by growing demand for plant-based foods and significant capital investment, it plans to double in size over the next three years. Photos by Greg EpsteinWhat a difference a decade makes. Launched in 2007 by T.K. Pillan and Kevin Boylan, entrepreneurs frustrated by the lack of appealing, affordable vegan restaurant choices, Veggie Grill today is among the largest vegetarian chains in the United States. With 28 units in California, Washington and Oregon — and a new, $22 million round of funding at its back — the fast casual's expansion plan includes doubling its unit count, moving into key Midwest and East Coast cities, and exploring opportunities in nontraditional market segments.
Steve Heeley, who joined Veggie Grill in 2014 as its chief operating officer and last May was named president and CEO, says the timing is right to take the 100 percent plant-based menu concept to a broader audience. "Over the next 5 to 10 years, the runway for vegetable-centric food is huge," he says. "More people are discovering that you can eat vegan and vegetarian food and not give anything up in terms of craveability and flavor. The benefits to health and to the planet are immense, and the number of consumers that are mindful of that, especially among Millennials and Gen Z, is growing. It's exciting to see the momentum in the world of plant-based foods and the new products coming to market that are innovative, delicious alternatives to animal products."
To prepare the chain to tap into that momentum, Veggie Grill invested in consumer research to better understand its core customer. That customer, Heeley says, is what the company describes as "veggie positive" — vegans and vegetarians, of course, but also the growing segment of omnivorous consumers who make a conscious decision to move vegetables to the center of the plate. He notes that 80 percent of Veggie Grill customers are neither vegan nor vegetarian.
The highest concentrations of those veggie-positive consumers, he notes, tend to reside in densely populated urban centers. As it gears up to double in size over the next three years, Veggie Grill is shifting its focus from what's been a mix of urban and suburban stores averaging 2,800 to 3,000 square feet to strictly urban locations. At the same time, the budding fast-casual concept is developing a smaller prototype — 2,000 to 2,400 square feet — and will introduce a new design this summer.
"Our new prototype will be more reflective of this new urban, smaller, faster footprint," Heeley says. "We're moving away from booths and designing the stores to allow consumers to flow in and out easily, which in crowded urban markets is especially critical at peak lunch periods."
Veggie Grill's strategy to increase throughput also includes focusing sharply on building sales for off-site consumption. Delivery, provided by third-party players, now serves as a key part of its model, and the same applies to express pickup by customers placing orders via website or mobile app. "The cost of delivery has come down significantly, and it's very easy now with mobile apps," Heeley says. "Today, the customer defines convenience, not the restaurant. This is the on-demand era, and we're committed to being ready to accommodate that and make it easy for our customers to use us however they want."
Smaller, More Efficient Kitchens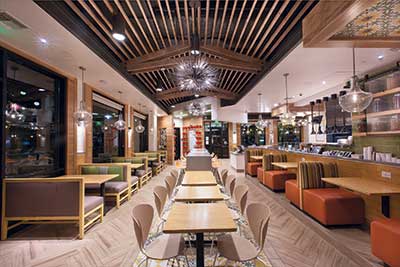 In addition to its current prototype, which is suited to larger urban and suburban lifestyle locations, Veggie Grill is developing a smaller, more efficient prototype to facilitate its new urban-focused growth strategy.Part of the new urban prototype includes shrinking and rethinking kitchens. "Traditionally, our kitchens have been large, and we've had a lot of the same types of equipment that you'd see in any full-service restaurant — charbroilers, auto-lift fryers, flattops, ranges, mixers, etc. What we're looking to do now is leverage technology to accommodate smaller footprints and faster throughput," Heeley says. "We're doing some menu reengineering and taking a deep dive into all the different types of cooking, holding and rethermalizing technologies out there now that could help us continue to produce high-quality food but do it quicker, more efficiently, with less labor and in a smaller amount of space."
While urban locations represent Veggie Grill's most immediate targets, the company continues to look at future expansion opportunities in nontraditional market segments. First up would be universities, Heeley says, noting that initial discussions are already underway with a couple of prospects. "There's huge demand in the university channel, not just for healthier food in general but for vegetarian food, specifically. It's being driven by the student population, which is increasingly seeking the type of creative, high-quality plant-based food options that Veggie Grill offers." Other nontraditional development opportunities on the chain's radar include airports and healthcare operations.
What is not in the cards, as of yet, is franchising. For the foreseeable future, Veggie Grill will continue to maintain its corporate growth strategy, according to Heeley. Significant recent investments led by private-equity firm Brentwood Partners, the company's largest single shareholder, and PowerPlant Ventures, a venture capital firm founded by Veggie Grill's co-founders, will fuel that strategy.
"We're not saying we'll never franchise, but we right now, our commitment is to very high-quality and purposeful growth," Heeley says. "We want to control our destiny and make sure that we