Page 7 of 9
Saladworks
This early pioneer of the better-for-you fast-casual segment intends to reassert its leadership position.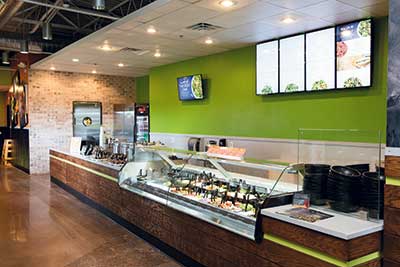 Saladworks' is ramped up to grow again with new ownership, a new design prototype and a new kiosk order-entry system in test phase. Photos courtesy of Dominic Episcopo PhotographyNew concepts built on salads keep sprouting all over as operators try to elbow their way into the emerging fresh-and-healthful fast-casual restaurant segment. It's a phenomenon that has Conshohocken, Pa.-based Saladworks feeling both slightly smug and newly re-energized.
Arguably the granddaddy of center-of-the-plate salad concepts, Saladworks celebrated its 30th anniversary last fall. Having weathered bankruptcy court and a subsequent buyout by New York-based private equity firm Centre Lane Partners in 2015, the company is stepping out to reassert its leadership position in the category. A new senior management team, led by President and CEO Patrick Sugrue and Vice President of Operations and Development C.W. Bruton, continues to spearhead a major brand refresh, test new ordering technology and introduce new marketing strategies. The leadership team hopes these efforts will sharpen the 97-unit chain's competitive edge and jump-start growth.
Saladworks' first remodeled store, a franchised unit in Newton, Pa., opened in February 2016. The second remodeled store — its sole corporate unit, in Andorra, Pa. — opened in December. In conjunction with the Andorra store's reimaging, the chain introduced its first food truck and began testing a new in-store kiosk ordering system. In terms of new unit growth, one unit was added in 2016, and another four or five will open in the first quarter of 2017.
"We have a very robust pipeline of new franchisee prospects, many of our existing franchisees are actively looking to expand and, with the new initiatives being rolled out, we're excited to be growing again," says Sugrue, who took the helm at Saladworks last March. "Given our menu focus, we're well positioned for the Millennial consumers interested in fresh, high-quality, nutritious foods. Our brand has the benefit of established leadership, and we've been entrusted with the job of broadening its appeal, making our stores more relevant and our service even better."
Designed for Growth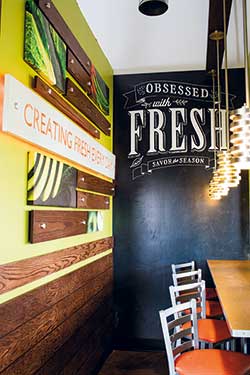 Saladworks' leadership describes its new design prototype as relevant and contemporary. Natural colors and materials, comfortable seating, free Wi-Fi and charging outlets at every table invite guests to linger.Already, the impact of new ownership and refresh initiatives is paying off. Sugrue says same-store sales last year rose by 8 percent, and, while it's too early to share definitive numbers, the company is excited about the impact of its new design prototype on sales.
The first remodeled unit has far exceeded expectations, according to Bruton. "That store continues to strongly outperform the system. Prior to the remodel, it was well below the chain average," he says. "The franchisee is so happy with the financial performance that he's having his second store remodeled this February."
Bruton describes Saladworks' new design as relevant and contemporary. Natural colors and materials, comfortable seating, free Wi-Fi and charging outlets at every table now invite guests to linger. "The brand hadn't stayed as fresh as it could have, so part of the work we've done is to develop a new image, new logo, new color scheme," he says. "The food is the same, but when we package it with the new look and feel, we get great results."
While remodeling its corporate store, Saladworks' new food truck kept revenues flowing and employees working. Sporting the new branding, the truck was parked outside the restaurant during its temporary closure. "That was the genesis of it, but we quickly recognized that the truck has such great potential for special events, for doing missionary work in new markets, social media-related marketing, and creating brand awareness while we're permitting and building out restaurants," Sugrue says. "People love food trucks. It has a very high cool factor and draws a lot of attention."
Also making its debut at the corporate store is Saladworks' new Life Bar kiosk ordering system. Having seen the traffic increases spurred by the new prototype, the chain quickly realized that it needed to address throughput. Specifically, Sugrue says, the challenge was to figure out how to be able to get more salads across the counter during the peak 1½-hour lunch and dinner rushes. "With the redesign, we solved one problem, which was to dramatically increase average unit volumes. But we exposed another, and that was throughput," he says. "That led us to develop the kiosk program and make a few operational tweaks that are designed to get more consumers through at those peak hours. We are testing the kiosk at the corporate store before rolling it out to the rest of the system."
While a large percentage of Saladworks' sales are made-to-order salads and customers can choose from more than 60 ingredients, the kiosks appeal to tech-savvy guests and regulars who may choose not to go through the traditional ordering line. With the kiosk, they can browse and choose menu items based on dietary preferences such as low sodium, high protein, gluten free, vegan/vegetarian and specific diets, such as Weight Watchers. The kiosks store customer preferences, which they can easily change and re-save as necessary.
Bruton says no significant back-of-the-house modifications were required to prepare for the kiosk system's implementation. "We're considering some additional refrigeration, but nothing dramatic," he says. "It's really just the ordering technology on the front end and then proper setup, staffing and positioning on the back end. We think we can drive major speed improvements by doing those things."
Many existing stores have an area within the kitchen where staff can assemble catering, delivery and online orders. In locations that don't have that incremental production capability, Bruton says the chain plans to set up an abbreviated line to handle kiosk orders. Of Saladworks' kitchen operations overall, he notes, simplicity serves as a big advantage. "Given that we're salads, we're heavy on refrigeration and light on cooking. We have an oven, a slicer, salad spinner, and a prep and dish area," he says. "Other than that, it's a walk-in cooler. That's in part what has enabled us to be so effective in the food truck environment. We don't need to have the HVAC that's typically required. And for our brick-and-mortar stores, that's also what takes a lot of complexity out of the process and helps to keep our building costs down."
In the near term, Sugrue characterizes Saladworks' growth as measured, with the chain continuing to test and roll out its repositioning initiatives. A rigorous approval process for new franchisees has been implemented, and in addition to new franchised stores, corporate store development will pick up this year. The chain is also headed toward new channels of distribution.
"I can't provide any details yet, but suffice to say that we're going to be fishing where the fish are and targeting the epicenters for the tail end of the Millennials," Sugrue says. "We'll have new points of distribution, and we're very excited about our growth potential."