Page 5 of 9
Lenny's Grill & Subs
Hands-on leadership guides this concept reboot that includes a name change and new prototype.
Growth initiatives at Lenny's include a new prototype designed to be more relaxed, engaging and fast casual in style. The chain's name will also change to Lenny's Grill & Subs to better highlight its hot sandwich specialties. Photos courtesy of Lenny's Grill & SubsLenny's Sub Shop was founded in 1998 by industry veteran Len Moore as an entrepreneurial endeavor to bring craveable Philly cheesesteaks to
Memphis, Tenn. The concept was a hit, and Moore and his family spent the next several years expanding it throughout the region before selling it in 2004 to a group of investors. While it had grown to approximately 170 units and spread to new territories, including Texas and Michigan, the brand suffered bumps in the road over the next few years. Many units were closed, and in 2013, the company was sold to its current owner, Johnson Ventures.
Seeing a strong brand with a great product but one in need of new leadership to drive its growth, Johnson Ventures has undertaken a concept reboot that has Lenny's back on a growth track. President and CEO Rick Johnson and Executive Vice President Kevin Martin have taken hands-on leadership roles at Lenny's — Johnson as chairman and chief concept officer and Martin as president and CEO — and have spent the past two years building an experienced senior management team and developing new strategies for growth.
Top among those strategies is unveiling a new design prototype and rebranding the chain from Lenny's Sub Shop to Lenny's Grill & Subs. "Our menu hasn't changed significantly, but the new name better emphasizes our key point of difference, which is our Philly cheesesteaks and other subs that come hot off the grill," says Bob Ritter, vice president of franchise and market development for the 101-unit chain. "As part of our rebranding, we've also focused sharply on customer engagement and on enhancing the atmosphere within the stores."
Describing the new atmosphere as a cross between Starbucks and Chipotle in its appearance and ambience, Ritter says the change was driven in part by simple common sense — many of the units were tired and had never been remodeled — but also by research. "We gathered a lot of customer data, and one of the main points that we look at is 'likely to refer.' Rick and Kevin looked at that data and realized that our likely-to-refer scores were low, even among engaged customers who came in two to three times a week. We were good enough on the food and service sides for them, but not good enough for them to refer their friends. That led us to rename and reimage with a more relaxed, engaging, soft environment that's more in tune with modern consumers' wants and needs."
That includes shifting Lenny's service model more toward fast casual than QSR, with employees bringing completed orders out to guests' tables.
As of mid-December, four locations, including the company's sole corporate unit, had been rebranded and 20 more remodels were underway. Two new stores were added in 2016, and 12 more will open this year. "We're really excited to be growing again," Ritter says. "The success we've seen with the remodels has been great, especially with brand-new units that have opened with the new look and feel."
Lenny's prototype calls for 1,000 to 2,100 square feet with seating for 60 to 80 customers. Kitchens typically comprise 35 percent of total space and largely consist of prep areas and hot and cold sandwich assembly lines, each with its own dressing station. Each location has a walk-in cooler and freezer, a proofer/baking combi oven, and a 6- to 7-foot grill.
While most locations are inline strip centers, endcaps with drive-thrus represent a newer target. "Historically, we haven't had drive-thrus, but we have a few franchisees who have endcaps and who have added them. They've seen great success, so as we're looking for real estate, that's one thing I do talk to the brokers about. There's a lot of competition for those sites, but it's certainly something we're interested in," Ritter says.
Delivery has yet to emerge as a significant contributor to sales — Ritter says protecting product quality with hot sandwiches has proven challenging — but the company plans to add mobile ordering with express pickup. Catering, another growing revenue stream, now contributes 10 to 15 percent of revenues.
Targeted Growth Ahead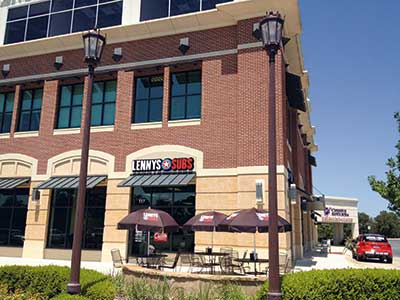 Lenny's currently operates in 12 Southeastern and Midwest states and has plans to build outward from existing markets.As for geography, Lenny's home market of Memphis is its strongest — it has 32 locations in the Memphis designated market area — but growth has spread to 12 Southeastern and Midwest states. Going forward, the company plans to build outward from existing markets. "Our focus is to grow in any state that we're currently in," Ritter says. "Our predecessor and a lot of younger franchisors make the mistake of going wherever they can get a check, regardless of all of the challenges that come with that. Johnson Ventures takes a much more strategic approach and has zeroed in on three primary metropolitan markets for the near future: Louisville, Tampa and San Antonio. We opened a couple of stores in Florida this year and have seen really strong growth and desire from new franchisees to develop in those areas."
As growth initiatives ramped up, the company has sharpened its franchisee selection process — shifting to "awarding" franchises versus "selling" them — as well as its approach to site selection. Whereas in the past, the chain accepted and even sought out cheaper real estate in secondary locations, it is now focused on prime locations with good visibility, good ingress and egress, and a strong mix of residential and business.
"In the past, Lenny's took the approach that 'the less we spend on real estate, the better off we'll be,'" Ritter says. "But our view now is that good real estate doesn't cost you money — it makes you money. You can have the best product ever, but if you're a block down or a block back, you're at a real disadvantage. So we're focusing on site selection as part of the support that we offer to franchisees. We continue to lead with product, but with all of the reboot initiatives that we've put in place, we've modified how we deliver it and how we respond to new opportunities."
Snapshot
Headquarters: Memphis, Tenn.
Ownership: Johnson Ventures
Founded: 1998
Segment: QSR sandwich
Services: Dine in, takeout, online ordering, catering
No. of Units: 101
Average Unit Size: 2,100 sq. ft.
Average Kitchen Size: 35% of total
Average Check: $10
Average Unit Volume: $558,706
Key Expansion Targets: Louisville, Tampa area, San Antonio