Page 4 of 9
Famous Toastery
This better-breakfast concept intends to remain a contender in an increasingly competitive niche segment.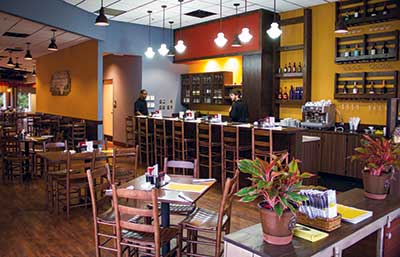 The chain's ideal footprint is 3,500 square feet — large enough to meet its numbers but small enough to ensure the desired comfortable, high-energy vibe.It may be an increasingly fast-casual world, but the team at Famous Toastery aims for what they see as an underserved niche in the marketplace — full-service, polished-casual breakfast, brunch and lunch. The
Charlotte, N.C.-based chain, founded by childhood friends Robert Maynard and Brian Burchill, debuted in 2005 with a single unit, originally called Toast Café, in an old converted house. At the time, the duo had no plans to expand, but the concept struck a chord with guests looking for something a little more upscale than what typical family-style breakfast chains had to offer.
Now with 5 corporate and 15 franchised locations, Famous Toastery is on a roll. Operating from 7 a.m. to 3 p.m., the average unit does more than $1.5 million in annual sales, and development remains brisk. Maynard projects that the company will add 20 to 25 units per year in each of the next few years. While the Carolinas remain the target area for many of those new stores, the chain also has stores planned in Virginia, New York, Pennsylvania and Florida — and talks are underway with franchisees looking to develop as far away as Colorado, Montana, Utah and California.
Not your standard breakfast joint, Famous Toastery's menu covers the basics but also touts scratch-made breakfast specialties like avocado omelets, house-made chorizo, stuffed French toast and gluten-free pancakes. Brunch/lunch selections range from burgers and fancy BLTs to quinoa and kale salads to lobster rolls and mac and cheese made with fresh lobster flown in daily from Maine. Dressings are made fresh every day, and meats are roasted in-house. Premium coffee, cocktails, craft beers and wines, many promoted with suggested menu pairings, take things up another notch.
Women comprise 60 to 70 percent of the brand's customers, and Maynard says there's an even sales split between breakfast and lunch. "It's almost comical how this all started. We went from doing 50 covers on a Sunday to more than 500 with just 44 seats inside our first location," he notes. "So we quickly knew we had something really special. We expanded to a couple of stores by 2008 or 2009 and continued to do well, even though the markets were in bad shape. We realized that we didn't have much competition in the better-breakfast market so felt that we had a lot of runway."
A Lifestyle Brand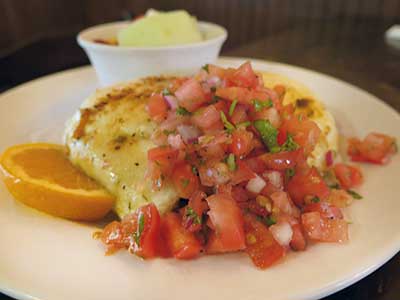 Famous Toastery positions itself as a better-breakfast concept, touting premium ingredients, scratch preparations and a full bar service.By 2014, Toast Café was renamed Famous Toastery, and the company transitioned from independent multi-unit operator to franchise organization. "We had so many people from all over the country asking us to open units in their cities. We're completely self-funded and weren't prepared to expand at that level on our own. We didn't want to bring in private equity, so we started looking into franchising," Maynard says. "You lose some control when you franchise, and it's not for the faint of heart, but it's also really gratifying to be able to give people the ability to be successful in a small business."
In addition to strong unit economics and carefully developed systems, including a trademarked "every server is your server" front-of-the-house service model, the operating hours serve as part of the appeal of Famous Toastery. "We're a lifestyle brand," Maynard notes. "You and your employees can be home by 4 p.m. It's easier to find and keep staff, and you can even get better real estate. Most landlords love having a tenant that's closed after 3 p.m. because it frees up parking for other tenants that are busy at night. For franchisees, it's really a perfect storm of positives for investment."
As for real estate, the brand prefers downtown locations or endcaps in upscale strip centers. To date, the company operates four locations in freestanding buildings, and Maynard says the brand can perform well in any of these location types. The ideal footprint measures 3,500 square feet — large enough to meet the numbers but small enough to ensure the type of comfortable, high-energy vibe that a great breakfast place needs, he adds. Larger units often include a private function room, and seating is kept flexible — no booths — to easily accommodate a wide range of party sizes and occasions, from team outings to breakfast meetings to brunch dates.
Kitchens typically comprise a quarter to a third of total space, and Maynard says they, along with the dining rooms, have evolved to be simple, efficient spaces. Speaking to the freshness and quality the chain strives for, its equipment package does not include freezers, fryers or heat lamps. In addition to a battery of toasters, waffle makers, slicers and salad prep equipment, workhorse pieces of equipment include a flattop grill, eight-burner range and salamander.
"It took a bit of time to get it right," Maynard says. "Every time we do a store, we ask ourselves what we could do better, how can we make the kitchen and the floor more efficient. Our business is based on speed and turning tables. We strive for four- to six-minute ticket times, and to achieve that, we have to have the right setup in the kitchen and the right flow out into the dining room. That extends to where you have your drink station, where your doors in and out of the kitchen are, etc. A few minutes shaved off of ticket times adds up quickly and dramatically in additional revenue generation."
While he acknowledges that the breakfast segment is rapidly becoming more competitive, Maynard believes Famous Toastery's differentiators will keep it atop the better-breakfast niche. "We're very passionate about this brand and are the fastest-growing chain in our niche. Our biggest challenge right now is picking the right partners and the right locations, but we're excited to take it as it comes and focus on making sure our franchisees are happy and profitable."
Snapshot
Headquarters: Charlotte, N.C.
Ownership: Robert Maynard, Brian Burchill
Founded: 2005
Segment: Full-service breakfast, brunch, lunch
Services: Dine-in, takeout, delivery, catering, mobile ordering/express pickup
No. of Units: 5 corporate, 15 franchised
Average Unit Size: 3,500 sq. ft. (100 to 125 seats inside, 30 to 60 outside)
Average Kitchen Size: 25%-33% of total
Average Check: $12.50-$13.50
Average Unit Volume: $1.52 million
Growth Projection: 20 to 25 new stores per year