Page 2 of 9
Chronic Tacos Mexican Grill
Authenticity and ambience build the center of "taco life," along with a kitchen reset for speed and efficiency.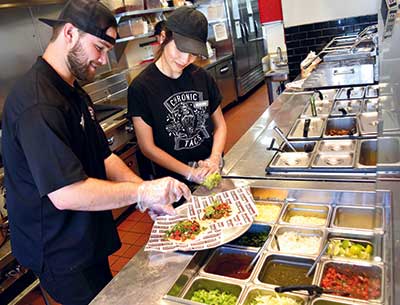 Kitchens account for 40 percent of the square footage at a Chronic Tacos location, with the emphasis on speed and efficiency of preparations. Photos courtesy of Chronic TacosTake third-generation Mexican family recipes; blend in a laid-back California vibe and some Day of the Dead-inspired cool; package it all in a fun, music-filled, fast-casual environment, and you have the recipe with which Chronic Tacos Mexican Grill aims to grow.
Founded in 2002, the Aliso Viejo, Calif.-based chain's first decade took it from an entrepreneurial endeavor started by taco-loving high school friends to a franchise organization with 30 units in California and Canada. Initially, Canadian brothers Michael, Dan, Dave and Joey Mohammed got involved simply as investors. They helped to finance Chronic Taco's first Canadian franchisee in 2010. But they quickly became enamored of the concept and felt it had far greater potential for growth than its owners seemed to realize.
In 2012, the brothers acquired the majority stake in the company, closed some underperforming units and spent the next two years restructuring, retooling and refining the brand before launching a new franchising drive. Michael, who moved from Canada to California to take the reins as CEO, says 14 new units opened last year and the company has another 20 in various stages of construction or lease negotiation for this year. The company hopes to hit the 100-unit mark by 2018.
The brothers' original expansion strategy was to work their way from west to east. In addition to California, Chronic Tacos now operates in Utah, Nevada, Arizona and Colorado, with a store under construction in Washington. The chain also leapfrogged to the eastern side of the country, developing stores in North Carolina and Alabama, which have proven to be strong markets. In 2017, Chronic Tacos also plans to open stores in Florida.
Franchising will represent most of that growth. "We spent a lot of time making sure that we had all the tools in place, that we had a consistent marketing message and that our design was where we wanted it to be before we started franchising again," Michael Mohammed says. "We felt the brand had tremendous potential, but it didn't have a strong enough structure in place. We wanted to build something that would make franchising easier. As we went through the restructuring, we built our marketing capabilities, focused on creating a strong brand identity and brought on an operations team with a lot of experience working with franchisees."
While unit sizes range from 900 to 2,000 square feet, the model functions best at around 1,500 square feet of space with a 20- to 25-seat dining area, according to Mohammed. Serving all-day breakfast, lunch and dinner, the chain seeks locations with a strong mix of business and residential customers nearby. Sales mix varies considerably by market, but takeout and catering make up roughly 60 percent of sales overall.
Menu, Ambience Differentiate
A Day of the Dead-inspired mural reflects the chain's laid-back ambience.Leading with its menu as a key differentiator, Chronic Tacos offers breakfast tacos and burritos and a variety of quick-casual Mexican specialties built around base proteins that include pollo asado, carnitas, al pastor, carne asada, and beer-battered or grilled fish and shrimp. Beer and wine are offered in most locations.
"Everything is made from scratch throughout the day. The concept's founders used recipes that were sourced from family friends who ran restaurants in Mexico, and we continue to use those recipes," says Mohammed. "The authenticity of our food is a big differentiator, and so is the ambience of our restaurants. We promote our southern California roots, and you'll see Day of the Dead art done by local artists. The design includes warm, natural materials combined with brick and steel to create a contemporary industrial look. Our music playlists — California reggae with some alternative and Top 40 pop mixed in — help us to build our concept around the idea of the 'taco life.' For us, that's embracing individuality and uniqueness, which is reflected in the customization of our food but also in our crew and in the uniqueness of our brand's look and feel. It's California taqueria taken to the next level."
Chronic Tacos' kitchens, which Mohammed says usually take up to 40 percent of total square footage, have evolved as part of the brand's retooling and ramping up for growth. Specifically, the chain looked for ways to become faster and more efficient without sacrificing quality or straying from its focus on authentic recipes and preparations.
"We went from having big pot burners for doing a lot of our slow cooking to introducing combi ovens that give us the flexibility to cook with convection and steam," Mohammed says. "We prepare everything in the traditional manner, but we're now able to cook items like our rice, beans and carnitas in the combi, which makes our kitchens so much more efficient. Another recent equipment move made with efficiency in mind was to swap out traditional steam-table pans on our hot line for waterless hot tables. We're very happy with both of those changes."
Each Chronic Tacos kitchen also includes two fryers, one for tortillas that staff fry fresh every day and the other for fish and shrimp. A four-burner range and flattop grill are used for finishing and cooking proteins and breakfast items throughout the day.
As it has grown, Mohammed says Chronic Tacos has focused on increasing efficiencies in its franchising efforts as well as in its kitchens. "We don't do one-offs anymore," he notes. "We're focused now on working with experienced, multi-unit franchisees. As we've continued to grow, we're seeing more of that type of sophisticated franchisee organization interested in developing a territory. Hitting 40 units last year was a big milestone goal for us, and we have a lot of development in the pipeline. We're really excited about what the future holds for this brand."
Snapshot
Headquarters: Aliso Viejo, Calif.
Ownership: Michael, Dan, Dave, Joey Mohammed
Founded: 2002
Segment: Fast casual
Services: Dine-in, takeout, catering, delivery
No. of Units: 40 (4 company owned)
Average Unit Size: 1,500 sq. ft.
Average Kitchen Size: 40% of total
Average Check: $11-$12
Average Unit Volume: $745,000
Growth Projection: 100 units by 2018