A patient views his menu options on a screen in his room and makes a selection on a keyboard connected to the screen. His order is transmitted to the kitchen as a tray ticket to be assembled. Photo courtesy of Kaiser Permanente.Founded in 1945, Kaiser Permanente serves more than 10.2 million patients in seven regions and the District of Columbia. The not-for-profit integrated healthcare system's mission is "to provide high-quality, affordable healthcare services and to improve the health of our members and all the communities we serve."
As part of fulfilling its mission, Kaiser Permanente and other national funders came together in 2010 to establish the Partnership for a Healthier America (PHA) in conjunction with First Lady Michelle Obama's Let's Move! initiative to end childhood obesity. "Our 38 hospitals teamed up with PHA in 2012 to deliver healthier food options for patients, guests and employees throughout our facilities," says Jan C. Villarante, MS, RD, director, National Nutrition Services, Enterprise Shared Services, at Kaiser Permanente. "Kaiser Permanente embarked on developing healthy eating standards called Healthy Picks based on evidence-based research in 2005. The Partnership for a Healthier America expanded the Healthy Picks program."
At Kaiser, Villarante oversees nutritional initiatives and makes sure healthy food meets evidence-based and sustainable criteria. She oversees the software database that drives menus in the regions for various categories, including food, enterals and supplements. She also oversees the food contracting sourcing teams.
"Each medical center has its own operations approach, budget, metrics and quality oversight," Villarante says. "We work collaboratively to establish best practices for all of these facets of service."
Kaiser Permanente's active involvement in encouraging preventative and healthful practices started in 2003 in California when patients at Oakland Medical Center were encouraged to visit the farmers market each Friday to increase consumption of fruits and vegetables. "Now we encourage patients and team members to visit 55 farmers markets at Kaiser Permanente hospitals and medical facilities," Villarante says. "These markets provide members and surrounding communities with easy access to healthy, sustainable and locally grown food."
Kaiser reports that a 2010 Center for Community Health and Evaluation survey found that 74 percent of farmers market patrons said they eat more fruits and vegetables as a result of shopping at the markets. Among shoppers who are also Kaiser members, 33 percent indicated they sometimes schedule their medical appointments on market days.
A wellness meal meets designated nutritional guidelines. Photo courtesy of Kaiser PermanenteToday, Kaiser Permanente's foodservice operations focus on healthier menu items and sustainable practices. "We've made great strides," Villarante says. "We have a partnership with PHA. On average, 60 percent of the menu's entrées and side dishes are healthy, based on established evidence-based criteria from PHA and our internal Healthy Picks."
The Healthy Picks program aims to encourage patients, their families, team members and medical center visitors to make more nutritious food choices for inpatient foodservices and catered meals and at on-site cafés and vending machines. The program is expanding to coffee carts and gift shops. Kaiser serves nearly 600 tons of fresh, locally sourced fruits and vegetables annually in patient meals. Many patient and retail menus also offer cage-free, certified humanely raised and handled eggs, as well as beef and chicken raised without antibiotics or added hormones.
"We did a deep dive and realized we had to look at the food chain," Villarante says. "We wanted to focus on fresh foods and fruits, whole grains and foods that met sustainable criteria. We also work with the National Salt Reduction Initiative to reduce salt content in foods we prepare." Approximately 50 percent of the meat Kaiser Permanente purchases is raised without antibiotics, coffee machines offer fair trade coffee and 24 percent of the food spend is sustainable as part of the Healthy Picks program. Kaiser Permanente also purchases only GMO-free juice. Twenty-four percent of the entire food purchases meet sustainable criteria that align with Healthcare Without Harm's criteria. To offset the higher costs of some sustainably sourced foods, Villarante and her team optimize purchasing contracts to bring food costs below inflationary rates.
Removing deep fryers from all the facilities and replacing them with combi ovens and quick-speed ovens helps team members meet their goals to serve more nutritious foods. Removing chips and donuts from cafés, patient menus and vending machines also supports wellness initiatives. Sweetened beverages were also removed and replaced with free spa waters.
At the same time, Kaiser Permanente started the KP Thrive campaign, which has become part of the brand, with heavy focus on food as a preventative measure to achieving good health. Defining "healthy" also became an important component of the campaign.
Ontario Hospital's Lilliana Cueller, patient cook, uses reduced oxygen packaging for sous vide menu items. Photo by Aaron FallonIn addition to removing fryers and replacing them with combi ovens and quick-speed ovens, several medical centers are moving to adopt room service or a hybrid system for all patients. "We've been using sous vide production at some facilities," Villarante says. "We've been extremely pleased with the results because once sous vide packaged foods are placed in water baths to heat, they don't overcook nor are they undercooked." In order to use sous vide production, kitchens must be equipped with bagging equipment that can keep bags airtight and sanitized, refrigerated food banks, and water baths or a temperature-controlled steam environment. Food is usually cooked in this environment for longer than normal cooking times at a regulated temperature much lower than normally used for cooking, typically around 131 degrees F to 140 degrees F for meat and higher for vegetables. The intent is to cook the items evenly, ensuring that the inside is properly cooked without overcooking the outside, and retain moisture. As a result of these initiatives, Villarante says patient satisfaction scores continue to increase.
For retail, Healthy Picks is also a prominent focus. Menus list calories for each item. One of the most popular menu items developed by chefs, the wellness bowls, feature whole grains with a plant-based topping or a healthy meat and sauce for vegetables. Chefs cook on display in the cafés and at local farmers markets. The use of induction cookers offers chefs flexibility and product consistency.
Ontario and Fontana Hospitals
The 224-bed Ontario Hospital offered room service when it first opened in 2011. When 314-bed Fontana's new building opened in 2013, room service was part of the foodservice offerings, replacing a conventional tray line. Ontario and Fontana are about 20 miles apart.
At Ontario Hospital, vacuum-sealed bags are placed into a temperature-controlled water bath to bring the menu items to the desired temperature. Photo by Aaron FallonFor patient foodservice, patients receive printed menus in their rooms. The menus list foods for regular and modified diets. Patients phone in their orders to a call center, and orders are dispatched to the kitchen. "Patient orders are entered into a computer system, and only menu items allowed for their diets are offered for their selections," says Vivien Choi, MS, RD, FADA, who is the foodservice director for both facilities. She works closely with Todd Engel, executive chef for both hospitals, and Ayodeji Oladunjoye and Adrine Kaloshian, assistant directors of patient services.
Upon receiving orders through the computer, a call center employee transmits orders to the kitchen. "A total of three tickets are printed out for each room service order," Choi says. "One ticket with all menu items goes to the tray assembly starter, a separate ticket with only hot items prints at the printer at the hot food cooking station and the cold items print at the cold food stations."
In the kitchen, team members start production by taking food items they need from two walk-in coolers and one freezer. On cold prep tables, they prepare salads and fresh fruit and place these food items in a walk-in cooler until needed on the tray line. They also prepare mise en place for entrées.
For hot food, team members use conventional equipment, reduced oxygen packaging (ROP) and sous vide. Team members use a plancha for omelets, fish, hamburgers and quesadillas and a quick-speed oven for menu items such as pizzas. A combi oven steams vegetables and cooks bacon and potatoes.
ROP is used for packing cooked turkey, chicken, hamburgers, meatloaf, scrambled eggs, sausages and egg whites.
Sous vide is used for menu items such as pot roast. The roast is marinated in a raw state and sliced, and each portion is individually vacuum packed and placed into vacuum-sealed bags and into a temperature-controlled water bath. After the roast has reached the desired quality and temperature, the vacuum-sealed bags of pot roast are placed into a blast chiller to bring the temperature below 34 degrees F within two hours. The bags are then placed into an ingredient control room (food bank) for eventual use on the tray line. ROP and sous vide menu items can safely remain in a control cooler at 34 degrees F for 14 days.
Ontario Hospital's Linda Barajas, patient cook, passes plates to the tray line. Photo by Aaron FallonFor room service assembly, team members work at cold and hot food stations to put together trays. During production, some hot foods are held in hot holding cabinets with temperature and humidity control.
Before assembly times, team members transfer chilled and portioned vacuum-packed bags of food to undercounter refrigerators, calibrated at 34 degrees F, to the cooking line. When they receive room service orders from the call center, they place the sealed bags into 185-degree F water baths to retherm food items and then move them to 165-degree F water baths, where they stay until taken out for plate assembly.
"At the beginning of the food production tray line, team members use viper bag openers, which are like knives but more protected around the edge, to open rethermed bags holding menu items," Engel says. "These menu items are then plated with the ordered sides and next passed across a counter with heated lamps so another team member can place the plated entrée onto a heated base with a smart chip to maintain temperature."
For menu items requiring conventional hot production, team members take potatoes, bacon and vegetables from the undercounter refrigerators and cook them in the combi oven. Omelets, fish, hamburgers and quesadillas are cooked on the plancha. Pizza dough is dressed with sauce, cheese and toppings and heated in a quick-service oven. Team members also plate these menu items and place them on the counter with heat lamps so they can then be set on heated bases.
Ontario's Lidia Barajas, patient cook, uses a plancha to grill menu items for patient trays.At the end of the production side of the tray line, team members prepare sandwiches and salads to order and pass these items across the overhead counter to the tray assembly side of the tray line. Tray assembly team members also take desserts, fruits and beverages from upright air-curtain refrigerators behind them on the line, place them onto trays, and add the order ticket to the tray.
A patient tray line expediter checks each completed tray, places it in a cart and turns on a timer to be sure it does not sit more than 10 minutes before delivery. Hostesses deliver trays within 45 minutes of patients calling in orders. Nurses or hostesses pick up trays from the patients' rooms, Ayodeji says.
"The whole purpose is to maintain freshness and the quality of food while reducing waste," Engel says. A HACCP plan is in place to monitor the entire room service process, from food delivery to storage, food production, vacuum packing, cold storage, cooking/retherm and tray delivery.
Ontario patient satisfaction scores have led all Southern California Kaisers since its opening two years ago, cementing its position as one of the top three in performance. Fontana patient satisfaction scores have improved significantly since the replacement hospital opened in May 2013 and began adopting the same model of room service and sous vide cooking. It is also currently one of the four highest-performing Kaisers in Southern California.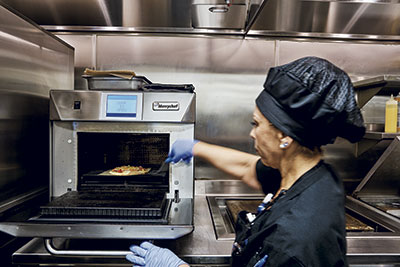 Quick-service ovens allow trays to be delivered in less than 45 minutes after a patient calls in an order.At Ontario and Fontana, the retail operations teams use a pizza oven to heat pizza and a grill to prepare menu items such as hamburgers, salmon burgers and turkey burgers. Customers can see the team preparing these items. Once a week, Engel performs magic at a display cooking station and presents customers with a chef's special, such as noodles and entrée salads made to order. "Chef Todd interacts with customers, which personalizes service," Choi says.
Another feature at retail operations is a wellness meal, which includes a small portion of a protein, vegetables, a whole grain and yogurt or milk. Patients also can select a wellness meal.
Redwood City Medical Center
The replacement Redwood City Medical Center, located between San Francisco and San Jose, opened in 2014. This facility specializes in neuroscience, so it accommodates many patients who have had strokes and head injuries. The hospital also has a growing maternity clientele.
When the Redwood City facility opened, a new model of foodservice was introduced. It was in stark contrast to the old model, which had no kitchen equipment except for a microwave oven and commissary-style foodservice similar to that of airline foodservice. Food arrived prepackaged and cold. Team members assembled it on trays, took it up to the floors, heated hot menu items in a microwave, placed food on trays and distributed the trays to patients.
Today, the Redwood City facility features a hybrid room service model. Food arrives prepared and in bulk. For instance, soup arrives in gallon bags, deli meats are sliced, and chicken arrives preportioned and prepared in sous vide packaging. Vegetables, depending on how they are to be served, arrive prepared and cooked, pre-cut raw or whole. Fruits are purchased whole or precut. Team members add fresh vegetables and fruit to made-to-order salads. Yogurt parfaits are also made daily.
Redwood City's small retail operation is managed by Morrison Healthcare. The team works with a convection oven, a flat top, a range, refrigerators and a freezer to provide a café menu.
Tray Line Assembly
The tray line at Redwood City runs from 7 a.m. until 6:30 p.m. During peak meal periods, five people work the various stations on the hot and cold sides of the line. On one side is the heating equipment, including a four-compartment water bath, a rapid-cook oven, two combi ovens, a steam table and a sandwich maker. The other side houses the air-curtain refrigerators, cold drawers and stainless steel countertop, where the trays travel from the start of the tray line to the end.
To retherm or reheat the food, team members place menu items that have been prepared with the sous vide method in a water bath to bring them up to 185 degrees F. The items remain at this temperature for 14 to 20 minutes, depending on the item. Team members then move them to a holding bath, which is set at 155 degrees F to keep the food warm without overcooking it. Other items, such as glazed yams and roasted vegetables, are placed in the rapid-cook oven while bags of soup are heated in the combi ovens. Pizzas, salads and sandwiches are assembled on-site.
Unlike at Ontario and Fontana, nutrition ambassadors at Redwood City take patients' orders using electronic tablets. "We have all the information needed about the patients in the software, such as information about what type of diet the doctors want them to be on and preferences from previous orders," says Sharon M. Spence, RD, director, Food and Nutrition Services, Redwood City Medical Center. Once an order is generated on the tablet, it is transmitted to the kitchen's three printers at the tray line assembly area.
Similar to many restaurants, as orders are placed, a ticket is generated at each of the printers, located at the start of the tray line and at the salad/sandwich and hot food stations. At the beginning of the tray line, the starter initiates the assembly of the tray with condiments, silverware and other items located at that station. This team member places the ticket on the tray, which is moved down the stainless steel table to the next position where, based on the ticket, another team member places additional items on it. Along the way, hot food, salads and sandwiches are prepared and passed through the "window" to be included on the tray. At the end of the line, the expediter checks to ensure that all items are correct and that the tray is ready for service.
As each meal is ordered, it is tracked. At key points, it is promoted to the next level, such as into the meal delivery cart, out of the kitchen and to the patient. "In this way, we can monitor the time from menu entry to meal delivery, which should be under 45 minutes," Spence says. "To ensure this, as trays are placed in the meal delivery carts, a timer starts and the cart leaves the kitchen when it is full or 10 minutes, whichever comes first."
Each patient room contains a computer monitor equipped with an interactive patient console system that allows the patients to order their meals online. The menu includes pictures of the food. Patients choose the time they want the meal delivered.
Ambassadors deliver trays to patients' rooms, encourage patients to sit up and wash their hands, and open containers and condiments for them if necessary. Nurses usually pick up trays, but ambassadors will take over this task if a nurse asks for help.
Patient satisfaction scores continue to be high. "The ambassadors get to know the patients, so patients feel they can open up and tell them if they have any difficulties or needs," Spence says.
As Villarante, Choi, Engle and Spence continue to fulfill their mission to provide healthful meals, they continue to search for more efficiencies in systems so they can continue to purchase high-quality sustainable food. This is a process that continues to evolve as more evidence is gathered about the relationship between food, health and wellness.