Feeding on-the-run consumers via grab-AND-go offerings can help operators boost sales by appealing to customers' need for convenience.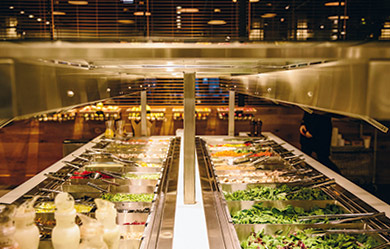 The Market at Beatrix, a 1,200-square-foot operation connected to Chicago's Northwestern Hospital, features a grab-and-go operation that includes salads, snacks, sandwiches and yogurt. Photo courtesy of Anjali Pinto.Tarah Schroeder, LEED AP, Principal of Ricca Design Studios in Greenwood Village, Colo., has some suggestions for any foodservice operation that is considering adding a grab-and-go or expanding its current grab-and-go offerings. First, "make sure it's not going to take sales away from a larger foodservice component that you already have," she says. Next, she suggests working with a consultant "to help determine what's going to be the best location for traffic patterns, for sales, for ease of maintenance and for locating an airscreen that's going to work well." Finally, consider the merchandising. This could entail making trips to competitors or grocery stores to see how they're merchandising (or not merchandising) their takeout selections.
Airscreen coolers represent a vital component of grab-and-go, but Schroeder says operators sometimes overlook what she calls the "5/10/15 rule" when locating the coolers. "You want the airscreen 5 feet away from a window or direct sunlight; 10 feet away from an HVAC vent that could disrupt the air curtain; and 15 feet from an exterior door," she says. "If it's closer than that, the opening and closing of the door can also impact the performance of the air curtain."
Product organization is important in open air merchandisers as well. Schroeder says that operators occasionally put in a larger airscreen cooler than they really need, not realizing how much product a well-organized airscreen can hold. And a fully stocked, well-organized airscreen can drive sales. "If you're wanting it to look full all the time — which does make a difference — going to a smaller size will allow you to keep that organized much easier," she says.
To merchandise the food most effectively, Schroeder suggests built-in coolers when possible. "It's almost like [the cooler] gets hidden and what you see is what you're trying to sell. You really showcase the product."
But no matter how good the equipment and how effective the merchandising, it still comes down to the food, Schroeder says. "Higher-quality options and fresher ingredients are an easy way to distinguish a grab-and-go from a C-store."
Newk's Eatery: Effective Positioning Increases Sales
In newer stores, Newk's positions the grab-and-go counter closer to the front door and even has a separate entrance for grab-and-go customers. Photo by MJ Moreau, Studio BNewk's Eatery is a 93-unit fast-casual chain based in Oxford, Miss., that features an extensive grab-and-go selection of sandwiches, salads and bulk packs of its signature chicken salad and Southern-style pimento cheese. All locations have a separate grab-and-go counter with a design that "is cohesive with the rest of the restaurant," says Rachael Myrick, building and design project manager for Newk's. "It's part of the design rather than being an island out there by itself."
In newer stores, Newk's positions the grab-and-go counter nearer to the front door, even establishing a separate entrance strictly for grab-and-go customers. "When we go into newer markets," Myrick says, "our guests aren't familiar with our grab-and-go concept, so we want them to be able to know about it when they come through the front doors. Eventually, they learn that we've got a separate entrance where you truly can grab-and-go."
The separate entrance helps alleviate customer confusion, says Kevin Anderson, Newk's vice president of company operations, "since we really do focus on our dine-in business as well."
That decision to put grab-and-go in a separate area was an early lesson the chain learned. "One of the things we learned a few years ago was that the closer we had the grab-and-go, visibility-wise, to the main entrance, the better we did," says Myrick. "At that point we separated grab-and-go from the line and started making it a stand-alone."
The grab-and-go operation doesn't have a significant impact on labor costs at Newk's. Anderson calls it "cost-neutral," because the grab-and-go counter can also handle call-in orders. "In some restaurants, it actually helps labor because we do so much [volume] out of those coolers," he explains.
Besides the product, the keys to the chain's success with grab-and-go are cleanliness and stocking. It's a simple process, according to Anderson. "Keep it full. Keep it clean. Guests will only give you one or two tries. If you don't have the product they're looking for, they won't give you another shot."
Grab-and-go now makes up about 6 percent of Newk's sales, Anderson says, and the chain hopes to grow that percentage in the future.
The Market at Beatrix: Making the Most of a Small Space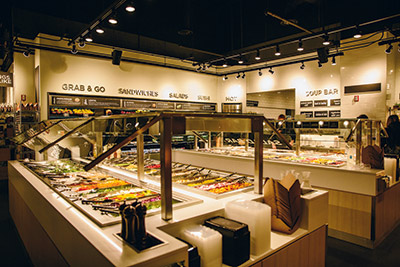 At the Market at Beatrix, the layout allows customers to see the options available to them without actually having to walk through the entire space. Photo courtesy of Anjali Pinto.Just steps away from Chicago's busy North Michigan Avenue shopping area sits the massive campus of Northwestern
Memorial Hospital. The hospital's busy Galter Pavilion is home to a number of dining concepts, including Lettuce Entertain You Enterprises' upscale casual Beatrix restaurant. Connected to the restaurant is the Market at Beatrix,
a 1,200-square-foot operation featuring salads, snacks, sandwiches and yogurt packed to go.
The Market opened in October 2015, and even though it doesn't have a street entrance, it still serves approximately 500 customers daily, says Marc Jacobs, executive vice president and partner at Lettuce Entertain You Enterprises. About 40 percent of that customer base comes from outside the building, with the remainder made up of hospital staff and visitors.
At the Market at Beatrix, "the food is the star of the show," Jacobs says. "We worked on the layout of the space so that guests could see the options available to them without actually having to walk through." To display the food to its best advantage, the Beatrix team designed the food bars in-house. "We customized the bars from beginning to end," he says. "How the lights are, the size and shape of the vessels to serve the food, the height, the sneeze guards . . . everything about them is custom."
Working in a fairly tight space meant a lot of planning up front. The Market at Beatrix has the advantage of sharing most of its prep space with the main Beatrix restaurant. Even so, layout and design were major considerations. "We built the entire Market out of cardboard before we actually started building it," Jacobs says. "As an operator, it's hard sometimes to look at a piece of paper and say, 'That works.' It's a lot easier when you're walking through the space and you can get a sense for the energy of the space and how people navigate through it." In a perfect world, he would have another 6 or 12 inches in the aisles, but Jacobs says he enjoys "the hustle and bustle of the Market. It feels good when it's busy."
Capturing the Captive Noncommercial Customer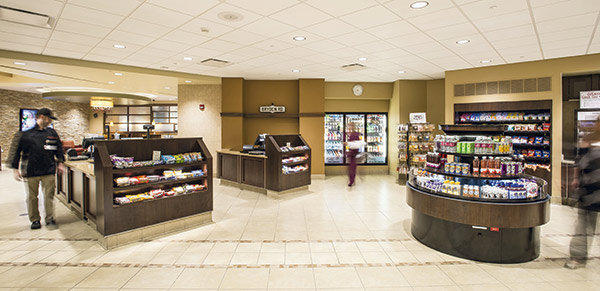 The positioning of the grab-and-go options in Bryden Bistro at Mt. Carmel St. Ann's Hospital in Westerville, Ohio, does not impede the natural flow of traffic through this foodservice operation. Photo courtesy of Biel Photographic - Martin Biel, Dayton, OHGrab-and-go in noncommercial segments is sometimes thought of just as campus C-stores or franchised sandwich shops in a healthcare operation. But grab-and-go can be an important facet of many noncommercial foodservice operations too.
Christine Guyott, FCSI, RD, principal at Rippe Associates in Minneapolis, says grab-and-go "continues to be more popular in healthcare. There's a grab-and-go component in all the retail foodservice designs we do in healthcare." While time-crunched, lunch-rush consumers are a fact of life on the commercial side, time pressure is even more intensified in healthcare operations. "We have a very limited window for feeding employees, residents and physicians in a hospital," she says. "They usually have only a 30-minute window to eat. That includes coming through a serving area, sitting down to eat — if they do sit down to eat — or taking it back to their work area."
The same applies to the college and university foodservice segment. "Students, faculty and staff don't have a lot of perceived time to sit down and eat," says Joie Schoonover, a management consultant for Rippe Associates who has extensive experience in the college/university segment. "They're looking for things that are portable."
Schoonover joined Rippe Associates late last year after working for the University of Wisconsin–Madison where "we really expanded our grab-and-go offerings," she says. "We could hardly keep the cases filled."
Moving high volumes of customers through lines quickly does involve some design considerations. "In healthcare, we plan for 50 percent of the people taking food to go. We design grab-and-go in locations where people are not standing in front of it," says Guyott. "We design retail areas so that the grab-and-go is not in front of a grill area or deli station where people tend to queue up."
In such an environment, where speed of movement through the line is essential, proper equipment placement becomes an even bigger consideration. Beverage cabinets are often a problem. "We'll see Coke or Pepsi coolers in places where they don't make any sense," says Guyott. "It gives the place a haphazard look and decreases the normal traffic flow through a retail space."
While noncommercial operations don't require any specific types of equipment for their grab-and-go service, operational effectiveness and attractiveness are paramount. Ease of restocking product is essential, so coolers that staff can refill from the back can contribute to a well-stocked look (and save customers the disappointment of out-of-stock product).
Upright refrigerated airscreen coolers represent one of the most traditional pieces of equipment, but Schoonover cautions that backup refrigeration needs to be nearby. "Airscreen merchandisers are great for displaying food, [but] they don't often do the best for keeping temperatures," she says. "You have to make sure everything is well prechilled. The prep can be done elsewhere, but you need to make sure there's good refrigeration close by."
It's also important to counteract the C-store image that grab-and-go operations sometimes have, Guyott notes, and equipment can help do that. She suggests using shaped or curved merchandising units to increase eye appeal and lend a marketplace look to the operation. For hot foods such as pizza, consider flat merchandisers with a heated shelf and avoid "displays where you open up the glass door and the pizza is rotating," she laughs.
Finally, menu diversity can be a key factor in the success of an operation's grab-and-go program. Healthcare has a captive audience, Guyott says. "For the most part, 80 percent are staff and employees who are probably getting 10 meals a week there, so they need to have a variety of menu items. There's not one single menu item that we design a station around," she says.
Noncommercial operations have to compete with the takeout offerings on the menus of such fast-casual restaurants as Panera Bread or Chili's, Schoonover says.