Page 3 of 3
Case Study #2, College/University
Centennial Room, University of Illinois at Chicago
The challenge: How to take an antiquated college dining room kitchen and make it smaller, yet more efficient.
The Student Center West building at the University of Illinois at Chicago houses the Centennial Room, a dining room open to both university students and the public. Originally, the room was "set up like a faculty club, with one room that was set up with a buffet line kind of serving area, a private dining room and a relatively small kitchen," according to Robert Rouzer, director of campus auxiliary services at UIC.
Over the years, the room morphed into a student dining facility — but one that was less than optimal. The university's foodservice contractor was using "a combination of six-foot tables and chafing dishes, setting up a variety of food stations in the space," Rouzer says. "It was rinky-dink, it was slapdash and we really got low marks from our students on the whole operation. That's when we decided we needed to do something with the space."
Rouzer says there was another problem to consider. "Our board plan is four meal periods per day — breakfast, lunch, dinner and late night. We serve the same menu in all three venues that support the board plan. The other two are much larger facilities, so putting everything into this one space was like squeezing 10 pounds into a 5-pound bag."
The original serving area/dining room combination measured approximately 2,750 square feet, with a 500-square-foot kitchen attached. With the exception of the existing hood unit, which got an upgrade, the kitchen equipment — a large grill unit and standard-size deep fryers — was removed. Everything was replaced with small footprint equipment: hot and cold serving wells, a flat top, pass-through pizza oven, panini presses and propane units for display cooking. Refrigeration and freezer units were mounted undercounter, a strategy which works well in the small space, Rouzer says. "The staff can really load the place up in the morning and be prepared to support it all day long."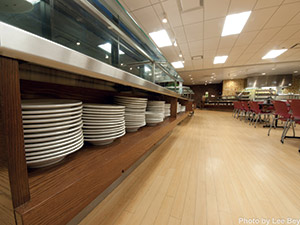 The redesign and equipment replacement allows the Centennial Room staff to give students a wider array of food choices than before, in a production space that's slightly more than half the size of the previous kitchen. The kitchen now measures about 280 square feet, with 3,100 square feet in the main dining area. Even with that small footprint, because of the ergonomic placement of the equipment, two people can work comfortably in the kitchen. Rouzer adds that "it's very open in its feeling." And student response to the revised design and food choices has been positive.
Communication between designers and the operations staff was critical to the success of the Centennial Room, Rouzer says. "Often, the big [design] firms will send somebody in who 'knows it all' and won't really talk to the people who work in the space. All of a sudden, you're revamping it because it didn't make sense to have a hot well here instead of a cold well. That kind of dialogue is really crucial to making this work."