A Fresh Arrangement of the Living-Learning-Dining Theme
At night, the 21,400-square-foot space converts to a state-of-the-art concert venue for student and guest performers. Photo courtesty of William?Rawn? Associates,?Architect;? copyright?Bruce?MartinBoston's Berklee College of Music has long been renowned for its industry-leading contemporary music education programs. It touts more than 100 Grammy Award-winning faculty members and has served as a training ground for countless A-list musicians over the past five decades.
The 4,100-student school now has one of the country's most uniquely designed dining spaces, the Berklee Caf. Housed in Berklee's gleaming new 160 Massachusetts Avenue Tower residence hall, the facility may be the first in the industry to have been designed from the ground up to function both as a state-of-the-art dining hall and as a performance space.
Located in the heart of Boston's Back Bay area, the 160 Massachusetts Avenue residence hall serves as a living-learning nirvana for the 369 music students who room there. The building climbs 16 stories high and includes 2 additional below-street-level floors that house a 10-studio music production complex. Features of 160 Massachusetts Avenue include 6 double-height lounges, each serving 2 residence hall floors; 20 student practice rooms and 3 rehearsal rooms for resident-student use; a fitness facility and roof terrace on the fourth floor; 4,200 square feet of ground-floor retail space; and terrific views of the city. The $74 million facility, which opened in 2014 qualifies for LEED Silver certification.
A major attraction for students, faculty and visitors alike is the 400-seat, 21,400-square-foot Berklee Caf, which occupies the second and third floors facing floor-to-ceiling glass walls overlooking Massachusetts Ave. Originally conceived as simply a dining hall, Berklee staff saw an opportunity early in the design phase to use the space, which has soaring 38-foot-high ceilings and a gracefully curved second-level balcony, as a live performance and recording venue as well.
Specialists were brought in to create optimal acoustics and provide total connectivity to the multiple control rooms spread throughout the recording education facilities on the building's below-street levels. The dining space incudes several sound mixing stations and professional concert lighting. Motorized shades can be lowered over the massive windows to provide screens for videos. Nightly performances began last January, establishing the room as a great platform for student talent as well as a live recording room.
Systems Design & Integration Specialist Judy Elliot-Brown of Walters-Storyk Design Group, who led that portion of the design, noted in a review of the project that the decision to refashion the cafeteria from a traditional dining hall into a performance venue presented a unique challenge. "In retrospect this seems like an obvious call, but it was a brilliant expansion of the iconic role this three-story-high, glass-walled hall will now play in this complex. It presented some interesting acoustic and wiring challenges, but the benefits to Berklee students and guests will be enormous," she says.
Diverse Stations Hit All the Right Notes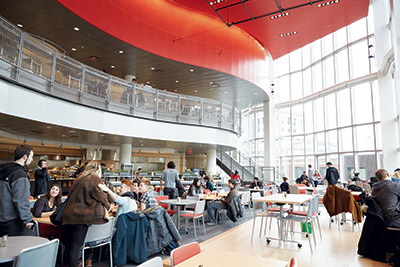 During the day, the new Berklee Caf serves as a contemporary, sun-filled, 400-seat dining hall with 9 separate on-trend culinary platforms. Photo by Kelly DavidsonBeing Berklee, the focus on creating an exceptional facility for music education and live performances was primary, but the architects and foodservice consultants at Ricca Design Studios ensured that dining would get top billing as well.
The all-you-care-to-eat dining hall, operated by Aramark, serves an average of 2,500 meals per day during the semester. It is available to both on- and off-campus meal plan subscribers, as well as to others on a prix fixe basis. No matter their mood, appetite or dietary restrictions, they're bound to find something to their liking. The diverse array of nine interactive stations, split between the two levels and supported by a fourth-floor production kitchen, has something for everyone. Here's a taste of what's on the menu:
Euro Station — A hot station serving traditional, home-style lunch and dinner entrées with starch and vegetable sides. Customers can opt for a vegetarian or vegan entrée daily at lunch and dinner.
Hearth Station — A large, gas-fired hearth oven turns out fresh-baked, hand-tossed pizzas, calzones, flatbreads and other entrées throughout the day.
Sauté Station — Stir-fry creations made to order. Diners can choose from a selection of rice and noodles, fresh vegetables, proteins and sauces to customize their dishes.
Health and Wellness Station — Daily offerings here include grilled chicken and tofu, grilled portabella mushrooms and mixed vegetables, fresh steamed vegetables and rotating whole grains, such as quinoa, couscous and farro. This station always includes a gluten-free grain.
Salad Bar/Soup Station — During breakfast, this station offers hot oatmeal, yogurt, granola and hard-boiled eggs. At lunch and dinner, diners can load up on fresh-cut vegetables and fruits from the salad bar, as well as proteins and condiments to create their own salads. Two soups, including one vegetarian option, are made from scratch in-house each day.
Grill Works Station — Classic items are the stars here, including beef, turkey and veggie burgers, chicken tenders and hot dogs. This station also includes a fresh-made chips bar. While "health halo" items are in great demand, traditional Grill Works items continue to be popular. Case in point: The dining hall goes through an average of 3,750 chicken nuggets each day.
Hibachi-Style Grill Station — A large, round, flat-top hibachi-style grill cooks unique items such as quesadillas, fajitas, paella and tacos.
Deli Station — Specialty and made-to-order sandwiches daily.
Dessert Station — Cookies, cakes and desserts baked in-house daily. Vegan and gluten-free dessert options are always included.
Sustainability is a focus as well. The college has a reusable to-go container program and collects food, paper and other types of compostable waste. On average, the facility creates 700 pounds of recyclable compost each day during the semester. A new addition to the 160 Massachusetts Avenue building, a pulp extractor grinds food waste and removes the water, significantly reducing trash volume. A third party picks up the pulp and takes it to a nearby farm where it becomes organic fertilizer. The new building also touts dining chairs made from 80 percent recycled aluminum.
During the day, Berklee Caf offers continuous dining until 9 p.m., with the option of keeping the upper-level open and operating while closing the main floor stations as needed for performance prep. At night, the lights go down, staff rearrange the tables and chairs and space on the main floor opens. The raised area directly in front of the window wall converts from dining and socializing space into a performance stage. Staff can roll out walk-up bars serving wine, beer and nonalcoholic drinks on each level, adding to the club-like vibe.
Traditional cafeterias have long been put to use for multiple purposes on college campuses, and the trend toward creating more integrated spaces is strengthening. Berklee's new multi-use facility, however, raises the bar as a fresh, decidedly nontraditional arrangement of the living-learning-dining theme.
Snapshot
No. of students: 4,100 full-time equivalent
Operation: Aramark
Dining plan participation: 1,830 on a meal plan
Locations: The 160 Berklee Caf; Café 24; Café 939; Archie's Cafe
Dining center hours: The 160 Berklee Caf offers continuous service from 8 a.m.- 9 p.m. Monday-Friday; 10:30 a.m. - 9 p.m. Saturday - Sunday
Revenue: $6.1 million
Annual purchases: Food – $2.7 million
Employees: 120
Key Players
Senior Director of Dining Services, Aramark: Jessica MacKool-Todd
Operations Director of Dining Services, Aramark: Sean Sturgis
Director of Strategic Development, Aramark: Tom Battersby
Building design: William Rawn Associates, Architects, Inc.
Foodservice consultants: Ricca Design Studio
Design of music technology facilities: Walters-Storyk Design Group
Building construction: Lee Kennedy Co.