Page 2 of 2
The Works' Dining Concepts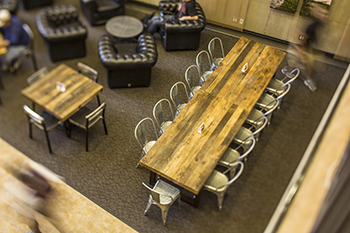 A community table encourages socializing. Chartwells, the campuses' contract foodservice provider, manages The Works. Referred to as the Steam Crew, staff wear steampunk uniforms (referred to as "costumes") with goggles.
Staff receive deliveries from the kitchen supporting the campus' main retail food court. Staff store items in The Works' 400-square-foot back-of-house storage and prep area. "The existing facility didn't have a back-of-house area to support the serving area, so we had to create this while working around a fire-riser room and concrete walls that couldn't be moved," Coca says. "We also made the receiving area larger to accommodate equipment and product deliveries."
The back of the house includes dry storage, an undercounter warewasher, a cook-and-hold oven and a small prep area for finish assembly for The Works' two concepts. "Within the limited space, we attempted to provide maximum equipment and space flexibility to allow the operation to change over time," Coca says.
The prep area contains three two-door reach-in refrigerators and a one-door reach-in freezer. A bulk carbonator and soda system, as well as an ice machine, also sit in this back-of-house space. The Steam Crew uses carts to transport menu ingredients from the back of the house to the front-of-house concepts.
"Our challenge was to create serving concepts with hot food options without using exhaust hoods because we couldn't add exhaust to this building," Coca says.
The solution at Forklift Burritos & Bowls, a Chipotle-style concept, is a ventless combi oven that culinary staff use to heat ingredients such as barbacoa-style beef, honey maple pulled pork, roasted lime chile chicken, grilled veggies and spicy chicken to fill 12-inch tortillas.
In addition to the ventless combi oven, this concept contains refrigerated rails and steam wells to hold toppings including pico de gallo, tomatillo and garlic sauces and vegetarian black beans. Wells also hold ingredients for salad bowls with organic, local greens and signature jicama cranberry lime power slaw. Staff make rice bowls with steamed cilantro white or brown rice.
This concept also serves ChiPUNKS, lime-dusted potato chips presented in a hand-stamped ChiPUNK character craft bag. For a sweet end to their meals, customers order Steam Gear lemon and white chocolate–dipped shortbread cookies.
"Consistent food quality and freshness has been our priority since we received our first recipes," Meyer says. "Everything we serve is made fresh every day."
At the other concept, Waffler, a ventless high-speed oven heats ingredients for the waffle sandwiches and desserts. Staff pour batter from a dispenser into six waffle makers that each steam a UNR logo—either "N" or "WolfPack"—into the waffles. Rather than traditional bread for sandwiches, Waffler's sandwiches feature savory waffles. Varieties include the atomic chicken sandwich drizzled with honey chile lime sauce and the turkey avocado bacon club with house-made bacon candy and cranberry garlic mayo. Sweet waffles, called Sweet PUNKS, include items like s'mores and Black Forest waffles.
The concept also features Portland Roasting Coffee's specialty coffees, signature lattes and espresso beverages.
Beverage and ice dispensers sit between Forklift and Waffler. Each concept has its own ordering and cashier setup to minimize queues.
As word spreads about The Works, more customers find their way to this unique venue. The decor and menu items inspire conversations — and could perhaps spark millennials' sci-fi imaginations to create the next blockbuster novel or film as well. FE&S
Facts of Note
Opened: August 4, 2014
Scope and Size: 800-sq.-ft. lounge; 1,900-sq.-ft. circulation/seating area; 700-sq.-ft. Forklift and Waffler dining concepts; 400-sq.-ft. back-of-house storage and kitchen area
Daily Traffic: 500 students, faculty, staff and visitors
Hours: 7:30 a.m. to 6:30 p.m., Monday through Thursday; 7:30 a.m. to 5 p.m., Friday
Seats: 100 in lounge and restaurant
Staff: 11
Average Check: $6
Annual Sales (Projected): $560,000
Total Project Cost: $900,000
Equipment Investment: $300,000
Key Players
Owner: University of Nevada, Reno
Associate Director for Housing Operations and Dining Services: Russ Meyer
Resident District Manager, Chartwells: Chris von Glahn
Retail Director, Chartwells: Chuck Cowgill
Chef/Manager, Chartwells: Shawn Lee
Marketing Director, Chartwells: Dennis Saxon
Architects: Van Woert Bigotti Architects, Reno, Nev.
Foodservice and Interior Design Consultants: Webb Culinary Design, Tustin, Calif.; Susan Wilkie, vice president of strategic planning, Linda Midden, interior design director, and Costel Coca, design principal
Foodservice Concept Development: FOODTHINgK, Seattle; Marion Edwards, creative principal
Construction: West Coast Contractors of Nevada Inc., Reno, Nev.
Equipment Dealer: Duray, J.F. Duncan Industries Inc., Rancho Cordova, Calif.