Chicago's Field Museum expands visitors' visions of civilizations and conservation at The Field Bistro, The Bistro Bar and Explorer Café.
The dining room is what Beckert calls "inclusive," with both community tables and smaller tables that can be pushed together so people can talk with one another. Photo by Grant KesslerApproaching The Field Museum in Chicago, visitors see architecture inspired by the Erechtheum in Athens and many other Grecian and Roman designs. As they walk into this enormous structure, visitors begin a journey into a unique world of exploration. Below their feet is 300-million-year-old fossilized limestone. Looking up, they see the museum's skylights and solar roof panels, which provide reminders of the museum's efforts to save energy. In the half-acre Stanley Field Hall, looming larger than life, stands Sue, the world's largest and most complete T. rex fossil. Throughout the museum, which is primarily an outgrowth of the World's Columbian Exposition held in Chicago in 1893 and moved to its current location in 1921, visitors find exhibits and collections in 480,000 square feet devoted to historic and scientific exploration.
Since the early 1980s, guests who wanted to eat in the museum chose between concepts from two national chains. Corner Bakery, a casual restaurant concept, occupied the main-floor dining operation, while McDonald's occupied the lower-level space. "Although these restaurants did a great job of providing foodservice for the demographic the museum serves, internal and external needs were changing," says Megan Beckert, the museum's director of special events, food operations, tourism and group sales. "Public visitors had expanded their expectations of what type of foodservice they looked for at a cultural institution, and the museum decided it would go out to bid for its dining operations."
In 2011 Beckert put the foodservice contracts out to bid. After vetting more than 25 vendors, she selected Aramark Parks and Destinations to provide foodservice for both the upstairs and downstairs operations, as well as the catering operation. Criteria for selection included the ability to meet financial requirements; service the museum's visitor demographic and numbers; serve as a strong on-premise caterer for the museum's robust external private special events business; and provide the support to the museum's developing public event division.
The winner of the bid also had to follow the museum's sustainability plan, which was written exclusively for The Field Museum and is monitored by Beyond Green Partners, a Chicago-based foodservice consulting firm that specializes in sustainability. "The food operator is contractually obligated to follow the program, which is a 10-year plan with increasingly strict standards over time for sustainability and local sourcing to ensure that this won't just be the average museum foodservice operation," Beckert says. "Dining must promote The Field Museum's conservation mission, such as water reduction, as well as energy, water and air quality.
The Field Bistro was renovated in 2013, and the Explorer Café was renovated in 2014. Both dining operations were designed to more closely align with the museum's mission to inspire "curiosity about life on Earth while exploring how the world came to be and how we can make it a better place." The museum "invite[s] visitors, students, educators and scientists from around the world on a journey of scientific discovery." For these specific projects the objective is to integrate the new restaurants into the museum and vice versa. "We were not taking advantage of the valuable real estate through messaging some of our own core missions of conservation and education," Beckert says.
From the outset, explains Beckert, the menu offered "a rotating selection of dishes from around the world inspired by many of the museum's permanent exhibitions." After the bid was awarded, Beckert brought in a food consultant, Cleetus Friedman, chef at Fountainhead in Chicago, to help Aramark work with local purveyors.
The Field Bistro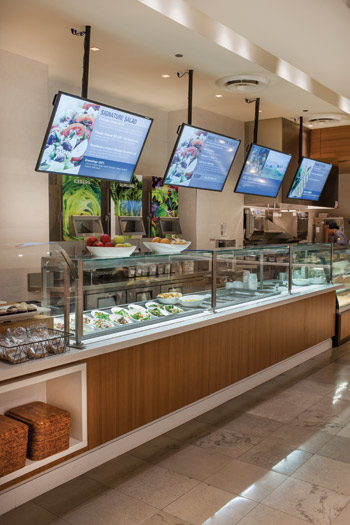 The Field Bistro servery displays stations in an L-shaped arrangement. Customers can approach any station rather than going through a more traditional cafeteria line. The design concept, from the logo development down to the equipment selection, integrates a modern look into a historic space, while serving as a destination for everyone from Chicago VIPs to children from around the world. Photo by Grant KesslerGuests entering the bistro see a contemporary design with clean lines and digital menu boards that list and explain the day's offerings and spotlight local farmers whose products appear on the menu. This 7,900-square-foot space was completely gutted and redesigned.
"The Field Bistro is where food meets design, providing the perfect oasis for visitors on their all-day adventure through one of the country's true landmark attractions," says Dan Berg, creative director of Shea Inc., which provided the architecture and interior design for the restaurants. "Implementing this vision was challenging in a historic space. Navigating the exhaust from cooking, located just yards away from the world's largest complete T. rex skeleton and above the museum president's office, was an achievement made possible through the diligence of Aramark's engineering solutions group."
With the stations in an L-shaped configuration, the layout maximizes staff efficiency so they can move large numbers of customers through quickly. During slower periods, staff can work more than one station. "Guests can bypass queuing and go to the station they prefer, which helps minimize the time they must wait in line," says Sam Cario, Aramark's district manager.
Signature Salads, a select-your-own-salad concept featuring ingredients from farms within 100 miles of Chicago, sits at the left as one enters the servery. At the counter, staff prepare salads from ingredients selected by customers or assemble salads such as the Chicago Chop salad with iceberg, salami, tomato, onions, garbanzo beans, provolone, cucumbers, peas, bacon and sweet mustard vinaigrette, as well as Kim's Pulled Chicken Ensalada with pulled chicken, mixed greens, black beans, tomatoes, jicama, chilies, cilantro, roasted corn, fried tortillas and poblano ranch dressing. During preparation, staff use two-tier mobile shelving, refrigerated pans and undercounter refrigerators with drawers holding ingredients at proper temperatures. Behind the counter, visible to customers, sit two wall-mounted lettuce crispers and undercounter refrigerators with drawers.
An adjacent station offers three soups daily from a drop-in soup warmer. Customers can order these à la carte or as combos with salads and sandwiches.
Behind the counter wall-mounted lettuce crispers and undercounter refrigerators with drawers are visible to customers. Photo by Grant KesslerThe next station, which offers paninis, presents ingredients in a deli case so customers can see the contents of their orders, including the Artisan Griddles Cheese Melt with manchego cheese, aged cheddar and sourdough bread, and the T-Rex Grinder with prosciutto, Black Forest ham, salami, provolone, olive tapenade, mustard vinaigrette and Tuscan cheese bread. For this preparation, staff use an undercounter warming cabinet, a drop-in hot/cold well and drop-in heated shelves. At the counter behind the station, staff use supporting equipment including undercounter pan racks, wall-mounted overshelves, two rapid-cook ovens and two double panini presses.
At the World Grill, staff prepare hamburgers and turkey burgers along with hand-cut fries seasoned with sea salt. Kids can order all-beef Kosher hot dogs and grilled cheese sandwiches. The adjacent World Cuisine features menu selections that change seasonally. These might include farfalle or cavatappi pasta with marinara or Alfredo sauces, toppings such as mushroom, onions, peppers, peas and diced tomatoes, and choices of additions including meatballs, Italian sausage and grilled chicken.
Staff use a full array of equipment to prepare menu items for World Grill and World Cuisine. The layout, developed by Shea's Berg and Aramark's Parks and Destinations culinary team, ensures the facilities can meet the challenge of cooking and hosting more than a million visitors and a large scientific and support staff annually. Together the design elements create a restaurant concept that is able to stand on its own and support the brand of the museum as a whole. Photo by Grant KesslerFor these stations, supporting equipment includes drop-in heated shelves and hot steam wells that hold display crocks. Staff have access to drop-in hot pans, cutting boards, undercounter refrigeration with drawers and two-tier mobile shelving. Positioned along the wall across an aisle, support equipment for these stations includes refrigerators with drawers, fryer systems with filters and fry holding stations, an eight-foot griddle, a four-burner hot plate with removable wok rings, a rice cooker, toaster, worktable with a sink and faucet, and wall-mounted hand sink with soap dispenser. A hood overhead ventilates this entire section. "We were limited by hood capacity and didn't want to install an entire wall of hoods," Cario says.
To the right and perpendicular to the stations, a grab-and-go case holds salads, sandwiches and sides, as well as bottled beverages.
A behind-the-scenes space contains cubed and crushed ice machines, a roll-in refrigerator, a roll-in freezer, dry storage and a worktable, all of which support front-of-the-house production. Staff bring food here on carts after taking delivery of it via a lower-level loading dock near the Explorer Café.
Along the wall toward the seating area and past the cashiers, where desserts such as double chocolate brownies and cookies tempt customers, a beverage station offers water, dispensed fountain beverages, coffee and tea.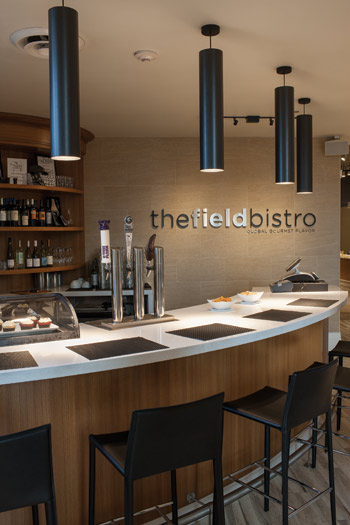 The Field Bistro melds food, design and The Field Museum's mission into a cingular vision. Photo by Grant KesslerAdjacent to the seating area, The Bistro Bar features beer, wine and specialty coffees. Equipment here includes air pots, a coffee maker and an espresso machine, as well as a soda gun, wine dispenser, wall-mounted wine rack, undercounter ice bin, three-door back-bar refrigerator, three-head beer tap and an underbar beer keg dispensing refrigerator. "We teamed up with a local company to create Tooth and Claw, a dry lager beer inspired by the famous T. rex, Sue, and the company made a cast of Sue's claw and made a tap handle out of it. In addition to this and two other beers on draft, we also plan to collaborate with the Chicago-based brewing community to make beers for special exhibits or based on items in the permanent collection," Beckert says.
Another area contains a glass-sorting table with a sink and scrap basket, a slant glass rack shelf and a low-temperature undercounter glass washer.
In the servery, "Did You Know" blurbs on plasma display screens call attention to local farmers supplying food for the bistro. In the dining room, a timeline delivers more educational information chronicling the development of The Field Museum. Recycling bins remind customers of the museum's emphasis on conservation.
Explorer Café
The fast-casual, family-friendly Explorer Café on the museum's lower level was renovated completely when Aramark won the contract. A strong entry presence with a large-format brand wall, bright colors and natural materials greet customers. As in the bistro, this space features plasma screens; here, they communicate museum announcements and educational messaging. An outside patio features an annex planter, known as The Field Museum's Edible Treasures Garden, which includes heirloom seeds of corn, bean and squash. Fun, bright furniture is made from 100 percent recycled plastic.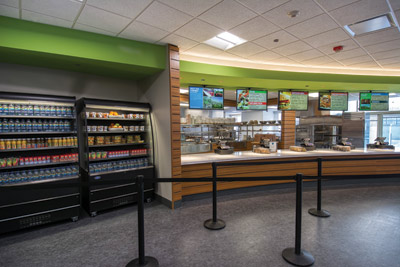 In addition to the main service line offerings, Explorer Café display cases provide to-go foods and beverages. Photograph courtesy of The Field Museum; photograph by Eric Craig, This email address is being protected from spambots. You need JavaScript enabled to view it."We used natural materials where possible with the understanding that the high traffic through the spaces would require long-lasting surfaces," Berg says. "Many of the natural materials were carefully selected with corresponding laminate or other high-wear options to ensure proper coordination."
The front of the kitchen borders the ordering counter, which gives customers a view of the food-making experience and reinforces the museum's educational mission. The back of the kitchen is partially visible to customers as they place orders and staff prepare and assemble menu offerings. "Light quartz countertops provide a clean appearance and a neutral background for food presentation," Berg says. "Lighting, too, focuses on food display areas with recessed track lights designed to mask the light sources while they provide strong spot lighting on the countertop presentation."
The diverse menu features kids' favorites but often with a twist that adds more piquant flavors to salads, pizza and grilled items. For instance, a classic burger on a toasted roll with iceberg lettuce, tomato, red onion, Kosher dill pickles and Wisconsin-aged cheddar; veggie burgers served on toasted rolls; chicken fingers with barbecue, honey mustard and Asian dipping sauces; and of course fries.
The menu also features local ingredients served as part of some Chicago favorites, such as Chicago Red chili, Italian beef sandwiches, The Loop sausage sandwich (made with hot Italian sausage), and the toasted Taylor Street sub with assorted salami, roasted peppers, provolone cheese and oregano vinaigrette. The menu also offers sides including french fries, sweet potato fries and fruit salad, desserts such as double chocolate brownies and cookies, and fountain beverages.
Tables and chairs in Explorer Café can be moved together for larger groups. A color palette of bright greens as well as brown and orange earth tones emphasizes the museum's conservation mission. Photograph courtesy of The Field Museum; photograph by Eric Craig, This email address is being protected from spambots. You need JavaScript enabled to view it.Staff use equipment here not only for the café but also for catered events if The Field Bistro's kitchen isn't used. The full array of equipment includes ample refrigeration and freezers, worktables, doublestacked shelving, a four-burner range with a convection oven, a double convection oven, flattop griddle, refrigerated sandwich prep tables, slicers, a food processor, a pizza oven and sinks for pot and pan washing.
Sustainability Strategy
Before the bid was put out for the new restaurants, in 2010, Beckert worked with Beyond Green Partners to create a sustainability strategy for foodservice that would be compatible with the museum's conservation mission. "All this was included in the RFP and contract for the firm winning the bid for the restaurants and will be implemented incrementally over the next 10 years," says Kim Blomquist, communications manager for Beyond Green Partners.
The strategy contains more than 50 individual goals to address sustainability holistically across six key areas: waste; quality of food and nonfood items; education and awareness; engaging stakeholders; utilities; and policy. Beckert's and Beyond Green's approach to sustainability incorporates the entire ecosystem of food and nonfood items. "Rather than just look at waste or energy or food or the menu, we're looking at how everything impacts everything else," Blomquist says. "For example, what you throw away impacts the other resources you use to buy and cook the food, and the menu can impact the waste created."
Acting as an unbiased third party to assess the successes and challenges in implementing the strategy, Beyond Green keeps everyone involved in data collection on track and offers outside confirmation for any claims made. "During this first year, we're creating baselines, so there is no concrete data to share yet. Ongoing measurement is vital because data-driven sustainability is true sustainability and will offer strong, clear messaging for the museum to share with stakeholders," Blomquist says.
For example, the strategy calls for the restaurants to divert and reduce waste by 2 percent to 3 percent each year, which means foodservice staff must measure waste daily. Other environmental goals include using Green Seal–certified or comparable cleaning products and recyclable or compostable disposables. "The operation strives to eliminate single-serve packaging and offer items such as condiments in bulk," Blomquist says.
Another strategy calls for finding a dry cleaning service that does not use harmful chemicals such as perchloroethylene and asking kitchen staff to print documents doubled-sided. "Before the restaurants were built, the strategy asked the foodservice provider to consider salvaged and chemical-free building materials. You see a lot of that in Explorer Café," Blomquist says.
In Stanley Field Hall stands Sue, the world's largest and most complete T. rex fossil. The Field Bistro's logo, with the tagline "Global Gourmet Flavor," is visible across the room. Navigating the exhaust from cooking was made possible through the diligence of Aramark's engineering solutions group. Photograph courtesy of The Field Museum; photograph by Eric Craig, This email address is being protected from spambots. You need JavaScript enabled to view it.In terms of menu items, the museum's goal is to make sure 65 percent of the food it sources is sustainably produced and that 25 percent comes from local providers. Beyond Green even helped create a definition of local as it pertains to The Field Museum's procurement practices and will inspect purchasing to determine what is accomplished in the food and nonfood purchases.
"Rather than get only a certification or use a more general strategy [or] standard, the museum created its own," Blomquist says. "There is no cookie-cutter solution for being sustainable. In order to be successful in sustainability, organizations must be true to themselves. Success depends on how individuals make it work within the structure of their organization, community, location, regulations and so forth."
Facts of Note
Opened: The Field Bistro, November 15, 2013; Explorer Café, April 9, 2014
Scope of Project: Located on the main floor, The Field Bistro is a more adult-friendly restaurant featuring food-themed stations and locally grown or produced foods prepared and served to order in an open-kitchen format; Explorer Café is a child-friendly destination with lots of interactive elements. The menu features locally sourced products, which also support The Field Museum's educational and sustainable vision.
Size: The Field Bistro, 7,900 sq. ft. and 3,900 sq. ft. for seating area; Explorer Café, 8,100 sq. ft. and 3,600 sq. ft. for seating area
Seats: 304 in Field Bistro; 275 in Explorer Cafe
Average Check: $12 at The Field Bistro; $14 at Explorer Café
Total Annual Sales: $2.5 million to $4 million
Transactions: 600,000 to 1.2 million annually. Traffic varies depending on the museum's exhibitions. Restaurants, 200 to 8,000 per day depending on museum's exhibition; catering events can accommodate 50 to 15,000 people.
Hours: Daily except Christmas; The Field Bistro, 7:30 a.m. to 5 p.m.; Explorer Café, 10 a.m. to 5 p.m.
Menu Specialties: Casual restaurant fare in The Field Bistro; fast food in Explorer Café
Staff: 30 to 50
Total Project Cost: over $3 million
Equipment Investment: over $1.5 million
Website: www.fieldmuseum.org
Key Players
Owner: The Field Museum
Director of Special Events, Food Operations, Tourism and Group Sales: Megan Beckert
Aramark Parks and Destinations President: Bruce W. Fears
Aramark District Manager: Sam Cario
Senior Capital Program Manager/Engineering Solutions, Aramark: Justin Flickinger, Bowling Green, Kentucky
Executive Chef: Christopher Lateano
Architect: Shea Inc., Minneapolis
Interior Design: Shea Inc., Minneapolis; Dan Berg, creative director
Sustainability Program Consultants: Beyond Green Partners, Chicago; Greg Christian, owner; Kim Blomquist, communications manager
Food Consultant: Cleetus Friedman, chef at Fountainhead in Chicago, Ill.
Equipment Dealer: Wasserstrom, Columbus, Ohio