Flexible equipment helps quickly prepare menu items from more than 35 countries and contributes to a top-notch sustainability program.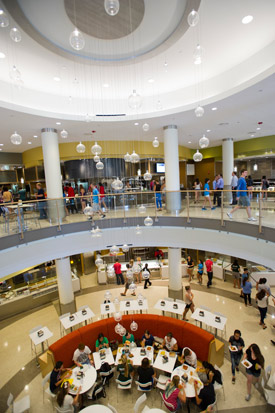 The Fresh Food Company comprises two stories and the basement level of the new Marciano Commons student services building on the east end of Boston University's campus.Fresh naan and skewers of spiced meats and vegetables baked in tandoor ovens throughout the day; pasta made fresh daily on machines imported from Italy; artisan pizzas quickly baked in high-end stone ovens; chicken and other proteins roasted on vertical rotisseries and carved to order; cage-free eggs and kosher, vegan, gluten-free and halal menu specialties. It all sounds like a high-end, on-trend restaurant – which is just what the dining services team at Boston University (BU) was aiming for with the newest jewel in its campus-dining crown, The Fresh Food Company at Marciano Commons.
Opened last fall, the facility comprises two stories and the basement level of the dazzling new Marciano Commons student services building on the east end of campus. It replaces three smaller, aging residential dining halls that were decidedly old school in service style, mechanicals and production capability. As a ground-up project, the new Fresh Food Company afforded the freedom to pursue a futuristic vision for campus dining without the physical hurdles and limitations faced when renovating existing structures. That vision, says David Davenport, dining services director of operations, was to "develop a state-of-the-art dining facility, to give the students lots of options, and to enable our dining staff to work in some really cool environments."
Mission accomplished.
The facility itself is as visually dramatic as it is sustainable, flexible and state of the art in terms of its food offerings, production capabilities and technologies. It's a game changer now, one that Davenport says was carefully designed to allow the operation to easily adapt as the college foodservice marketplace continues its rapid transformation.
The ground floor and second level are linked by a large open staircase and an open, circular two-story atrium toward the front of the building. "We told the architects that we wanted to be able to feel like the two dining floors were connected, so they created a large staircase and an open, large circular area with seating around it," he says. "Above the staircase there's a large glass canopy, so there's a lot of natural light that travels down through the ellipse and gives the space an open and airy feeling."
Diverse Options, Flexible Formats
The two main dining levels, which serve students from nearby residence halls and others in the BU community, total some 35,000 square feet and provide a variety of environments and seating styles for nearly 1,000 people. They also provide a deliciously diverse menu, with 14 stations featuring fresh, made-to-order foods.
With few exceptions, the stations are neither branded per se nor dedicated to just one type of cuisine. That choice has maximized flexibility for the staff to keep the stations fresh and make frequent menu changes, Davenport says. "We do have one station that we refer to as the international station," he adds. "We identified 35 different countries and researched menu items from those countries, trying to cook as close to authentic as we possibly can. We also have a dedicated vegan station that has its own cooking area so we can truly say it's vegan without risking cross-contact with any animal products. We also have a small kitchen that supports a gluten-free station. It's separated by a door and has its own equipment, prep space and service area. We're one of few schools in the country to have a dedicated gluten-free area, and our staff is well trained to be knowledgeable about gluten issues and food prep."
He notes that most of the specialty equipment that takes center stage in the various stations performs multiple duties. The stone pizza oven, for instance, also bakes individual casseroles; the pasta machine at one station also provides fresh pasta for other stations throughout the facility; the tandoor ovens turn out fresh naan as well as roasted meats and vegetables used in other areas; and the vertical rotisserie ovens cook sides of salmon, and pork and beef loins in addition to chicken.
"Those rotisseries are unique," Davenport adds. "Usually, you see horizontal versions that cook full loads of chickens or other meats at once that then get emptied into warmers for holding. But vertical rotisseries allow us to put products in throughout the cooking process so we're cooking as close to serving time as possible – usually within five minutes."
That goal is shared at every station, no matter the food items being served. The facility has no central production kitchen; staff prep and produce all menu items at the stations, right in front of the students. All but two stations have four-foot ranges/sauté stations right on their front lines.
"If you ask for a mac and cheese, we take cheese sauce and macaroni and sauté it to order for you right there," Davenport says. "We made some pretty conscious decisions when designing this facility about cooking to order. All of our ovens are half-sheet-pan size. We serve an average of 2,200 people at lunch, and we cook every item that gets cooked in an oven in half-sheet pans. We made sure we have enough of the ovens to be able to do high volume and move things through quickly. This way we know we have the freshest food possible. We have just one warmer, and it's an under-counter model used for things like rice and mashed potatoes."
Digital menu boards at each station detail the day's offerings and provide nutritional information for each of the available menu items. Davenport says BU is among the first schools in the nation to offer nutritional information on its menu boards.
Visitors use an unusual approach to accessing this facility. Turnstiles and a combination of campus card/biometric fingerprint readers verify that each student is a qualified campus member with a meal plan and enough meals remaining on the plan to complete the transaction. If all of these criteria are met, the transaction is approved, a meal is deducted from the account and the turnstile advances – all within milliseconds. Once inside, students can head directly to a prominent and easily accessible two-sink hand-washing station to wash up before dining, or head straight to the dining options on either level.
Students and others not on meal plans, or those just looking for something different, can also head down to the lower level of Marciano Commons to access one of two retail dining options. Late Night Kitchen, a full-service, 140-seat, open-kitchen concept, serves updated comfort foods, brick-oven pizzas, stuffed burgers, gourmet sandwiches – even fondue and sweet and savory crepes – until 11 p.m. Rize, an upscale bakery café, operates from early morning until late afternoon and offers a variety of fresh-baked breads and pastries, specialty coffees and other beverages, sandwiches, salads, and fruit and yogurt smoothies. It also features an open floor plan that offers a view into the bakery and seating for 22. Customers at these retail locations, which together comprise roughly 12,000 square feet, can use their meal plan cards, dining points, credit cards or cash.
Industry-Leading Sustainability
As part of its mission to redefine campus dining with the new Fresh Food Company, BU focuses as much on sustainability at Marciano Commons as it does on food. The building has been certified LEED Gold by the U.S. Green Building Council. Notably, its Fresh Food Company, Late Night Kitchen and Rize operations are also 3 of only 13 restaurants in the nation to have received 4-Star Certified Green Restaurant ratings from the Green Restaurant Association, and BU is the only university to have achieved 4-star ratings, the highest available, according to Davenport.
"We use Energy Star-rated equipment and refrigeration and have a system in place that enables us to compost 100 percent of our food waste," he says. "It's a closed system, so as our folks are prepping food or scraping plates, the waste goes into a trough. The water in the trough carries it down to a large grinding unit that pulps the food and extracts the water from it. It then gets pumped out to a dumpster on the loading dock. It has helped us to significantly reduce our hauling expenses. The food waste ultimately goes to a composting facility rather than ending up in a landfill or an incinerator."
Other highlights of the facility's sustainability program include:
A state-of-the-art dishmachine that uses just 50 to 60 gallons of water per hour, compared to hundreds of gallons used per hour in the old dining halls
Variable-speed exhaust systems with sensors in the hoods that gauge heat levels below them and adjust fan speeds accordingly
Exclusive use of cage-free eggs
A local sourcing program that commits 23 percent of the annual food budget to purchasing items from farms and producers within a 250-mile radius
Vegetarian options comprising more than 30 percent of entrées at all three locations
A 25-cent reusable mug discount given at Rize
Energy and water efficiency audits and trainings performed each semester at all locations
Low-flow prerinse spray nozzles on all large dish sinks
More than 90 percent of single-use packaging used is compostable; no polystyrene
Only Green Seal-certified cleaning supplies and dish detergents
Davenport says the focus on sustainability is ongoing, and improvements will continue to be made. "We've made decisions to be as sustainable as we possibly can be while at the same time serving more than 30,000 meals per week," he says. "We try and make decisions that are going to allow us to manage within the budget but also do things that we know are going to get big bang for the dollars that we're spending. Dining is very much considered to be part of the overall campus experience. Students' expectations for food, dining environment, nutrition and sustainability have changed dramatically. It's important that we get it right."
BU Dining Services Snapshot
No. of students enrolled: 16,000 undergraduates (11,400 on campus)
Meal plan participation: 10,230
Operation: ARAMARK
Locations: 3 residential dining halls; more than 20 retail locations
Total dining hall meals served per day: 13,700
Total Fresh Food Co. at Marciano meals served per day: 4,600
Key Players, The Fresh Food Co. at Marciano Commons
Craig Hill, associate vice president, Auxiliary Services
Barbara Laverdiere, director, Dining Services
David Davenport, director, operations, Dining Services
Architects: Bruner/Cott
Foodservice Consultant: Colburn & Guyette
Construction Management: BOND