Remodels and refreshes are the order of the day as chains work to put a fresh face forward and appeal to modern consumers.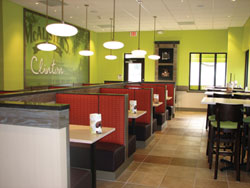 The new look at McAllister's Deli features an updated color palatte, mixed seating and new light fixtures, but retains the chain's tradiitonal town mural wall art.Operators, from burger giants to cafés to the kings of casual dining continue to embrace one of the hottest trends in the industry. It's not about healthy or local or ethnic or regional fare. In fact, it has nothing to do with what's on the menu. This trend is all about renovating, refreshing and revitalizing the look and feel of restaurants in a quest to remain relevant to a changing consumer in a changing marketplace.
It's also about much more than simple aesthetics. A fresh coat of paint and a new menu board might look good, but without strategic focus on how a remodel or refresh will actually enhance the guest experience, the whole effort to create sizzle with a new look can fizzle fast.
"There are a lot of moving parts to any remodel or refresh," cautions Dennis Lombardi, principal at WD Partners in Dublin, Ohio. "To get it right, you need to understand what those parts are. It can't just look good — it also has to make money and be operationally correct."
The list of chains trying to hit all three of those hot buttons with current remodel initiatives is long and seems to grow daily. Chalk the renovation revolution up (at least in part) to somewhat easier access to financing and an economy that has at least stabilized if not improved slightly. "Fundamentally, every five to seven years you need to bring stores more current in terms of not just wear and tear, but also the image they project. In many cases, that didn't happen during the recent recession. Franchisees and franchisors alike hunkered down and focused on survival. Now we're seeing not just a normal level but some level of catching up for the deferred remodeling," Lombardi says. "At the same time, operators are putting more emphasis on remodeling than on new unit growth. We still aren't seeing the pace of development — new shopping centers, housing developments, expanding of suburban green space to commercial space — to support much new unit growth. Instead, chains are putting more dollars into existing restaurants. The economics of adding, say, $150 of sales per day to every existing McDonald's unit in the U.S. is like having 700 or 800 new McDonald's units."
Still another factor fueling the remodel/refresh boom is what Lombardi calls the passing of the baton from boomers to millenials, a group that has a far different influence on the way a restaurant might look or be designed, he says. High-tech touches like flat-screen TVs and free Wi-Fi, flexible seating and vibrant bar areas designed to be comfortable for drinking and dining in groups enhance the experience for these guests, as do more open spaces and contemporary design styles.
Applebee's recently introduced a remodel, as part of a comprehensive rebranding effort spanning menu and design, that is a high-profile example of a chain banking on a new look to help resuscitate lagging sales attributed to a combination of the economy, changing consumer dynamics and fast-casual competition. By the end of this year, Applebee's will revitalize more than half of its restaurants with a nearly $200 million investment in new design elements, including all-new signage and awnings with an updated logo, stone-faced entryways, bar upgrades and flat-screen TVs. Gone are the stained-glass light fixtures and 3-D pop art synonymous with Applebee's since its founding 32 years ago. In their place are sleek new lighting and murals that connect each restaurant with its neighborhood.
"We've redone everything to create a sense of arrival — from the stonework out front to the awnings," said Mike Archer, Applebee's president, in a recent USA Today article on the changes. "As you walk in, you'll be struck by what we've done to the bar. It now sits dead in the center of the room and is the focal point to the building. It has multicolored tiles. It has colorful fixtures. And it has high tables for gathering."
The changes in the bar, in particular, represent one way the chain hopes to begin connecting with twenysomething millenials and generating more revenue from existing units. "The bar has become much more of a focal point," Archer said. "It was a way to take this restaurant and make it more a part of the community. After 9 p.m., mom and dad and the kids are home, and you need to appeal to a younger clientele. It's bringing a new generation to Applebee's."
Like Applebee's, McAlister's Deli makes neighborhood restaurant appeal part of its marketing mission. The chain just unveiled a new prototype design and remodeling initiative that president and CEO Fran Paci says is "the perfect combination of traditional touches like our town murals with updated décor and furnishings that give our location a fresh look."
McAlister's operates two restaurants with the new design, one in Aurora, Colo., and the other in Lexington, Ky. In addition to a new color palette, the design includes mixed seating with tables, booths and high-tops with bar stool seating, as well as new fixtures and lighting. With free Wi-Fi as part of the package, the new store layout also includes a tea bar, where guests can customize and try different flavors of the chain's trademarked signature Famous Sweet Tea.
Beyond a Fresh Coat of Paint
Contemporary and comfortable represent the driving concepts behind a new remodel initiative and prototype at 600-unit CiCi's Pizza, as well. The 27-year-old pizza buffet chain completed a major overhaul of its prototype and chief operating officer Bill Spae, who joined the company two years ago, made sure the project went well beyond "a fresh coat of paint."
"We have a fair number of restaurants that have not gone through any significant remodels for anywhere from 6 to 10 years," Spae says. "We had two or three different prototypes out there over the years, the most recent being a high-energy version that features a bright yellow interior. That's the look that we have in place today, with a few minor graphics changes having been made over the years. It's pretty outdated. Part of what I wanted to do was to look at our prototype and see if it fit today's consumer in a way that would benefit them and us, and to find out if a newer and improved look would result in guests wanting to come back in more often. What we found was that while the high-energy design probably wasn't hurting us, it certainly wasn't advancing us."
The CiCi's team set about looking not just at its interior color scheme, but at virtually every aspect of the restaurant that might deliver a better customer experience as the result of a remodel. "We looked at each piece individually — tile, wall materials, buffet line, equipment, etc. — and asked, 'Is this working the way we want it to work? Is it doing what we expect? If not, what do we need to do to fix it?' We then plugged in and tested new solutions."
The result came together in CiCi's new prototype test unit, opened in Murphy, Texas, last December. The look is contemporary, and the feel is more comfortable, thanks to a warmer color palate and softer seating finishes. The game room, a big part of CiCi's appeal to families, was optimized with new games and a better layout. The layout now features a salad bar with a specialty clear top. The new version keeps the salads and dressings colder and fresher looking, Spae says. The buffet line's redesign includes new decorative tile and rock trim and an updated heating system that keeps the product fresher and the quality higher.
New tabletops and chairs provide more comfortable seating, and reconfigured seating allows for easier movement around the dining area as guests make their way to and from the buffet, salad bar and drink station. "When you're at a buffet, you're not going up one time, you're typically going up two or three times," Spae says. "We wanted guests to be able to get back and forth without having to navigate around a bunch of things. As part of the remodel, we gave them a little more space inside the dining room by setting things up a little differently."
The addition of menu boards above the cashier station makes it easier for guests to view their dining options and also enables CiCi's to tout its catering and to-go options, a revenue stream the chain is working to build. "This was a new feature for us, and the menu boards are the first thing you see when you walk in the door," Spae notes. "Many guests didn't realize that we did catering. The boards help them better understand the range of products we offer and the choices they have beyond the basic buffet."
Remodels Spur Repeat Business, Higher Sales
Spae says guest intercepts during the testing phase indicated overwhelmingly positive response to the changes. "What they were telling us was that it was just a more comfortable environment in general — the look, the feel, the colors, the blending of colors, the graphics," he says. "They also felt it was a more comfortable environment for their children in terms of the number and types of games in the game room. Because they were more comfortable in the environment, they indicated they want to come back more often. That's what we're hearing both anecdotally and in the intercepts, and that's the real key to the success of the project."
With positive feedback in hand, CiCi's has since opened a second corporate unit with the new prototype, in Frisco, Texas. One franchised unit has adopted it as well, with many franchisees lining up to remodel to the new look, even well before their agreements would mandate the change.
That type of franchisee response, as well as positive guest reaction, is critical to any chain remodel project, Lombardi notes. "You have to think of rolling any changes you're making back through the system. The real challenge with remodels is not making the new stores look like you want them to look, it's what do you do with all these existing stores that are in a variety of different conditions and in different stages of their lease agreements."
For that reason, he says, it's a good idea to develop a "kit of parts," basically good, better and best remodel packages. The least expensive option may have just four or five iconic elements — repainting with the new color palate, a new sign and door, and a couple of things that'll tie into the new design and still be economically viable — while the "best" package delivers the biggest impact in terms of both visual change and impact on guest experience. But even this level has to be economically viable for franchisees to make the investment, he adds: "If it's not economically viable, it's not going to get adopted. Designers who create a beautiful design for a remodel and don't think about the 'makes money' part of the equation underperform because from the owner/operator or franchisee standpoint it just doesn't work."
Wendy's recently rolled out a major "image activation" effort headlined by the physical redesign and renovation of aging locations and new builds with exterior design themes: traditional, contemporary, urban and ultra modern. At roughly $750,000 per best or "Tier 1" remodel (versus $300,000 for the minimum package), the need to be economically viable is paramount, and the chain is banking on a dramatically enhanced guest experience to deliver the ROI. The new prototypes' interiors feature fireplaces, lounge-type seating, flat-screen TVs, Wi-Fi, digital menu boards, wood laminate flooring and an overall modern feel that have more customers hanging out and eating in rather than grabbing and going.
At a recent Company Investor Day, Wendy's senior vice president Abigail Pringle told investors the strategy is working. Overall sales in 8 remodeled U.S. locations increased by more than 25 percent, with a particularly noteworthy bump in dine-in sales, which rose 43 percent, compared to carryout sales, which rose by just 14 percent. What's more, the chain says customers who choose to stay and eat in the restaurant spend an average of 23 percent more than carryout diners and an average of 13 percent more than drive-through customers.
Rich Batley, a Ground Round Grill & Bar owner in Neenah, Wis., believes strongly in the value of investing in remodeling, particularly as legacy brands attempt to remain relevant and compete against new fast-casual players that come on the scene as contemporary and fresh. He's opening a second restaurant early next year in nearby Oshkosh, taking over and remodeling an existing space with a new prototype design the chain developed as part of a renewed growth strategy. While his original restaurant is just eight years old and in good shape, Batley is already undertaking a full remodel to implement a "best package" of new prototype elements. That project will be complete this September.
"I probably could have waited another year or two, but we're starting to grow again as a company, and I want to take advantage of the new prototype to give
customers the best experience possible. We're making significant changes to the Neenah restaurant to upgrade it and make it new and fresh. I'm confident the return on investment will be there."
Structural changes include removal of a wall in the dining room and a large liquor-storage overhang above the bar to open up the space. The bar overhang is being replaced with large flat-screen TVs to better suit that part of the concept's sports bar theme. New fabrics and carpet are going in, and stained concrete flooring is being replaced with vinyl wood-plank flooring. Wallpaper and dark wood are coming down, and wall surfaces will be painted in lighter neutral colors. Sleek drum lights and pendants will replace the old-fashioned Tiffany-style stained-glass lamps.
"Overall, we'll be creating a more open, contemporary space that is more comfortable, less cluttered and more in line with what today's consumer wants," says Batley. "If they're comfortable and happy with the environment, our business will continue to grow." FE&S